When news broke about the passing of Prince Thursday, much attention was paid, of course, to the legendary singer-songwriter's landscape-altering contributions to the music world.
But we here at TODAY Food also remember a lesser-known side of the artist: that of an impassioned vegan and food lover.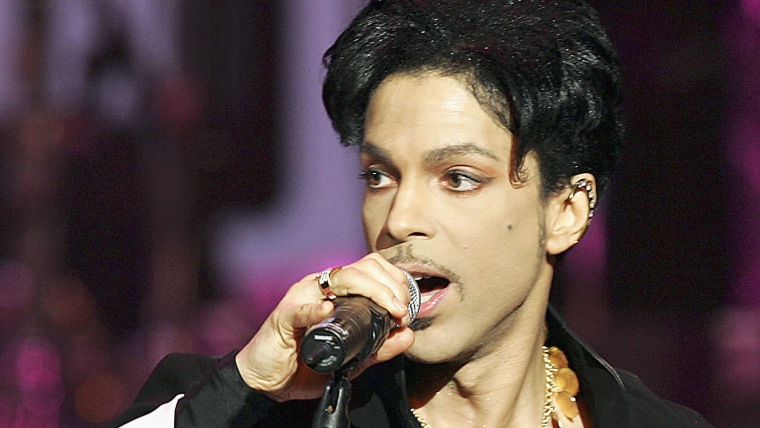 While some of his beloved eccentricities did, indeed, spill over to his diet —he reportedly loved pairing a glass of orange juice with a plate of spaghetti, according to a 1984 Rolling Stone cover story by Kurt Loder—a look at his 2004 concert rider on The Smoking Gun reveals he was also just kind of your average, semi-healthy snacker.
RELATED: 'No one made us prouder': A fellow Minnesotan reflects on Prince's legacy
He requested hummus, pita bread, veggie chips, trail mix, and chips and salsa backstage during the Musicology tour, and was also apparently a Pepsi and ginger ale guy. Not surprisingly for a musician, he was also an avid tea drinker: Under his section, the rider called for one box of Yogi Cocoa Spice Tea, one Celestial Seasonings Herbal tea sampler, and a set up of honey, lemon, sugar, cream and fresh ginger root.
A few years back, the site Heavy Table lampooned what contents the singer's fridge might contain: items like a Costco-sized package of Dunk-a-roos (those cookies with frosting dip), a giant jar of homemade kimchi, 18 varieties of mustard, and a gallon of real maple syrup. Of the maple syrup, the site joked, "People say U can't tell the difference, but U know, it's the real deal. It's a cut above." Just like the man himself. [Editor's note: We, like many others, fell for this prank and thought it was real. We're just going to keep imagining that it was...]
While the real man was intensely private, we know his fridge would contain no beef jerky or bacon: In a 1997 interview with Vegetarian Times, Prince estimated he gave up red meat in his late 20s, and eventually went vegan.
But that doesn't mean he was a complete health nut: His song Joint 2 Joint from the Emancipation album revealed a penchant for sugary cereals, with non-dairy milk, of course: "Oh great, now U think U're my soulmate / U don't even know what kind of cereal I like / Wrong! Cap'N Crunch with soy milk."
Animal-rights group PETA voted Prince "Sexiest Vegetarian" in 2006, alongside actress Kristen Bell that year.
"Prince was royalty to PETA," Lisa Lange, senior vice president at PETA, told TODAY Food.
"He spoke out and sang against abusing and killing animals for food and clothing, including by serving a gourmet vegan meal to reporters and blasting the wool industry in his liner notes for [the 1999 album] Rave Un2 the Joy Fantastic," Lange said.
Another time, feeling bad that he could not play at a PETA event in the late '90s, Prince instead FedEx'ed the group a copy of his song Animal Kingdom to use—months before its release. (Some of the song's lyrics, which include "Don't give me no blue cheese // We're all members of the animal kingdom," refer to a debate he and Spike Lee had over the benefits of cow's milk, according to the Vegetarian Times interview).
"Prince's legacy of compassion and creativity will live on, and he will be sorely missed," Lange added.