If the bitter cold of winter is getting you down, hope is on the horizon: a colorful spring snack has recently been spotted — and it might just be bright enough to chase your winter blues away.
In 2017, Peeps, the quintessential Easter basket essential, and Oreo teamed up for a limited-edition treat with golden wafer cookies sandwiching a bright pink marshmallow-flavored creme. We thought the cookies were incredibly sweet, but still didn't really taste like Peeps.
This year, Oreo is trying again with a brand new version of the Easter-themed cookie.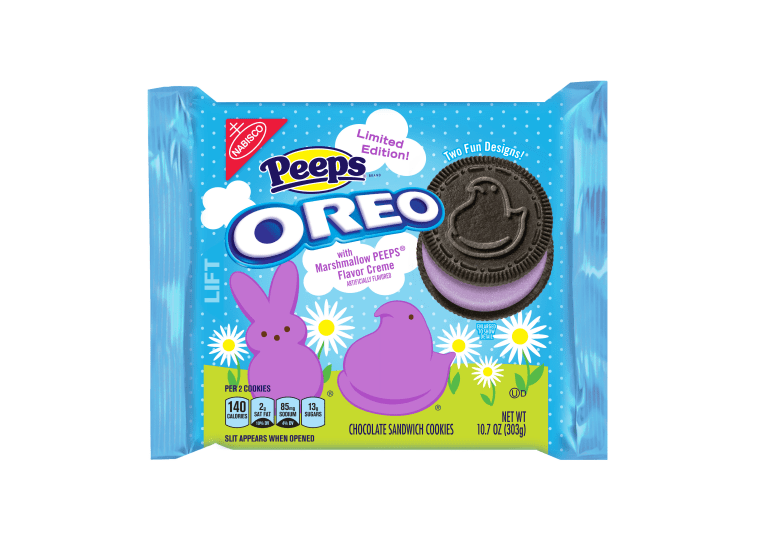 The 2018 edition of the Peeps-flavored Oreo is taking a darker turn and now features chocolate cookies with a purple marshmallow Peeps-flavored creme inside. Of course, we're all for the combination of chocolate and marshmallows ... Peeps s'mores, any one?
Though the cookies aren't due out in stores for a few weeks, snack and candy blogger JunkBanter, discovered the latest Oreo variety already available at a CVS store.
A representative for Oreo told TODAY Food over email that despite the color change, the new cookie is "not a new flavor" but rather just a different colored creme that supposedly tastes just like the pink version. However, this year, the rep explained, the creme is "sandwiched between two Peeps-embossed chocolate wafers," so there's no doubt as to what type of Oreo you're eating.
Last year, some people suffered a pretty mortifying side effect from that bright pink creme, so we can only hope that same result doesn't happen in bright purple this time around.
The cookies may currently be available in limited supply at CVS stores now but Oreo told TODAY Food that most people across the country can expect to see the new cookie in stores on Feb. 19 and they'll be retailing for $3.33 per package.