Though there are infinite versions of the classic Southern chicken-and-wild rice pilaf, it tastes so good we couldn't resist adding another one to the roster. This recipe gives a wink to Cajun style with the holy trinity of onions, celery, and bell peppers—and a dash of heat.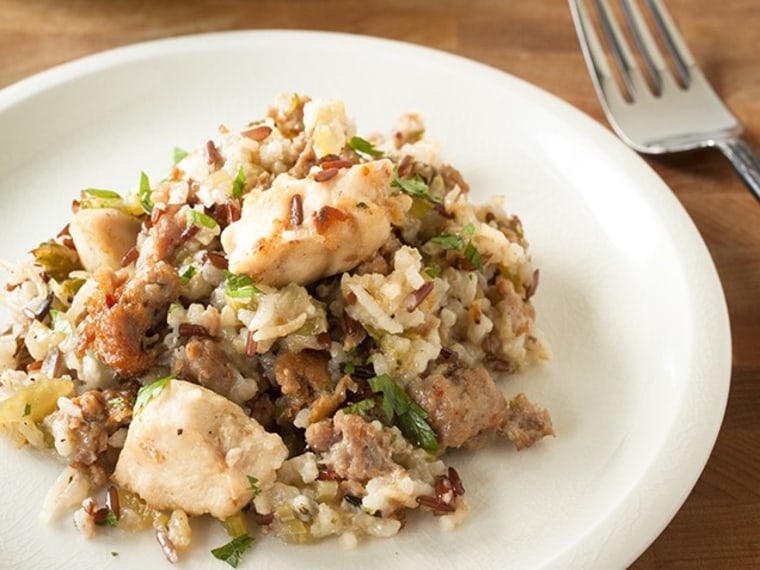 Ingredients:
2 tablespoons canola or vegetable oil, divided

1 teaspoon freshly ground black pepper

1 pound hot turkey sausage, removed from its casing if in links

1 teaspoon kosher salt

1 pound boneless, skinless chicken breast

2 1/2 cups chicken broth

1 medium yellow onion, minced

1 cup wild rice or wild rice blend

3 celery stalks, minced

1 tablespoon minced flat-leaf parsley

1 green bell pepper, seeded and minced

2 tablespoons sliced almonds (optional)

Yield: 6 Servings
Directions:
Preheat the oven to 375F.
Heat 1 tablespoon of the oil in a large, high-sided sauté pan or skillet over medium-high heat.
Add the turkey sausage, and cook for 5 minutes until browned, stirring occasionally to break up the chunks. Transfer to a deep, square casserole dish.
Add the remaining oil to the skillet, then add the chicken and cook about 2 minutes per side until browned. Transfer to the casserole dish.
Add the onion, celery and bell pepper to the skillet and sprinkle with salt and pepper. Cook, stirring frequently, for 3-5 minutes until the vegetables are crisp-tender.
Add the chicken broth to the skillet and bring to a simmer.
Pour the rice into the casserole dish over the sausage and chicken, then pour the contents of the skillet into the casserole dish.
Stir to combine, then cover and bake for 20 minutes, then uncover and bake for 15-20 minutes more until the rice is tender and the chicken is cooked through.
Top with parsley and almonds, if desired, and serve.
This recipe originally appeared on iVillage.