Peanut butter is my everything… and I wanted my son to feel the same way. So as soon as my son was six months old, I gave him peanut butter for his first food. It was love at first spoonful. I knew we were peanut butter spirit animals because he has not looked back. He loves it and it's my go-to meal when I am feeling extra lazy or single momming it during the week. I even dedicated a blog post to his love for peanut butter.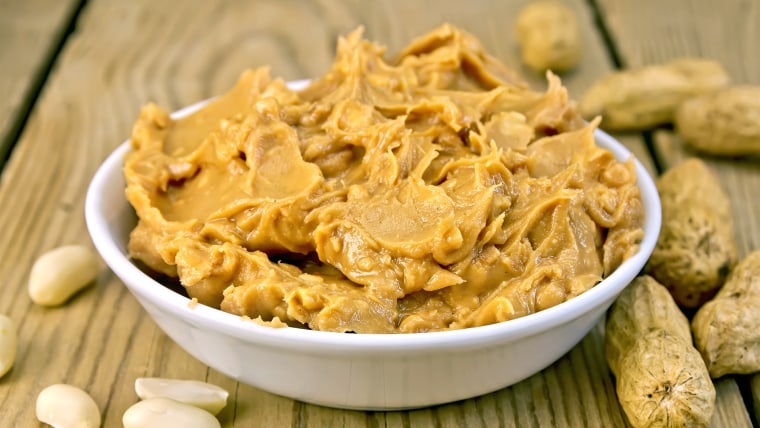 So imagine my excitement when YouTube foodie extraordinaire and TODAY contributor Katie Quinn asked us if we wanted to be in a video with her about making homemade nut butters. It never even crossed my mind to make my own peanut butter as I just assumed you needed some massive, industrial type machine that you sometimes see in the grocery stores. How wrong I was. Katie shed the light on how easy it is to make your own peanut butter. And because Jenson and I like to spice up our meals, we decided to make a peanut butter with brown sugar and cayenne. Who knew that cayenne in peanut butter is maybe the best thing ever? Seriously. And because Katie is known for her quirky concoctions she inspired us to put it in our oatmeal, dip a banana into it or use it as Thai Peanut sauce on veggies, rice or noodles. How is that for some peanut butter versatility?
Related: Super spreads! 4 must-try DIY nut butter recipes that are healthy and delicious
Check out our recipe and video below for how to make your own spicy nut butter. It's SOO easy! And parents, you can make big batches and put this in your fridge. Healthy (spicy) PB&Js on demand!
Patrice Poltzer is a producer at the TODAY show and vlogger on First Bites. Like First Bites on Facebook and subscribe to First Bites on Youtube to see more fun parenting and food videos.