/ Source: TODAY Contributor
Aromatic and spicy, ginger is as good for you as it tastes. From marinades to baked goods, sore muscles to motion sickness, this top-performing spice adds zest and flavor to recipes. Read on to find out more about this remarkable rhizome. You may just agree with us that ginger is the root to good food as well as good health! Here are 51 ways to use ginger.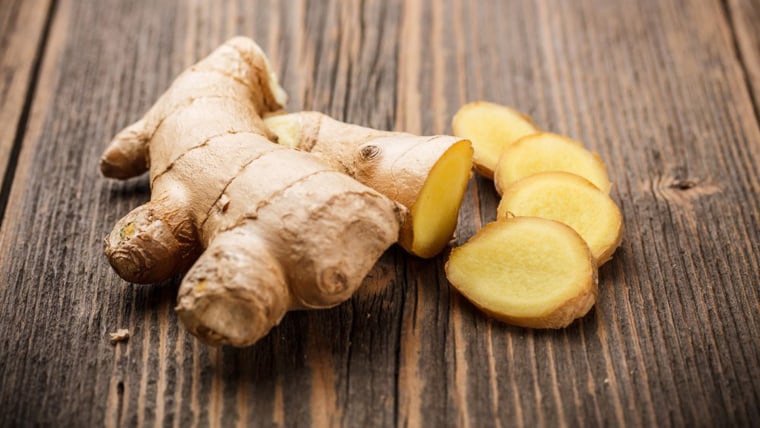 RELATED: Yogurt is not just for breakfast! 53 ways to use this magical ingredient
Food uses for ginger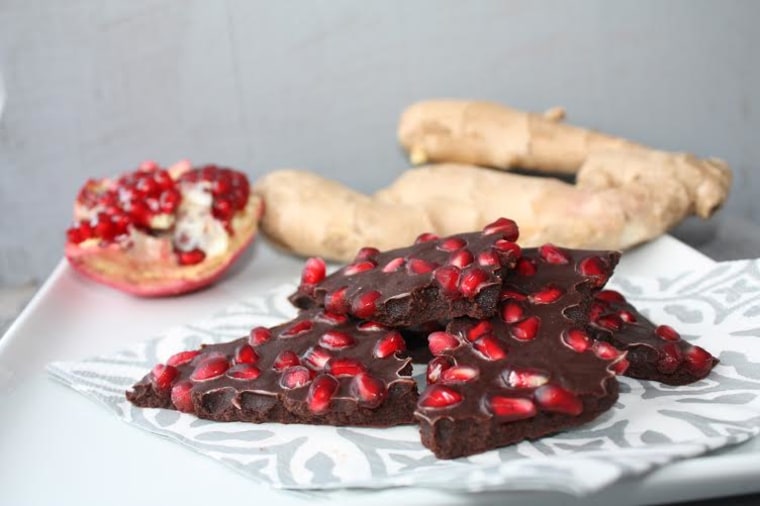 1. Give a kick to chocolate bark
Try minced crystallized ginger in blogger Vanilla Crunnch's Pomegranate Chocolate Bark and cookbook author Grace Parisi's Microwavable Chocolate Bark 3 Ways.
2. Spoon it over grilled fish
Michael Wilson, Chef de Cuisine of Domenica in New Orleans, drizzles grilled fish with a vinaigrette of grated ginger, Champagne vinegar, grapefruit, extra-virgin olive oil and chopped flat leaf Italian parsley.
3. Soup up the soup
Chef Todd Pulsinelli, executive chef at Restaurant August in New Orleans, adds juiced ginger to pumpkin soup and tops it with ginger whipped cream.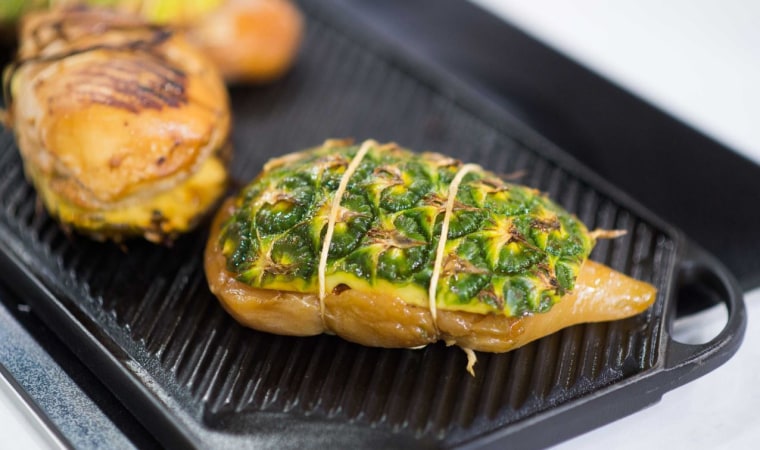 4. Marinate chicken
Wilson describes his Ginger Scallion Chicken Thighs at Domenica as "summer on a plate". The chef marinates chicken overnight in a combination of grated ginger, minced garlic, sliced scallions, plain whole milk yogurt and salt. Grill and enjoy!
Recipes to try: Grilled Pineapple Chicken Breasts and Baked Asian Orange Ginger Chicken Breasts
RELATED: 5 make-ahead chicken marinade recipes for super easy dinners
5. Glaze fried chicken
Drake Leonards, executive chef of Lüke in New Orleans, combines 1 cup honey, 1 teaspoon ginger, a splash sambal (Indian hot sauce) and the juice from half a lime. The mixture is also a perfect dressing for a grilled corn salad.
6. Create a not-so-Sloppy Joe
Another Pulsinelli tip: add ginger to a meaty Sloppy Joe sauce for an unexpected pop.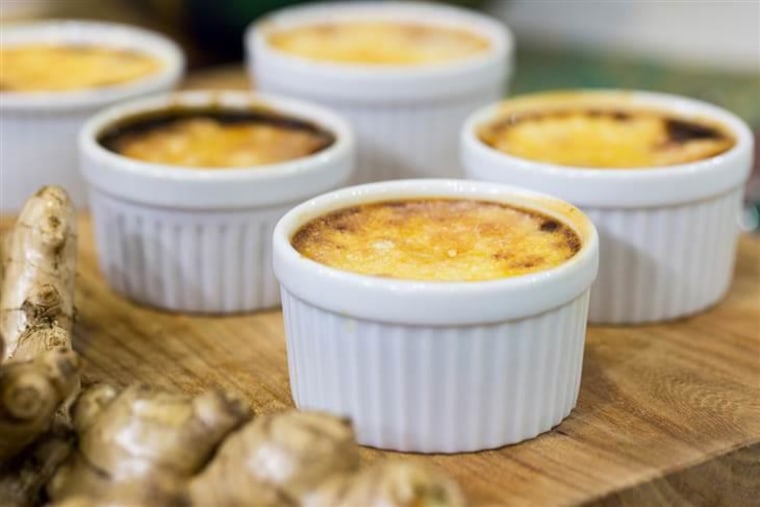 7. Add zing to classic crème brulée
Al Roker spikes his version of the French dessert with a hit of ginger.
Recipe to try: Ginger-Lemon Crème Brûlée
8. Add zest to applesauce
Chef Wilson's spicy and sweet applesauce is easy to make: Toss peeled and diced Granny Smith apples with brown sugar and grated ginger. Refrigerate overnight, then cook over medium heat until the mixture is the consistency of applesauce.
9. Sass up sweet potatoes
Add it grated and juiced, says Pulsinelli, when making whipped sweet potato puree.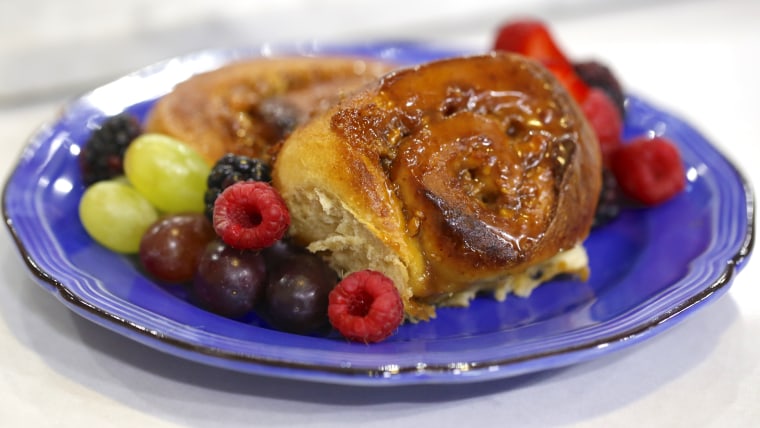 10. Wake up breakfast bread
Ginger—ground and in a syrup—pack a double pow in this Nutty Caramel Bread Swirl.
11. Spice up cranberry sauce
To give a new twist to your usual recipe, Wilson suggests adding grated ginger to taste.
12. Give a kick to chicken and dumplings
Pulsinelli adds zested ginger and lemon zest to give traditional chicken and dumplings an extra kick. He also adds the duo chicken fricassee for extra flavor.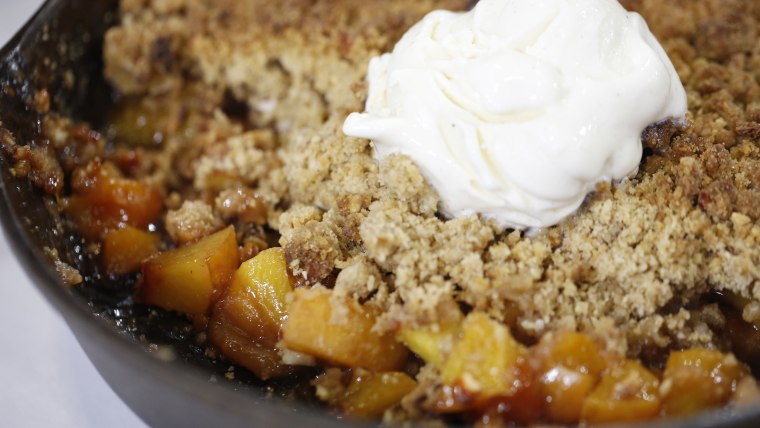 13. Perk up peach cobbler
Cookbook author Melissa Clark's summer skillet peach crisp has a touch of ginger.
14. Glaze pork and ribs
Here are just a couple ways our experts suggest to use ginger: Melissa Cookston mixes ginger ale with nectarines for a zesty citrus pork glaze. Leonards also glazes pork ribs and wild duck and with a mixture of 1 teaspoon minced or pickled ginger, 1 cup preserves (he loves figs or plum) and a splash of vinegar. 15. Braise with it "I add a piece of peeled ginger to the pan when braising a pork shoulder to give it some depth," says Wilson.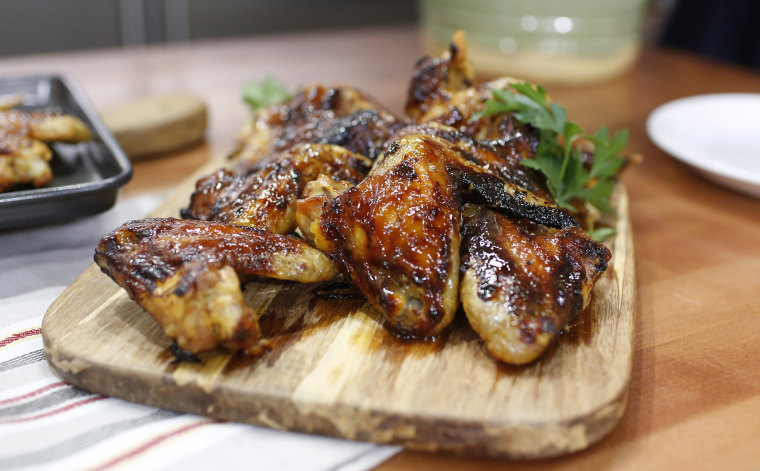 16. Add zing to wings
Take your wings up a notch. Pulsinelli tops salt and pepper fried chicken wings with ginger and shaved serrano peppers and Martha Stewart's ginger scallion wings are perfect for a party.
17. Try it in Jell-O
When making flavored Jell-O, Dr. Jeremy Wolf, ND, wellness expert for LuckyVitamin.com, substitutes ginger tea for water.
18. Make a flavored salt
At Restaurant August, house made potato chips are sprinkled with a mixture of lime, chile and ginger salt.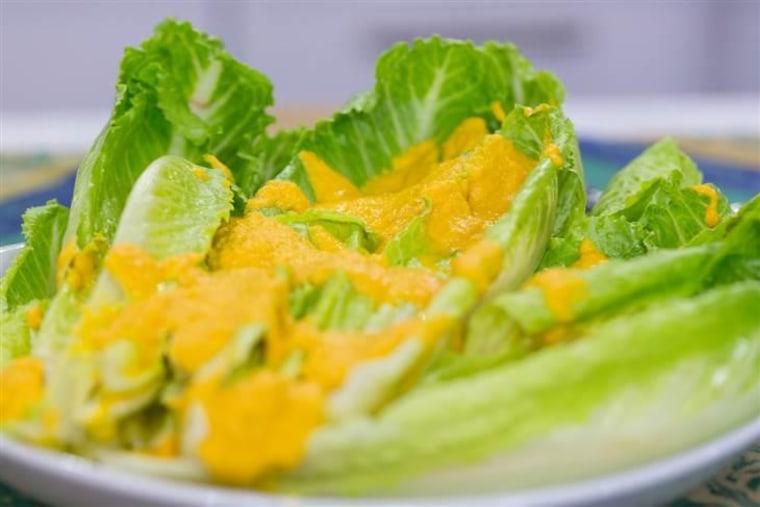 19. Dress a salad
Blend carrots, ginger, onion, rice vinegar, soy sauce, sugar and oil for a light and flavorful Ginger Carrot Dressing.
20. Upgrade classic Italian sage butter
"Fold grated ginger and finely chopped sage leaves into room-temperature butter," says Wilson. "Then spoon it on top of a roasted sweet potato with dark cane syrup."
21. Bake up gingersnaps
These crispy gingersnap cookies by Molly Marzalek-Kelly come alive with a zesty lemon-sugar topping.
22. Use it with grilled salmon
Memphis BBQ expert Melissa Cookston turns up the heat in Grilled Ginger Salmon with Pineapple Chipotle Glaze.
23. Serve it with oysters
Pulsinelli creates a magical mignonette sauce with chopped ginger, jalapeno, shallots, vinegar and pepper.
24. Add to stocks
Another Wilson favorite: liven up vegetable, fish and chicken stocks by adding a piece of peeled ginger.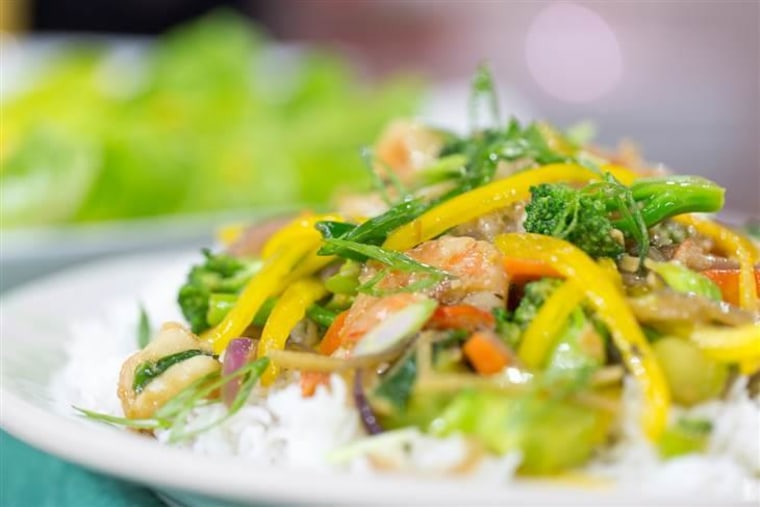 25. Sizzle it in a stir fry
Every stir fry is always better with at least a little bit of the root.
Recipe to try: Al Roker's Ginger Shrimp Stir Fry
26. Elevate meatballs
Add it along with loads of lemongrass and lime to pork and shrimp meatballs to create Pulsinelli's Friday lunch special.
27. Whip up mayo
Pulsinelli top pulled pork sandwiches with a ginger and hoisin sauce flavored mayo for a touch of panache.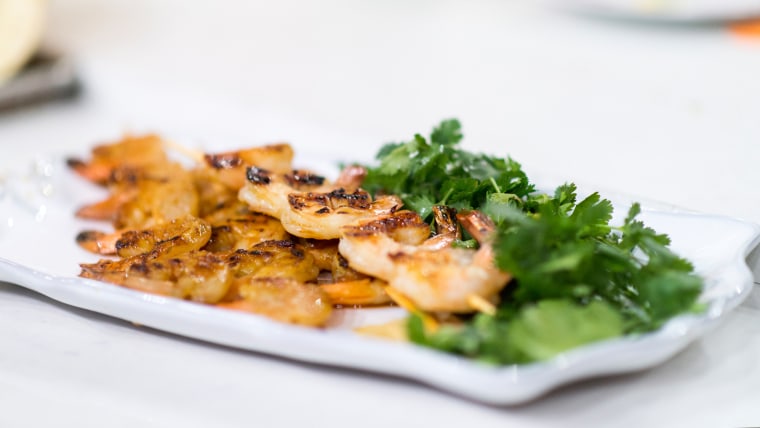 28. Use it in kabobs
Al Roker's 5-Ingredient Ginger Honey Shrimp Kabobs have a sweet kick and they're fun to make.
29. Add a kick to steamed mussels
Drake Leonards, executive chef of Lüke in New Orleans, adds a kick to steamed mussels with coconut milk and a "sweat of ginger." (Cook ginger for a minute on medium heat in an olive-oil-coated pan with a dab of butter.)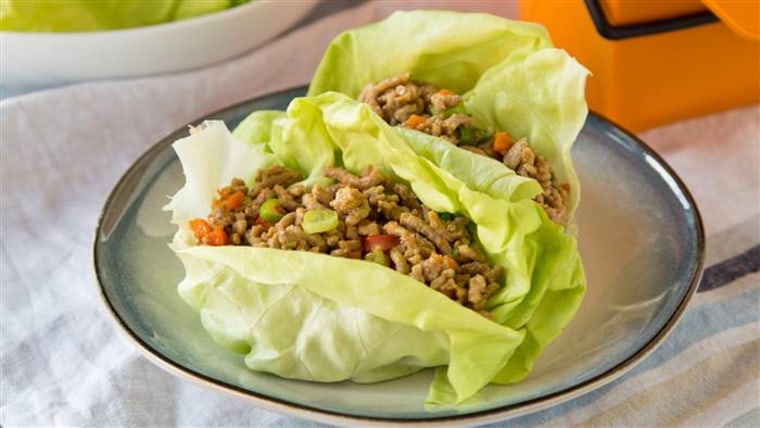 30. Wrap it up
These easy Asian Lettuce Wraps come alive with a filling that's spiced with fragrant ginger.
31. Make it candied
Keep candied ginger on hand to quiet digestive upset.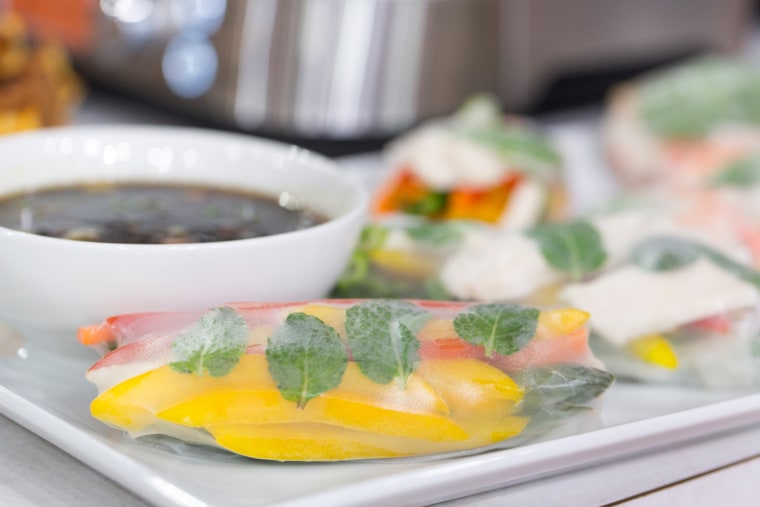 32. Spice up summer rolls
An easy tamari-ginger dipping sauce is perfect with these Chicken and Shrimp Summer Rolls.
33. Cool down with an easy-to-make seafood appetizer
Recipe to try: Chilled Ginger Shrimp
Beverages with ginger
RELATED: Tea is not just for sipping! 54 ways to use this amazing ingredient
34. Wake up with Al Roker's ginger jump start
TODAY's Al Roker gets up every morning at 3 a.m. To keep him energized, every morning he drinks this kombucha tea with lots of fresh ginger and listens to the "A-Team" theme song.
Recipe to try: Al's Morning Ginger Jump Start
35. Pump up Champagne
TODAY contributor Joy Bauer shares her low-calorie Champagne Ginger Cocktail recipe: In a small dish or saucer, combine equal parts sugar and minced ginger. Run a lemon wedge along the rim of a Champagne flute, then dip it in the sugar-and-ginger mixture to rim the glass. Add 1 teaspoon crystallized ginger to the bottom of the Champagne flute, then pour in 5 ounces of Champagne. Enjoy!
36. Add it to simple syrup
It's the base of cocktail guru Maureen Petrosky's delicious Honey Ginger Sparkler with Rock Candy stirrers.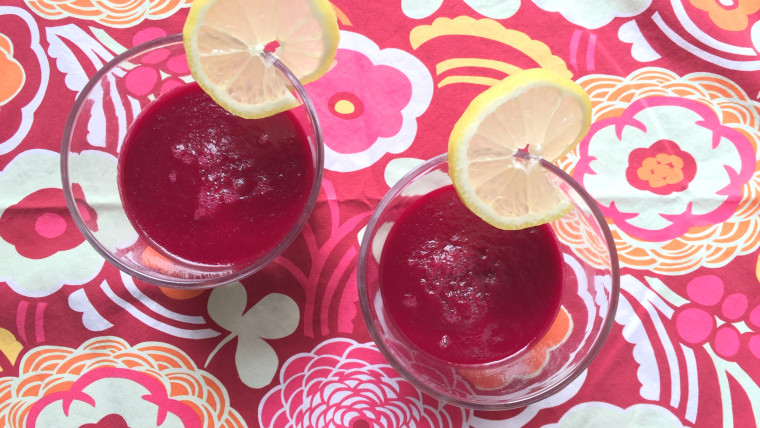 37. Add zing to a healthful elixir
Registered dietician, Frances Largeman-Roth tailor-made this Beet-Apple-Ginger Smoothie for a healthy boost.
38. Pump up your Pimm's Cup
"I love to muddle a few slices of ginger and cucumber in my Pimm's cup--fruit, cucumbers, mint and a fortifying shot of gin, with a splash of ginger ale," says Drake Leonards, Executive Chef of Lüke restaurant.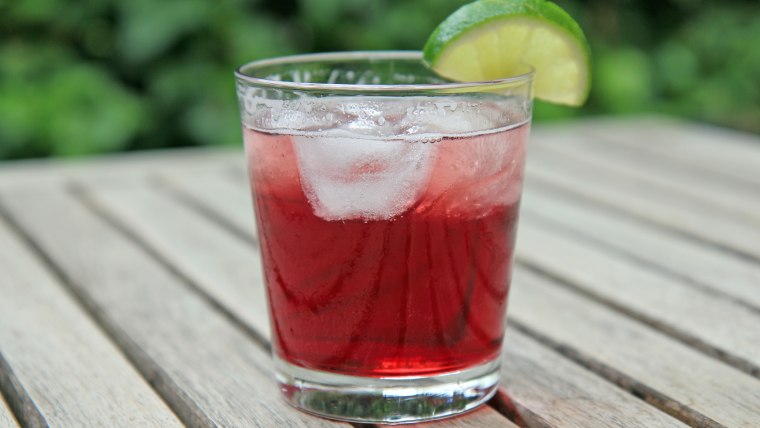 39. Drink a ginger cocktail
Ginger ale adds the fizz to this cranberry cocktail.
40. Brew it as tea
Easy to make, simply add 8 to 10 slices of fresh ginger, 1 tablespoon of grated fresh ginger to 4 to 5 cups of water. Bring to a boil for about 20 minutes. Strain and cool before drinking.
41. Make a DIY ginger ale
Cookbook author Diane Morgan's homemade ginger ale is easier—and tastier—than you can imagine!
Health and beauty uses for ginger
42. Rub it on
Ginger massage oil can relieve symptoms of chronic osteoarthritis, says Dr. Jeremy Wolf, ND, wellness expert for LuckyVitamin.com.
43. Combat nausea and motion sickness
Dr. Nesochi Okeke Igbokwe, internal medicine physician at New York University Langone Medical Center, recommends sipping ginger ale or ginger tea to reduce symptoms of nausea and motion sickness. It's the phenols in ginger that do the trick.
44. Combat chemotherapy nausea
Ginger chews treat nausea from chemotherapy, says Ashley Boynes-Shuck, Healthline.com reporter and author of "Chronically Positive."
45. Energize your skin
Ginger topical skin preparations clear acne and even-out skin tone and hyperpigmentation, according to Dr. Jeremy Wolf, ND, wellness expert for LuckyVitamin.com.
46. Protect against periodontal disease
The anti-inflammatory properties of ginger help to support healthy mouth tissue, says Rene Ficek, Registered Dietitian and Lead Nutrition Expert of Seattle Sutton's Healthy Eating.
47. Help with arthritis inflammation
Drinking ginger tea or adding ground ginger to savory dishes promotes these anti-inflammatory properties that may also be beneficial to those with arthritis, according to Ficek.
48. Improve digestion
Ginger, in tea or candied, is shown to help with indigestion, says Ficek.
49. Relieve migraines
Ginger tea, or fresh or candied ginger is a powerful painkiller that can relieve migraines, according to Ficek.
50. Manage a cough
Ginger in any form can manage a chronic cough or bronchitis, according to Ashley Boynes-Shuck, Healthline.com reporter and author of "Sick Idiot."
51. Ease menstrual cramps
Cooking with ginger powder or eating slices of ginger with peanut butter on crackers may help with the pain and discomfort of menstrual cramps, according to Ashley Boynes-Shuck, Healthline.com reporter and author of "To Exist."