Scotland made mayonnaise-flavored ice cream. Australia put broccoli in lattes. So it's only natural that some in the U.S. with unusual mashup-food cravings would be feeling left out.
Well, not anymore.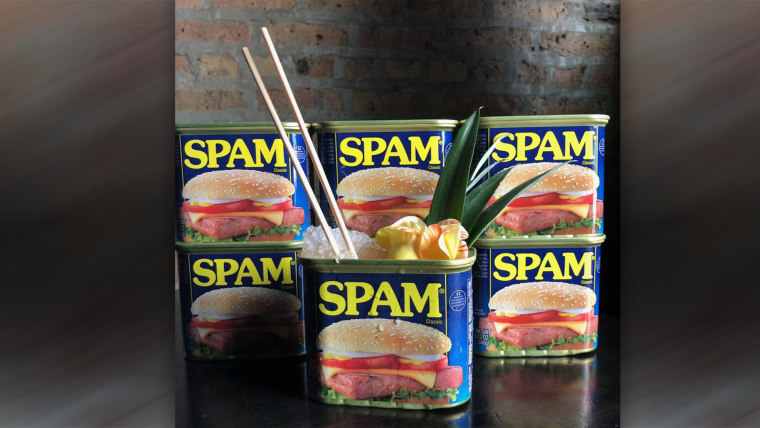 During the first Spam Restaurant Month, which is happening throughout August, 30 restaurants throughout the country are putting some really, really interesting spins on Spam. The freakiest and most intriguing concoction may very well be The Duck Inn's Spam Mai Thai. Yes, folks, that a sweet and salty version of the famous tropical cocktail.
Oh yeah, and it's served in a can ... a real Spam can.
Some people can't wait to try it.
For those who are skeptical, don't worry — there won't be any chunks of meat floating around in your drink. Foodbeast, which has partnered with Spam for Spam Month, says the drink is infused (rather than mixed) with the porky product. Brandon Phillips, The Duck Inn's beverage director who created the drink, started by mixing lard with Spam and two different types of rum, and let that mixture sit overnight. He then strained the lard-liquors and blended the infused liquid with fresh pineapple juice, lime juice, orgeat syrup and bitters.
Asked about the flavor profile, Philips told TODAY Food that his concoction "has a very full flavor, with savory notes from the Spam and Deluxe Mixed Nut Orgeat, and a hint of sweetness, playing off notes of grass & dark molasses from the rums, and finishes with a kiss of island spice compliments of the bitters." As a self-proclaimed Spam-lover, the crafty bartender also called the drink "something magical!"
Hungry for more?
Other Spam dishes available around the country include a $100 musubi wrapped in gold from a San Francisco-area food truck, 808 Poke Shack.
California's San Diego Poke Company is featuring Spam balls and Hot Cheetos Spam fries on its menu. According to the restaurant, the balls are made with ground Spam and potatoes, rolled in garlic panko crumbs and then deep fried. The Cheetos version is breaded in garlic panko crumbs and crushed Hot Cheetos.
Sounds like a snack that needs to be followed by some Hot Cheetos ice cream.
In honor of the state where Spam is perhaps savored most, Artisan's Table in Orlando, Florida, whipped up a Hawaiian egg sandwich.
The sandwich features eggs, a slice of Spam, American cheese, spicy hoisin mayo and scallions — and it's all served on a King's Hawaiian roll.
Not everyone may know exactly what's in Spam (it only has six ingredients, actually), but it's available in all 50 states and has become ubiquitous with the idea of canned meat. Spam was first introduced to the market in 1937 and became more popular, and more widely consumed, during World War II. According to Hormel, Spam's parent company, the canned meat is made of pork with ham, salt, water, potato starch, sugar and sodium nitrate.
Maybe, just maybe, it's time to swap out the old hot dog for a little slice of Spam.