We are all in love with Southern Living Magazine's book, "Christmas All Through the South," especially the chapter called Cookies & Cocktails. Kimberly Schlegel Whitman joined us on TODAY to help whip up some of the recipes suitable for a cookie exchange — plus a cocktail to keep you warm and jolly.
Minted white chocolate balls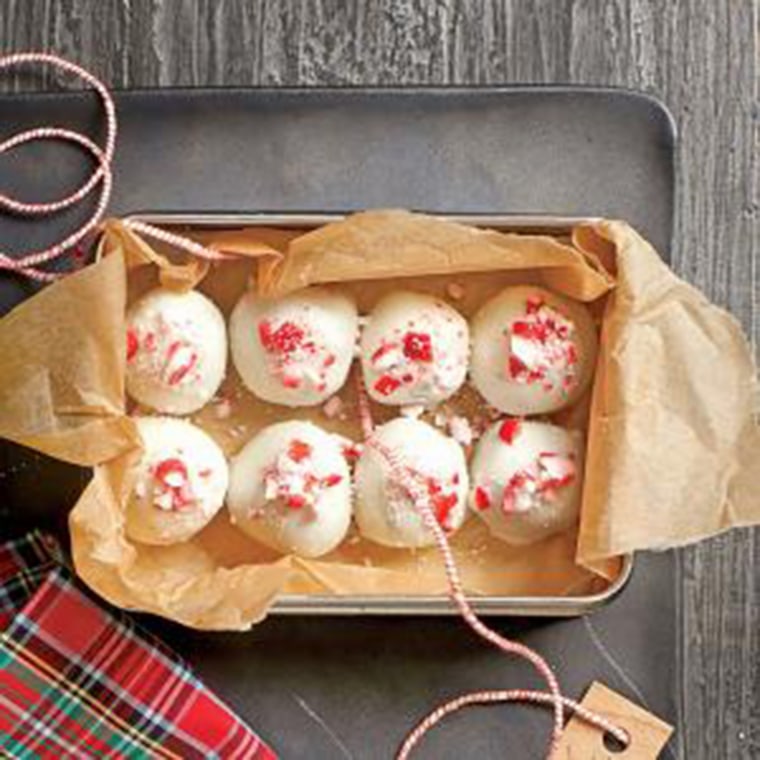 Makes: 32 cookies  
Hands-on: 30 minutes
Total: 1 hour

Ingredients:
56 vanilla wafers, crushed (less than an 11 ounce box)

1 cup chopped pecans, toasted

1/2 cup powdered sugar

2 tablespoons unsweetened cocoa

4 1/2 teaspoon light corn syrup

6 tablespoons peppermint schnapps

3 cups white chocolate morsels

Crushed peppermint candies for coating
1. Stir together first 6 ingredients then shape into 32 balls. 
2 .Microwave white chocolate in a bowl at high for 30 seconds. Stir. Microwave 20 more seconds or until smooth, stirring once. 
3. Coat balls in chocolate two at a time. Sprinkle with crushed hard peppermint candies immediately after.
4. Place in parchment paper-lined pan. Chill for 30 minutes or until set.
Gingerbread linzer cookies
Makes 2 dozen sandwich cookies  
Hands-on: 30 minutes
Total: 4 hours

Gingerbread dough is rolled and cut to resemble traditional Austrian linzer cookies, only with festive bell-shaped centers.
Ingredients:
3/4 cup butter, softened

1 cup firmly packed light brown sugar

1/2 cup molasses

1 large egg

3 cups all-purpose flour

1 teaspoon baking soda

2 teaspoons ground ginger

2 teaspoons ground cinnamon

1/2 teaspoon table salt

1/2 teaspoon ground cloves
1/4 cup lemon curd or orange marmalade
Powdered sugar

1. Beat butter at medium speed with an electric mixer until creamy. Gradually add brown sugar, beating until blended. Add molasses and egg, beating until just blended.
2. Stir together flour and next 5 ingredients in a separate container. Gradually add to butter mixture, beating at low speed after each addition. Divide dough into 2 equal portions. Flatten each into a disk. Cover and chill for 3 hours.
3. Preheat oven to 350 degrees. Place 1 portion of dough on a lightly floured surface, and roll to 1⁄8-inch thickness. Cut with a 2 1⁄2-inch fluted round cutter. Place cookies 2 inches apart on lightly greased baking sheets. Repeat procedure with remaining dough disk. Cut centers out of half of cookies with a 1 1⁄2-inch bell-shaped cutter. Place cookies 2 inches apart on lightly greased baking sheets.
4. Bake at 350 degrees for 8 to 10 minutes or until edges are set. Cool on baking sheets 2 minutes. Transfer to wire racks, and cool completely (about 20 minutes).
5. Spread each solid cookie with 1⁄2 tsp. lemon curd. Sprinkle cookies with cutouts with powdered sugar. Top each solid cookie with a cookie with cutout to sandwich the filling.
Sparkling cranberry cider 
Makes 8 to 10 servings  
Hands-on: 7 minutes
Total: 37 minutes

Chef tip: Be sure to add the sparkling cider just before serving so that it doesn't lose its fizz.
Ingredients:
1/2 teaspoon ground ginger

1/2 teaspoon orange zest

1/4 teaspoon ground cloves

1 (12-ounce) can frozen cranberry juice cocktail

1 (3-inch) cinnamon stick

2 (750-milliliter) bottles sparkling apple cider, chilled

1. Place first 5 ingredients in a small saucepan. Bring to a boil over medium-high heat, stirring until cranberry juice cocktail melts. Remove from heat and let cool for 30 minutes.
2. Pour cranberry juice mixture into a pitcher. Add cider, and stir gently. Serve immediately over ice.
Hidden Kiss cookies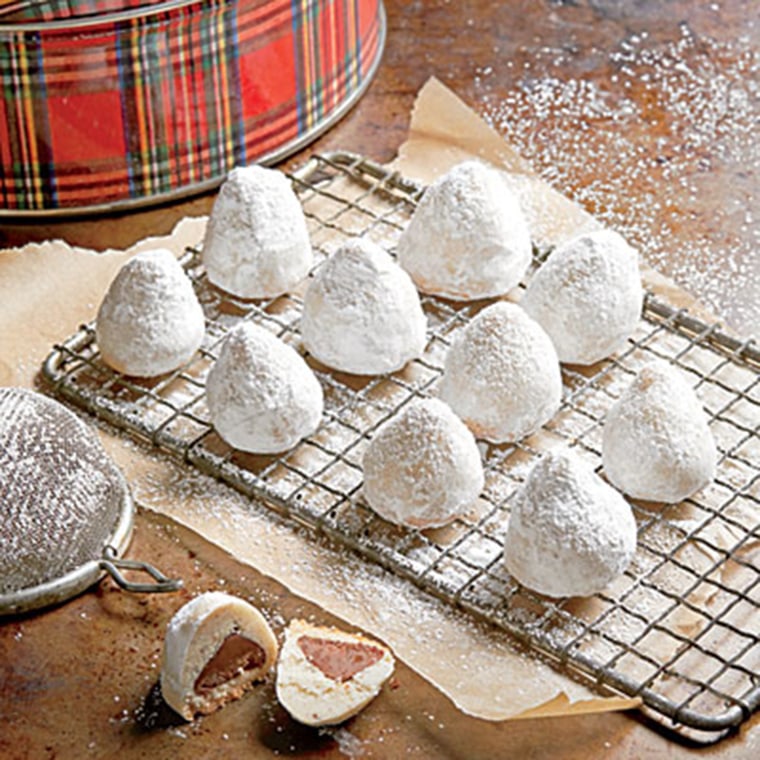 Makes 3 1/2 dozen  
Hands-on: 1 hour  
Total: 1 hour 30 minutes

Ingredients
2 1/4 cups all-purpose flour

1 cup sliced almonds

2/3 cup powdered sugar

1/2 teaspoon table salt

1 1/4 cups butter, softened

1 teaspoon vanilla extract

1/2 teaspoon almond extract
42 chocolate kisses
1. Preheat oven to 350 degrees. Pulse first 4 ingredients in a food processor until almonds are finely ground.
2. Beat butter together with vanilla extract and almond extract at medium-high speed with an electric mixer about 30 seconds or until creamy. Add flour mixture in 2 batches, beating until blended after each addition. Turn dough out onto a lightly floured surface and knead 4 to 5 times. Divide dough in half.
3. Working with 1 dough portion, drop by heaping teaspoonfuls 1 inch apart on 2 parchment paper-lined baking sheets. Press 1 chocolate kiss into center of each cookie. Working with remaining dough portion, cover each chocolate kiss with another heaping teaspoonful of dough. Pinch top and bottom edges of dough together to seal.
4. Bake at 350 for 15 minutes, placing 1 baking sheet on middle oven rack and 1 sheet on lower oven rack. Rotate pans front to back and top rack to bottom rack. Bake 3 to 5 minutes or until edges of cookies just begin to brown. Cool cookies on parchment paper on wire racks 10 minutes. Sprinkle with additional powdered sugar. 
Mississippi mud medallions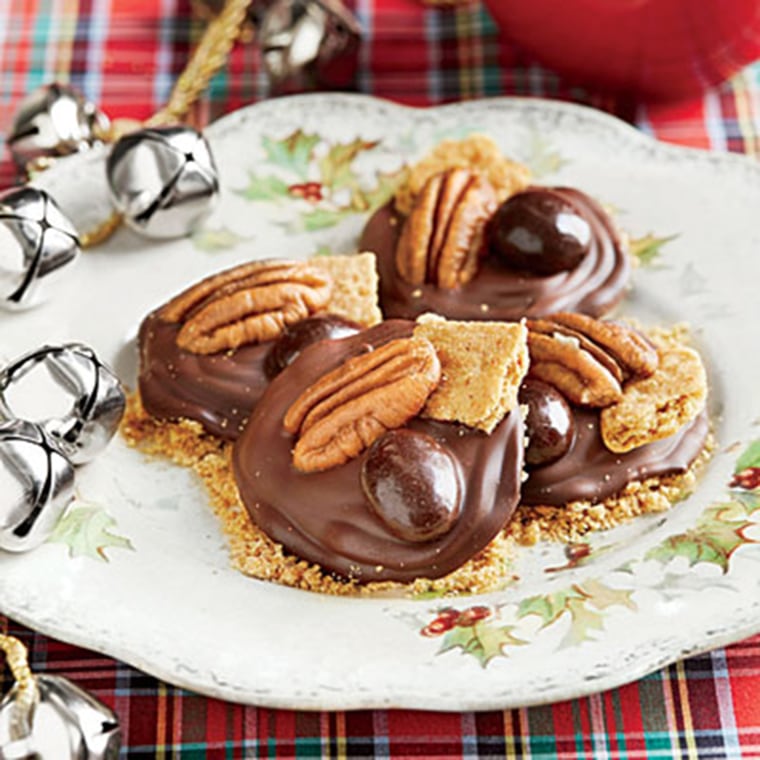 Makes 3 dozen  
Hands-on: 25 minutes
Total: 40 minutes

Chef note: Note: To transfer chocolate into zip-top plastic freezer bag, nestle corner of bag in a 1-cup measuring cup and scrape melted chocolate into the opened bag, pooling it in the corner that is nestled in the measuring cup.
Ingredients:
6 whole graham crackers

2 cups semisweet chocolate morsels

2/3 cup pecan halves, toasted

1/4 cup chocolate-covered espresso beans or miniature marshmallows

1. Place 3 whole graham crackers in a zip-top plastic freezer bag, and roll with a rolling pin until finely crushed. Spoon crushed graham crackers by level 1/2 teaspoonfuls 1 inch apart onto a parchment paper-lined baking sheet. Flatten into 1-inch rounds. Break remaining crackers into 1/2-inch pieces.

2. Microwave chocolate morsels in a microwave-safe bowl at high for 30 seconds. Stir. Microwave 10 to 20 more seconds or until melted and smooth, stirring at 10-second intervals.
3. Spoon melted chocolate into a large zip-top plastic freezer bag. Snip 1 corner of the bag to make a small hole. Pipe chocolate over each graham cracker round.
4. Working quickly, press 1 (1/2-inch) graham cracker piece, 1 toasted pecan and 1 espresso bean onto each chocolate round. Chill 15 minutes. Store in an airtight container at room temperature up to 1 week.