If you find yourself felled by the flu virus that's currently sweeping the country, you may want to ditch your medicine cabinet in favor of your martini shaker. An age-old remedy, alcohol is thought to alleviate some of the discomfort of stuffy noses, headache and sore throats. (And it's a lot tastier than conventional cold meds.) The latest elixir garnering buzz is the Influenza Sorbet from Jeni's Splendid Ice Creams, an ice cream company based in Ohio and Tennessee. The frozen concoction — modeled after a cold remedy used by founder Jeni Britton Bauer's family — contains cayenne pepper, ginger, honey, lemon juice, orange juice and a healthy dose of Maker's Mark bourbon. All of which helps to open the nasal passages and coat the throat. (The creators say a dosage of two scoops should do the job.) The sorbet, which retails for $12 a pint, is available on Jenis.com.
While it's been around since 2004, this year's epidemic has given the Influenza Sorbet new life, and Bauer says it's been flying off the shelves.
There are other alcohol infused ice creams and sorbets on the market and, while they don't purport to have any medicinal properties, an icy treat has been known to soothe a sore throat or two. SnöBar makes cosmopolitan and margarita ice pops and ice cream in flavors like Brandy Alexander Chocolate Chip. Mercer's Dairy flavors their wine ice cream with various varietals. And Drunken Udder offers small batch sorbets, sherbets and ice creams infused with limoncello, bourbon, rum and stout among other spirits. 
If you prefer your relief by the glass, the following cocktail recipes can help you feel better — or at least put you to sleep while you're recovering. Bottom's up! Tell us below, what concoctions do you drink when you're sick?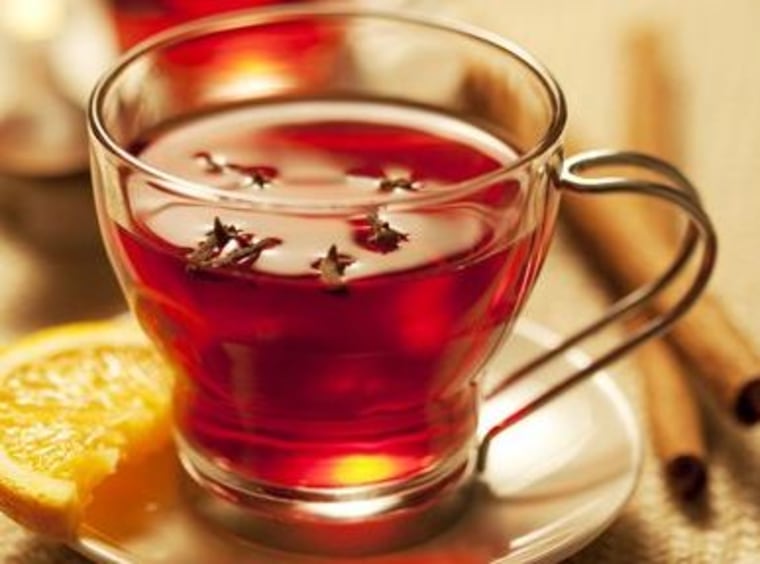 Hot Toddy (from SippitySup.com)
Serves 2
2 cups water
2 tablespoons honey
2 shots bourbon
2 teaspoons lemon juice
2 bags black tea
2 cinnamon sticks (optional)
2 pinches cloves, to taste (optional)
2 lemon wedges (optional)
Bring the water to a boil in a kettle. Drizzle half the honey onto the bottom of each of 2 very large mugs. Then add half the bourbon and lemon juice to each mug. Once the water reaches near boiling, but not quite, place one teabag in each mug and fill them nearly full with the hot water. Garnish with any combination of whole cloves, cinnamon stick, and/or lemon wedge.
Pear and Ginger Cocktail (from TAMO bar & lounge at Seaport Hotel in Boston)
Serves 1
1 ½ ounces Hangar One citrus vodka
2 ounces Goya pear nectar
1 ½ ounces St. Germaine
1 teaspoon fresh grated ginger
¾ ounces ginger simple syrup 
Shake all ingredients over ice. Strain and pour into martini glass. Garnish with ginger poached pear.
Rock and Rye (from Saveur.com)
Makes 1 liter
1 liter rye whiskey
8 ounces rock candy
4 ounces Luxardo cherry syrup
12 whole cloves
3 whole star anise
3 sticks cinnamon
1 orange, thinly sliced
1 lemon, thinly sliced
Stir ingredients together in a 4-quart glass jar with a lid. Let steep at room temperature for 2 days or up to a month.
Get more tips and recipes for seasonal eats at Made By Michelle.
More from TODAY Food: