Celebrate the weekend with these delicious desserts, courtesy of Billy Dec of Rockit Ranch productions. They're sure to make you the culinary star of the cookout!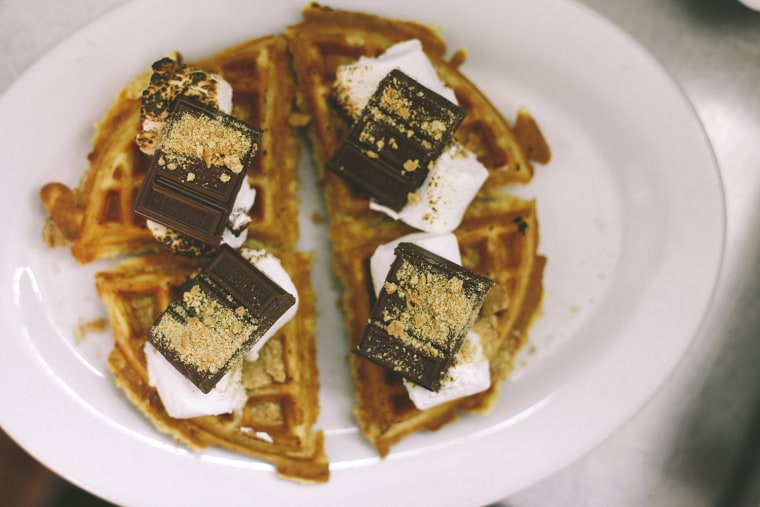 S'mores Waffles

2 cups all-purpose flour

1 tbsp baking powder

1 tsp kosher salt

¼ cup sugar

1-1/2 cup milk

2 egg yolks

2 tsp vanilla paste

4 oz unsalted butter, melted

4 egg whites

Hersey's bars (six pack)

Marshmallows (1 bag)

Graham crackers (one pack, lightly crushed)

Directions:
Heat waffle iron.
Combine dry ingredients and sift.
In separate bowl, combine milk, yolks, vanilla paste. Combine wet and dry ingredients and mix in melted butter.
Separately, beat the egg whites to a firm peak and fold into batter in three additions. Don't over mix or completely incorporate the egg whites. Gently fold in about half of the crushed graham crackers.
Pour appropriate amount of batter into waffle iron.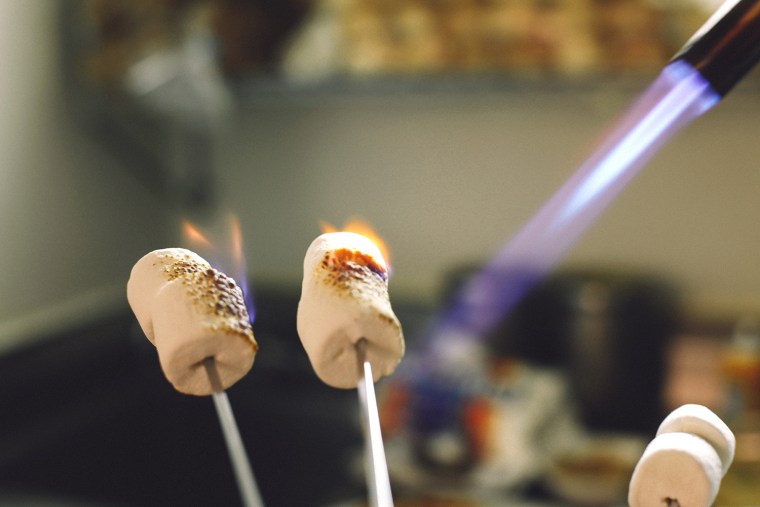 While waffle is cooking, toast marshmallows.
When waffle is done, garnish with pieces of chocolate, toasted marshmallow, and crushed graham cracker.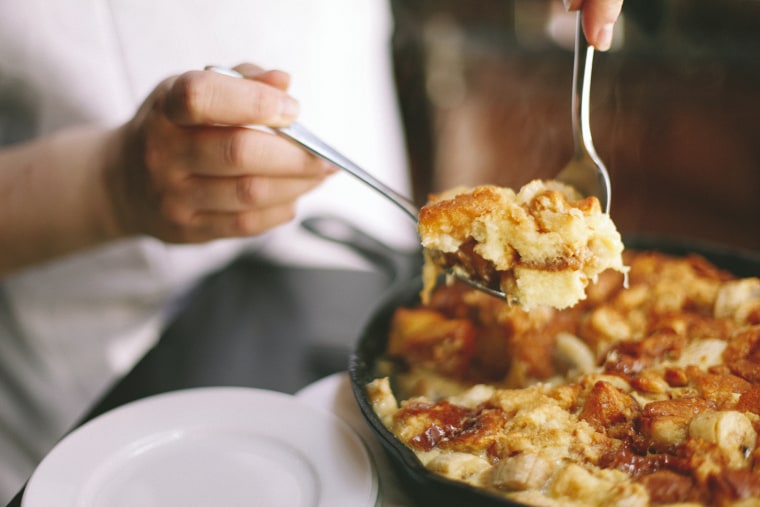 Campfire bread pudding

½ cup butter

6 hot dog buns, cut into 1 ½-inch pieces

5 large eggs

1 can sweetened condensed milk (14oz)

¾ cup whole milk

1 tsp vanilla extract

4 quarts cast iron Dutch oven

Bread pudding mix-ins directions:

S'mores bread pudding: Mix in 1/4 cup crushed graham cracker crumbs, 1 Hershey's chocolate bar, broken into pieces, 1/2 cup mini marshmallows
Banana caramel bread pudding: Mix in 2 bananas cut into 1/4" thick slices, 1/4 cup of caramel sauce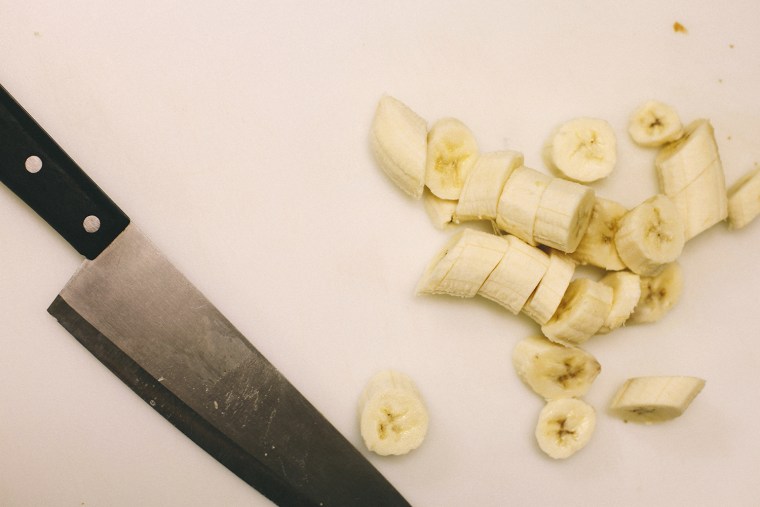 Bourbon apple bread pudding: Mix in 1 cup peeled and diced apples, 2 ounces bourbon

Directions:
Warm the cast iron pan over campfire. Add in the butter and allow to melt. Add in the cut buns and allow to toast.
In a separate bowl, whisk together the eggs, condensed milk, whole milk and vanilla extract. Pour mixture over the buns and stir in mix ins.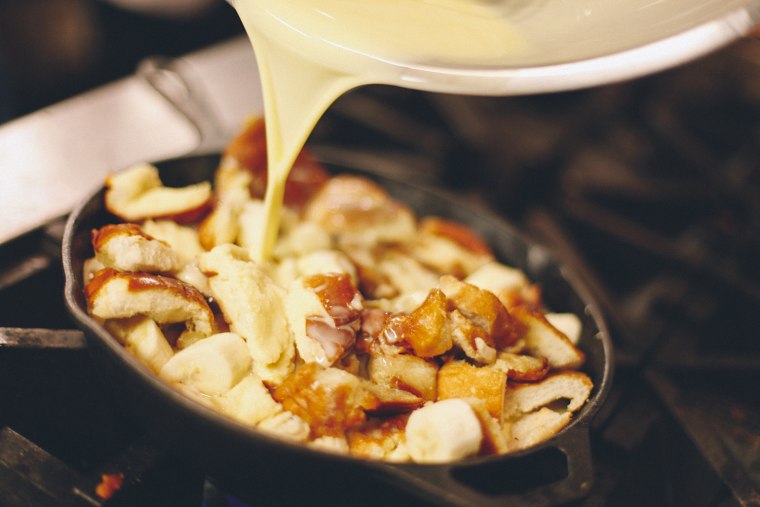 Cover the Dutch oven and place on fire. Aiming to cook at about 350 degrees. Cook time should be about 30-40 minutes. Check after the first 20 minutes.

Bread pudding should be just set. Remove cover and from heat. Use a spoon to scoop out of the cast iron and serve.
Bourbon-maple glazed pineapple and grilled pound cake skewers
1 pineapple, skin and core removed, cut into large 2" cubes

1 pound cake loaf, cut into 2" cubes

¼ cup butter

2 tsp butter

2 tsp heavy cream

2 tsp maple syrup

¼ cup bourbon

Pinch ground cinnamon

Metal skewers

Fresh whipped cream for serving

Directions:
Combine 1/4 cup of butter, heavy cream, maple syrup, bourbon and cinnamon in a small sauce pan, heat to a boil and reduce until slightly thickened. Remove from heat.
Heat grill to medium heat. Melt the remaining two tablespoons butter.
Skewer pineapple and pound cake on to skewers, alternating pineapple and pound cake, two pieces of each per skewer.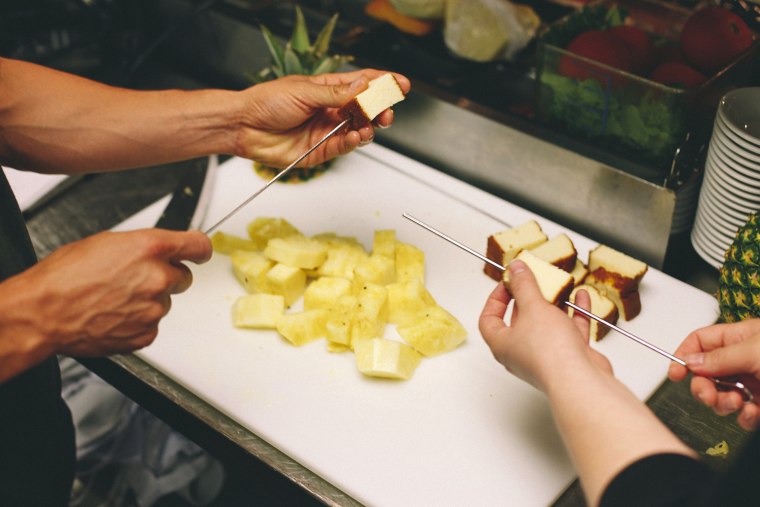 Lightly brush each side of the skewers with the remaining two tablespoons of butter and grill each side until toasted with light grill marks.
Brush each side with the bourbon-maple glaze; allow to remain on grill for about 20 seconds longer. Remove from grill.
Serve immediately with fresh whipped cream for dipping.