Get more out of your slow cooker! Elizabeth Heiskell shares three hacks that'll make you fall in love with your slow cooker all over again.
Hack #1: Whip up a slow-cooker lasagna
No need to boil noodles! This one-pot dish takes minutes to prep. Bonus: Your slow cooker will keep the lasagna warm throughout the meal—perfect for second helpings .
Here's how: Layer uncooked regular lasagna noodles with your favorite fillings like browned, Italian sausage, spinach, tomato sauce, mozzarella, ricotta and Parmesan cheese. Cook 4-6 hours on low until noodles are tender and serve.
RELATED: Lasagna in a slow cooker? 5 recipes that prove it works!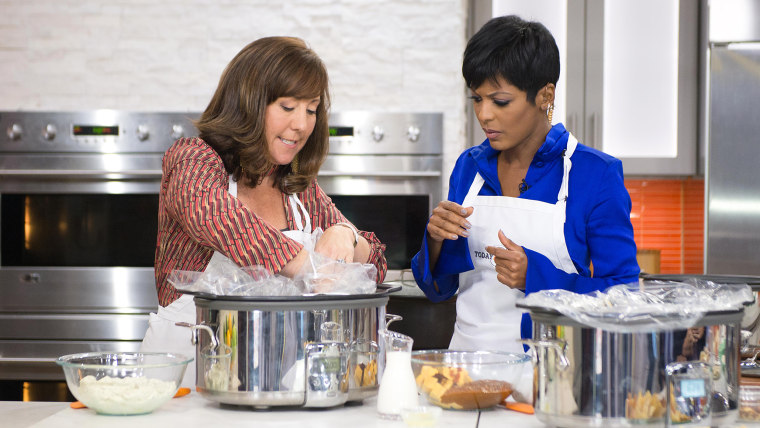 Hack #2: Cook two slow-cooker dips at once with one easy tool
Can't choose between spinach artichoke dip and queso cheese dip? You won't have to thanks to this smart tip.
Here's how: Mold a few sheets of heavy duty foil—the kind that's hard to crumple and basically stands up on its own—to form a wall in the center of your slow cooker. Shape it so it fits snugly, then bolster it with more lining so the dips stay separated.
RELATED: 11 slow cooker tips and tricks every home cook needs to know
Hack #3: Warm taco tortillas with your slow-cooker
Your beef, pork, chicken or veggie filling is ready to go, but your tortillas are ice cold. There's no need to break out a pan to serve them up.
Here's how: Place the tortillas on a glass pie plate and place the plate on top of the taco filling in the slow cooker. Cover. In a few minutes the tortillas will be perfectly steamed and ready for your fiesta!
RELATED: The one thing you should avoid doing when using your slow cooker