I'm a professional recipe glutton (okay, food writer and photographer, but glutton is really more accurate), which means nothing is truly off-limits when it comes to our Thanksgiving menu. I've hosted a big feast for a rotating cast of friends and family members for the past decade, and the items on our buffet have been as diverse and offbeat as the various loved ones whose butts are in the chairs on any given year.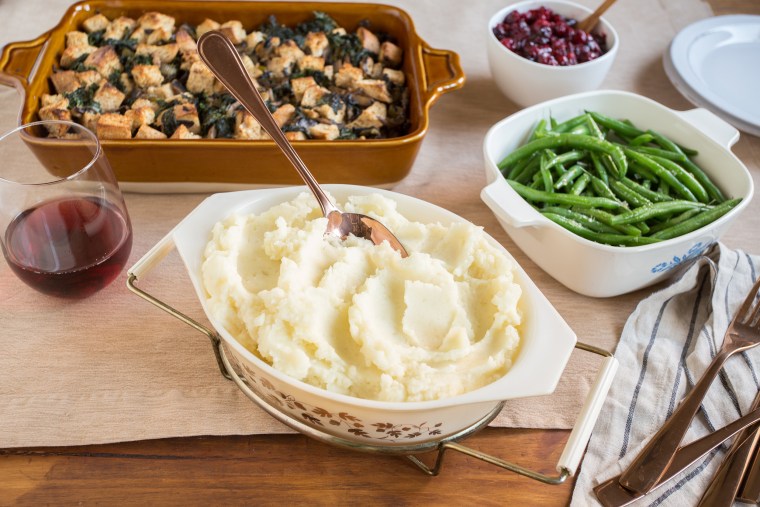 Whether it's my dad's kinda lame but easily fulfilled request for a bowl of buttered corn, or my celery root-shingled update to the traditional cheesy potato gratin, or a warm, lemony lentil salad for the vegetarian guests, our motley group has always eaten well. And dare I say we've never had a dud dish — or guest — in the bunch?
RELATED: Make creamy corn casserole
Last year, however, was my happiest and most successful Thanksgiving yet, and it wasn't because I got to make a cherpumple (though that was pretty epic!).
It was because I finally got my way and put together an all-sides Thanksgiving meal, with nary a burnished turkey to be found anywhere. Not in the center of the table, not a sacrificial turkey breast as a concession to the midnight sandwich scavengers, just a glorious cornucopia of sides, sides, sides, as far as the eye could see. Three kinds of potatoes! A vat of stuffing! Green beans AND charred Brussels sprouts AND maple-glazed delicata squash AND even a crunchy fennel and apple slaw for balance!
RELATED: Amazing green bean casserole recipes to try
While there are purists who would rather cancel the meal than not feast on a drumstick, and those aforementioned late-night snackers who need that leftover turkey for a mayo-and-cranberry-slathered sandwich, that's not who I am. And judging from the groundswell of sides supporters out there, there's a bunch of likeminded cooks who are making the case for making side dishes the centerpiece at their Thanksgiving too. My informal polls of friends across America revealed a landslide victory for those of us who would rather eat side dishes — not a single person chose the turkey as their favorite part of the meal.
RELATED: 5 easy new mashed potato recipes
If you feel constrained by the demands of the traditional turkey, if you're tired of foisting leftovers off on your guests, if you really don't care for turkey stock but feel compelled to make it because the bones are there, I'm urging you to break free.
Think of all the time you'll save by not brining or dry rubbing or roasting or spatchcocking or grilling or, for heaven's sake, deep-frying the beast of a bird. So much drama avoided! So much more room on your plate for the truly satisfying dishes!
RELATED: How to make Southern sage-cornbread dressing
If you're wary of cutting the cord on turkey altogether and worry about a family uprising, here's a compromise/peace offering: a turkey pot pie. This poultry peace offering bridges both worlds, giving you all the good stuff — buttery carbs, tons of gravy, and tender vegetables — in each forkful, without wasting plate space on boring and bland turkey slices.
RELATED: Swap turkey for chicken in Siri's slow-cooker chicken pot pie or chicken pot pie casserole
In this season of togetherness, let's really come together at the Thanksgiving table. Let's pile our plates high with the bounty of the season. And let's embrace the true hero of the season: the humble side dish, no matter what it may be.
RELATED: See TODAY Food's All-Star Thanksgiving for more fabulous sides