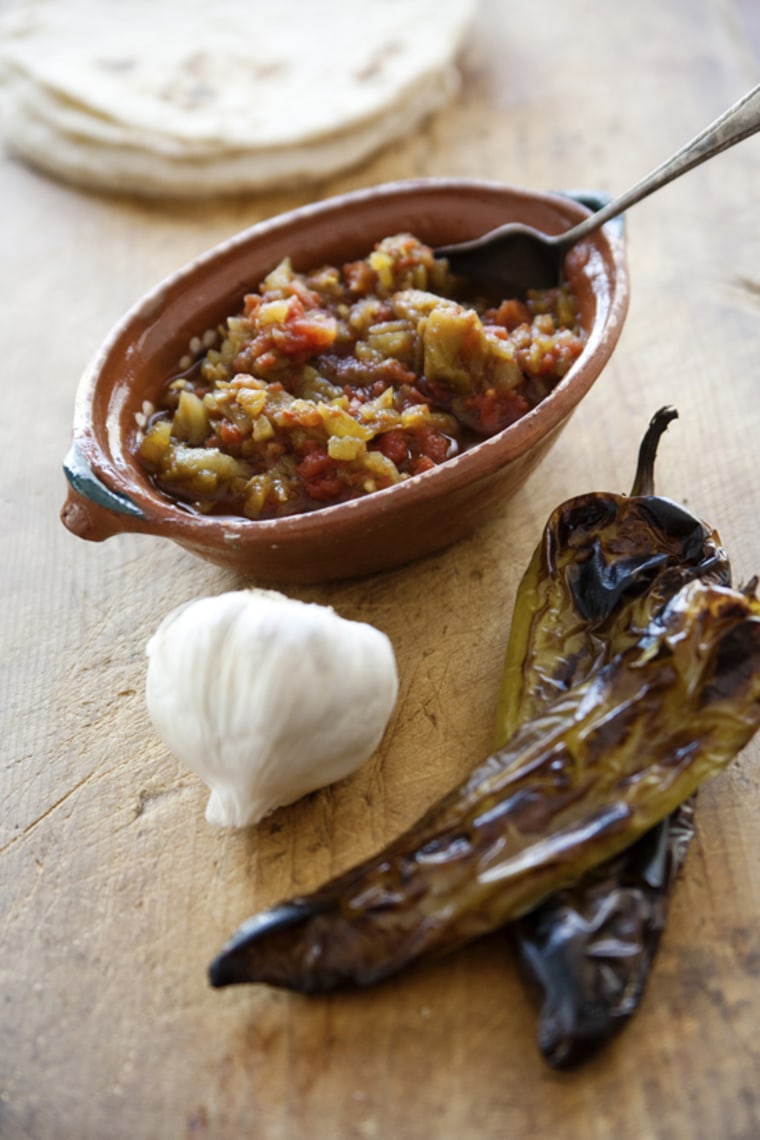 Salsa is the key to bridging the generation gap. At least that's the case for Yvette Marquez-Sharpnack and her family.

The Denver mom, who co-authored the Mexican cookbook "Muy Bueno" with her mother and sister, reminisced about the traditional salsa that was served to her as a child, and that she now serves to her own kids.
"When I was growing up, my grandma Jesusita had her salsa casera on the table every day," she told TODAY.com. "It translates to 'homemade salsa' and has tomatoes, garlic and long green chilies that are roasted and peeled, with a bit of salt. It was perfect for dipping or to put on tortillas, burritos and adding to soup. It's just a tradition we continue on my family, with my kids, we can't have a Mexican meal without it."
Yvette says salsa, and the Mexican recipes in her book, are a good lens through which to see the shift to modern Mexican-American cuisine — from age-old traditions to evolving with American trends.
"There are three generations of recipes — my grandmother's that are old-fashioned, my mother's Southwestern cuisine, and ours, which are more Latin fusion and healthier Mexican," said Yvette, who is 41.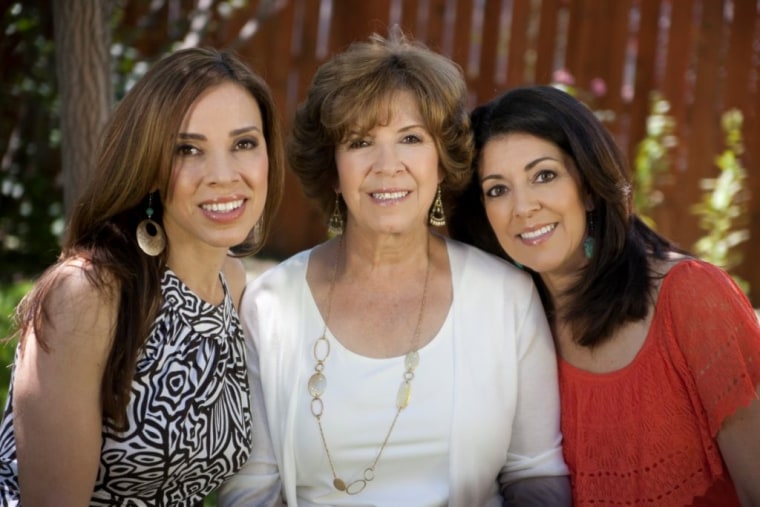 But even for the busy mom, who also works as a graphic designer and food writer, there's one shift she isn't willing to make: jarred salsa.

"Salsa is all about fresh ingredients," she said. "My biggest pet peeve is store-buying something that can easily be made at home."
So take advantage of summer produce and make your own salsa. Yvette shares her tips for thinking outside the jar and getting results that are muy bueno.
What's fun about salsa is that you can get creative with it. "Try adding fruit, like pomegranate seeds to make it sweet and tangy. I love strawberry pico de gallo; it's exotic and great over grilled steak, a perfect summertime salsa," Yvette said. She also suggested adding bacon pieces to amp up the flavor. "There's a new one I've been thinking about — baked bacon chopped with some chipotle sauce spread on it, avocado, mango and jalapeno — I know it's going to be great on steak."
Experiment with the chilies. "Roasting different chilies can add a lot of flavor," Yvette said. "Try long green Anaheim chilies or poblano chilies for milder heat or chipotle canned in adobo sauce — you can use that with tomatillo. It's just a matter of having fun with chilies, and what flavor or spice level someone likes. Go to a Latin supermarket and pick up some different options — it's a fun way to experiment ."
Salsa and guacamole are both doable on a diet! Try substituting jicama for chips for a healthier treat.
Ready to get your salsa on? Try these recipes from "Muy Bueno" below.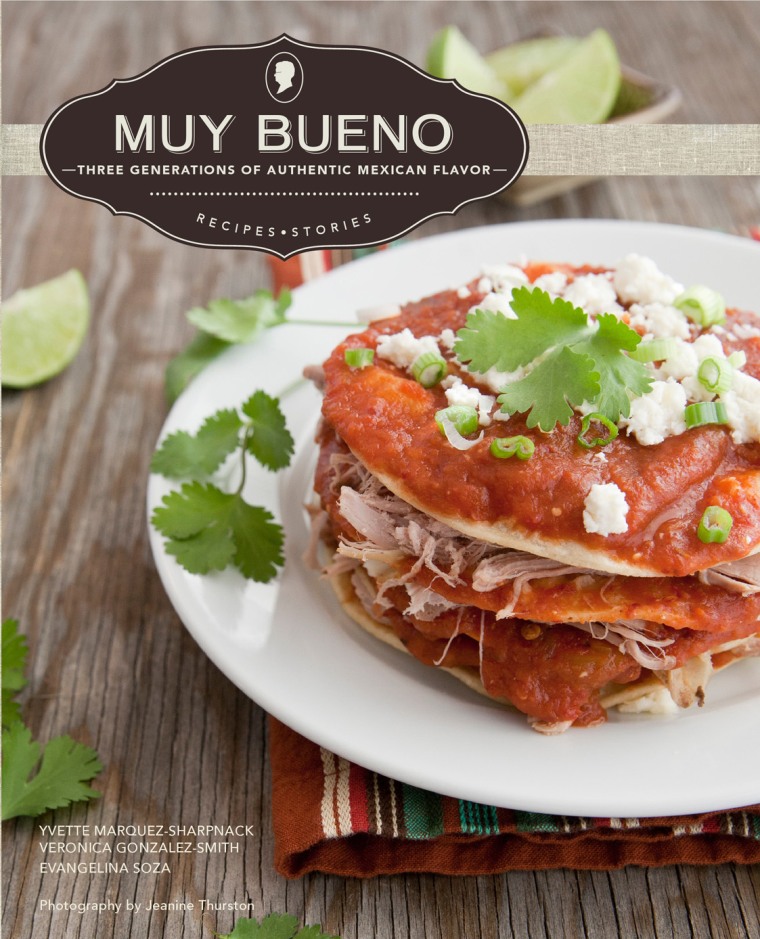 Jesusita's House Salsa (Salsa Casera de Jesusita)
Makes 3 cups

This is the salsa mi mama would make with her bare hands. I can't imagine how squeezing the roasted chiles with her bare hands didn't burn them, truly something amazing. I loved her salsa casera so much I would make salsa burritos, one right after the other, until she'd make me stop. She was afraid I would eat it all and not leave any for the rest of the family or get a stomachache. Luckily I must have inherited her cast­iron stomach, because I never got a stomachache from eating too much salsa or spicy chili!
6 to 7 Anaheim chilies, roasted and peeled

1 or 2 jalapeño peppers, roasted (optional)

1/2 teaspoon salt
3 cloves garlic, finely diced

1 (14.5­-ounce) can whole tomatoes

1/4 cup tomato sauce

In a food processor or blender, pulse the roasted and peeled chilies, jalapeño peppers, if using, salt, garlic, canned tomatoes, and tomato sauce for a few seconds. You do not want to puree it — chunky is best with this flavorful salsa.
This salsa is a perfect appetizer with a basket of your favorite tortilla chips or as the base for several of our recipes.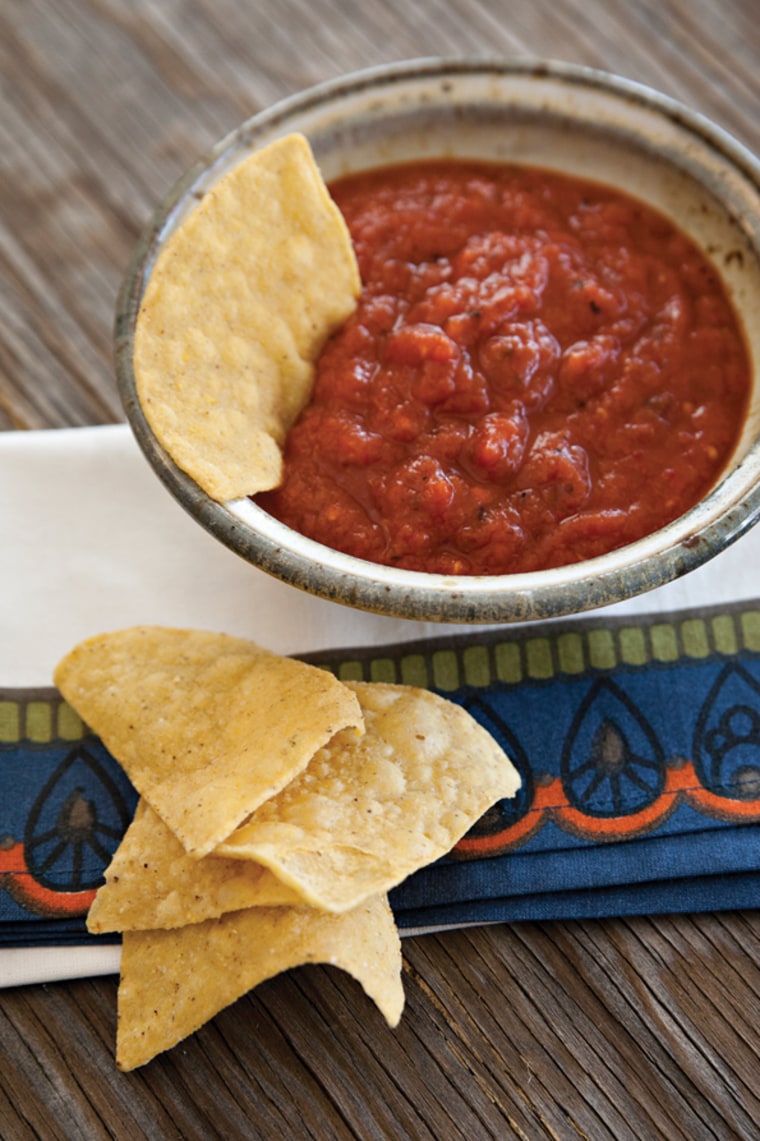 Chile de Arbol Salsa(Salsa de Chile de Arbol)
Makes 21/2cups
The smoky flavor of this salsa pairs well with beef, and Mom always serves it alongside her brisket. In fact, I can always count on finding this salsa in Mom's refrigerator. She and I like very spicy salsas, and we love the intensity of this one. Grandma always had a mild salsa casera in her kitchen and Mom always has a smoky and spicy chile de arbol salsa in hers. I have to confess that Mom and I have eaten an entire bowl of this salsa with a bag of chips in one sitting on more than one occasion. My brother (who is not fond of spicy chilies) once watched in horror as Mom and I managed to do this.
1 teaspoon canola oil

20 chilies de arbol, stemmed (do not remove seeds or veins)

1 small white onion, chopped

2 cloves garlic, crushed

1 cup canned peeled whole tomatoes

1 (8-ounce) can tomato sauce
1 teaspoon salt
Add canola oil to a medium skillet over medium heat. Add chilies and toast for 1 to 2 minutes, stirring constantly so chilies are fried well and change color.
Add onion and garlic and fry for 2 minutes, again stirring constantly.
Transfer fried ingredients to a food processor or blender and add whole tomatoes, tomato sauce, and salt. Puree until salsa is smooth with specks of chilies. Add salt to taste.
Serve at room temperature or slightly chilled. Serve as a salsa dip or to top off your favorite tacos or tostadas. Chile de arbol salsa can be stored in the refrigerator 3 to 5 days, or frozen for many weeks.
Strawberry Pico de Gallo
Makes 2 cups

The strawberry salsa stole the show for me — it was spicy, bright, and exotic. This is definitely a creative and zesty salsa perfect as a topping on grilled steak, fish, chicken, or with a basket of tortilla chips.
1 jalapeño pepper, stemmed and chopped

2 cups strawberries, hulled and chopped

1 small red onion, chopped

1 tablespoon chopped cilantro

1/2 teaspoon salt

Juice of 1 lime
Put chopped jalapeño, strawberries, onion, and cilantro in a large mixing bowl and sprinkle with salt.
Add lime juice and stir then taste and add additional salt if necessary.
Recipes from "Muy Bueno: Three Generations of Authentic Mexican Flavor" by Yvette Marquez-Sharpnack, Veronica Gonzalez-Smith and Evangelina Soza, www.muybuenocookbook.com.