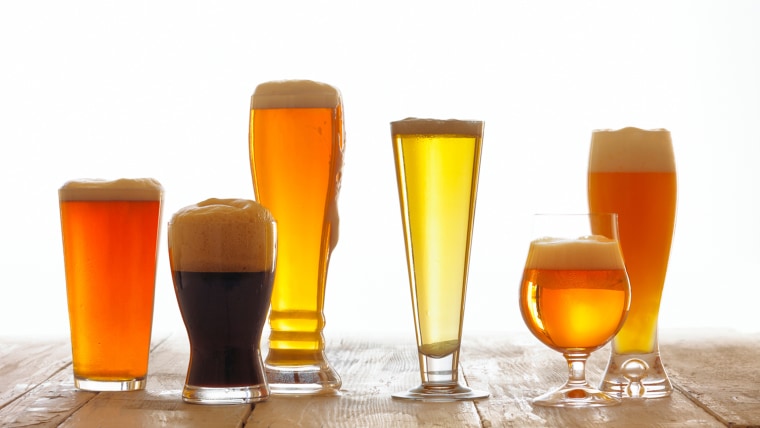 St. Patrick's Day is here once again, and that means people will flock to bars across America to drink green beer.

If the idea of throwing back a few pints of mass-produced light lager with green food coloring doesn't get your Irish eyes a' smiling, try one of these craft beers created by breweries that are striving to minimalize their impact on the planet. Each is a perfect choice to enjoy on St. Paddy's Day, and each is crafted by a brewery that gives "green" beer a wholesome new meaning.
New Belgium 1554 Dark Lager
New Belgium has put sustainability at the center of their business model. They reuse or recycle 99 percent of their waste, sending just 1 percent to landfills, and they sought out a previously developed industrial site in need of clean up for their new Asheville, N.C., brewery so they could return it back to use instead of spoiling undeveloped lands.
While New Belgium makes plenty of lovely beers, their 5.6 percent ABV 1554 Dark Lager is perhaps the best choice for St. Patrick's Day, as it's ruby-black body and toasted maltiness are a great fit for a day when dark beers are celebrated.
A sip of 1554 Blac k Lager treats your taste buds to sweet notes of caramel, chocolate and coffee, followed by an earthy nuttiness and just a hint of hop bitterness on the back end — a great Earth-friendly alternative to Guinness Stout.
Sierra Nevada Pale Ale
Chico, Calif.'s Sierra Nevada Brewing Company has made a name for themselves as a model of eco-friendly brewing. They generate about 76 percent of the energy needed to power their brewing operations on site, using non-combustible energy sources like hydrogen fuel cells and one of the largest privately owned arrays of solar panels in the country.
Drinking a Sierra Nevada Pale Ale on St. Paddy's Day will make people who ordered a Harp or a Smithwick's green with envy. Smooth, sweet and sublimely balanced, this 5.6 percent ABV ale starts with a pucker of citrusy hops, which gives way to earthy malts in the middle, and peppery pop of piney hops on the finish. This venerable beer continues to be a standard bearer of American pale ales.
Great Lakes Brewing Company Edmund Fitzgerald Porter
Cleveland, Ohio's Great Lakes Brewing Company has a number of sustainability initiatives aimed at lessening their company's impact on the environment while working to raise awareness of environmental issues facing Great Lakes region. They have a sustainable farming initiative to provide earth-friendly ingredients to their brew pub, they sponsor the Burning River Fest to help protect the ecosystem around the Cuyahoga River which famously burned in 1969, and they reuse, recycle and conserve energy whenever possible.
Great Lakes Brewing Co.'s 5.8 percent ABV Edmund Fitzgerald Porter is a delight any day of the year, and a perfect sipping companion for March 17. Big notes of roasted chocolate, toffee, caramel and espresso glide smoothly over your palate with every sip, delivering a rich and smoky flavor that seems impossibly robust for a beer with such a reasonable ABV.
Brooklyn Brewery Dry Irish Stout
Brooklyn Brewery gets all of its operating energy from sustainable wind power, which, short of running on a team of hipsters pedaling stationary "fixie" bikes, makes their beers very green indeed. The energy they use comes from a wind farm in Upstate New York and costs Brooklyn Brewery about 10 percent more than using standard electricity, but keeps 335,000 pounds of carbon dioxide from entering the atmosphere each year, according to their website.
Brooklyn's Dry Irish Stout is the obvious choice for St. Paddy's Day, and its low 4.7 percent ABV will help make March 18 a little less trying as well. This is a beer you want to drink near room temperature, as its subtle flavors are diminished when it's chilled. Sweet and herbal at the start, Dry Irish Stout becomes rich and roasty in the middle of its flavor, with notes of coffee and bittersweet chocolate taking center stage. Overall more of a mild child than a party animal, this beer is a sensible and serene way to sip through St. Patrick's Day.
Do yourself a favor this St. Paddy's Day — stay away from those green-colored beers, and instead say "slainte!" with one crafted by a "green" brewery.