There are so many ways to make healthy food appealing, even to a picky or junk food-addicted eater. The most obvious: make it taste friggin' delicious. And one of the best and easiest ways to make blah or challenging food taste magically delicious, every single time, is dressing.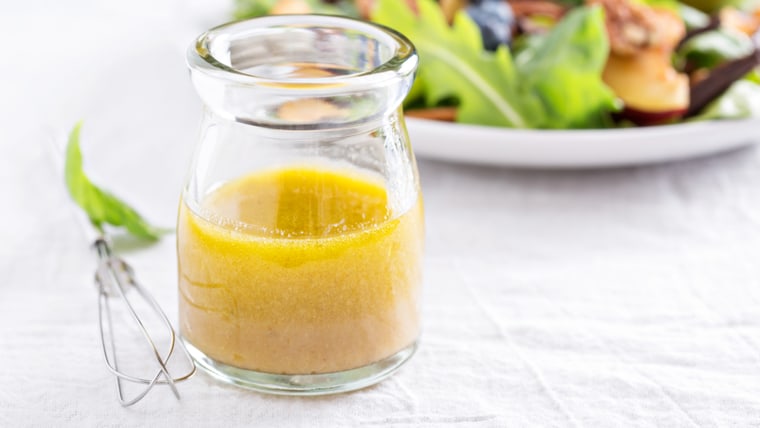 A good dressing is the crack-like equivalent of the devil's flavor dust they sprinkle on Doritos; toss it with gravel and I'll eat it. Think of it less as "salad dressing" and more like a flavor sauce that instantly coats your tongue with a balanced delivery of salty, sweet, sour and umami. I like to call them flavorgrams.
Burgers, rice bowls loaded with healthy ingredients, steamed veggies, grilled steak or chicken are all made better and moister when you drizzle on a terrific carrot ginger, basil vinaigrette, lemon tahini, or sesame miso dressing. No argument, right?
But as tempting as bottled salad dressings are for the convenience they're loaded with sugar, preservatives, and trans fats. I fully relate to how hard it is just to get the most basic dinner on the table some nights, and I'm a professional chef, for crying out loud. My clients fork out beaucoup bucks for someone to make it all happen, so I almost always leave a jar of homemade vinaigrette or other dressing for them to use throughout the week, and this is a little thing you can do that will have a noticeable impact.
By far the most popular dressing I make is my sherry vinaigrette, and I'm going to share it with you. The absolutely adorable 4 year-old daughter of one of my clients told me, as she pushed the curly red locks of hair out of her eyes, that sometimes if she wakes up from a bad dream, or feels scared at night, she thinks about how yummy my salad dressing is and it makes her feel better. Now, when I need to find a happy place, I think of her saying that.
I leave my clients Ziplocs filled with prepped veggies that they can use to create delicious raw salads as part of a meal or for a snack, by simply tossing them with dressing. As they sit in the dressing for a bit the vinegar or citrus begins to "cook" down the raw taste into something pleasing, fresh and crunchy. Family still won't bite? Try the "this is for me" trick: make a delicious raw salad or slaw with a killer dressing on it and eat in front of everyone but pretend you don't want to share. I've totally seen this work to the point where the kids are pleading for a bite.
A few words about the recipes. As in most cooking the best ingredients yield the best results and will make a world of difference to the taste and consistency I urge you to seek out the aged, imported vinegars, the really fruity, good-quality olive oil, and so on. Also, the quantities should be approached as loose ones, so you should adjust them to your taste. Once you've made it multiple times you'll get a feel for how it should taste before adding any oil, and you won't even need to measure.
The chopped salad is just a grab bag of any veggies you have on hand, but the more variety in taste, color, and texture the better. The one in the recipe can be substituted. If you are prepping it more than a couple of hours in advance, you'll need to keep certain ones out till right before such as cucumber, which tends to get a little weepy or cherry tomatoes because tomatoes should never, ever, go in the fridge—it ruins their taste.
Also, I highly recommend using celery leaves as your "herbs," because they lend incredible flavor. My niece Kaitlin, who is in college and suffers from Celiac disease, eats salad with almost every meal. I turned her onto the beauty of celery leaves, and now all her friends save them for her so she always has a supply.