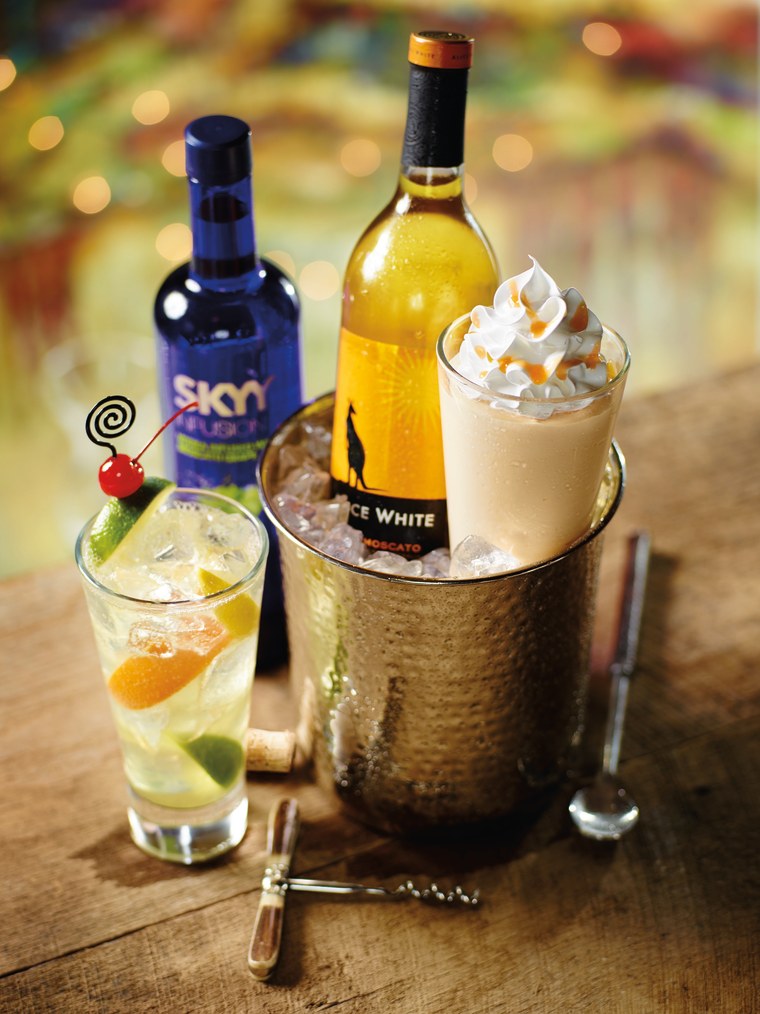 Wine and milkshakes: two of my favorite beverages. But wine + milkshake? Together in the same glass? And would I be willing to try one — for work? 

Red Robin this week introduced the Mango Moscato Wine Shake, a dessert-in-a-glass concoction that's a blend of white wine, vodka, mango puree and vanilla soft serve. The chain has experimented in the past with beer cocktails and in 2012 even debuted an Oktoberfest-themed Beer Shake — a 21-and-over milkshake made with vanilla soft serve, caramel, and Sam Adams OctoberFest beer — that returned for an encore last fall. 
The new wine shake, which retails at $7.49, is aimed at "35- to 49-year-old moms in need of a break," USA Today reports. Perfect, I fit the target market.
Back in high school, when I worked in a mall, I was a big fan of Red Robin's chocolate milkshakes. With sprinkles. (The mozzarella cheese sticks weren't too bad, either.) So why not try the wine shake? 
But I didn't know where I could find a busy mom friend at the last minute to join me, so instead I dragged along my husband and two kids, as that's the only circumstance under which I would EVER go to Red Robin.

I ordered the wine shake, purely for journalistic research, of course. The server hadn't yet tried it, but he assured me that a patron at another table had sampled one and declared it "good." 
That's when I realized that I did not have a pen in my purse (for taking notes), so I grabbed one of the complimentary blue crayons off the table and found a piece of scratch paper to write on. 
My friend Heather then showed up at the restaurant, also with her family in tow. Perfect. I waved them over to join us, as she was also a mom in need of a break, but warned her that I was going to make her try the shake. "But I just got done working out," she protested. I reassured her that all she had to do was take a sip.
When the shake arrived, it was frothy and topped with whipped cream and what looked like mango syrup, complete with a straw.
"Can I have a sip?" my 8-year-old daughter asked.
"No," her dad replied.
After clarifying for her that it was an ADULT-ONLY beverage, I found myself envying her more kid-appropriate chocolate milkshake, which came with RAINBOW sprinkles.
That's when I looked at my wine shake and faced my first dilemma. Should I swirl it? Sip it? Slurp it? Since it came with a straw, I slurped it — and was instantly overwhelmed by an overpowering sweetness, followed by the acidic aftertaste of the Moscato. 
I quickly passed it down the table to Heather. "Nice," she said after taking a sip, but I noticed she didn't ask for seconds.
The drink was created by Red Robin's master mixologist Donna Ruch and will be available through Sept. 1 at Red Robin's 480 North American locations.
Denny Marie Post, senior vice president and chief marketing officer for Red Robin, told TODAY the casual dining chain has been experimenting with shakes. "We pride ourselves in taking classic American things and shaking them up a bit, literally, in this case."
When I mentioned the wine shake was really sweet, Post replied: "It's more of an indulgent drink. It's for folks who like sweet beverages." 
Next time I have a girl's night out, I think I'll stick to the glass of wine. Preferably red. And bring my friend Heather along — but leave the kids at home, so we can both get a real break.  
And when I visit Red Robin again with my family, I'll be sure to order a chocolate milkshake. With sprinkles. 
Joy Jernigan is a TODAY contributor. Follow her on Twitter @JoyJernigan.