The oyster business is not for the faint of heart. The coveted bivalves are highly vulnerable to outside forces — forces that are beyond the control of many oyster growers — but the payoff can be oh so worth it. Just ask cousins Travis and Ryan Croxton.

The Croxtons' great-grandfather, James Croxton, sold the family's first Chesapeake Bay oysters in Virginia in 1899 to supplement his farming income. James' son — their grandfather — eventually took over the Rappahannock River Oysters business, but he ultimately cautioned his own kids against it as pollution, disease and over-fishing took hold.
"My grandfather rode the decline," Ryan Croxton told TODAY. "He rode the high point and then he rode it down. It pretty much collapsed in 1980 and he died in 1991."
For 20 years, the Croxton family held on to the oyster beds, but did little with them — until 2001, when Travis and Ryan decided to take over. They said they both felt nostalgic about their grandfather and drawn to their family's heritage.
"We had no intention or realization that we would come to where we are right now," Travis Croxton said.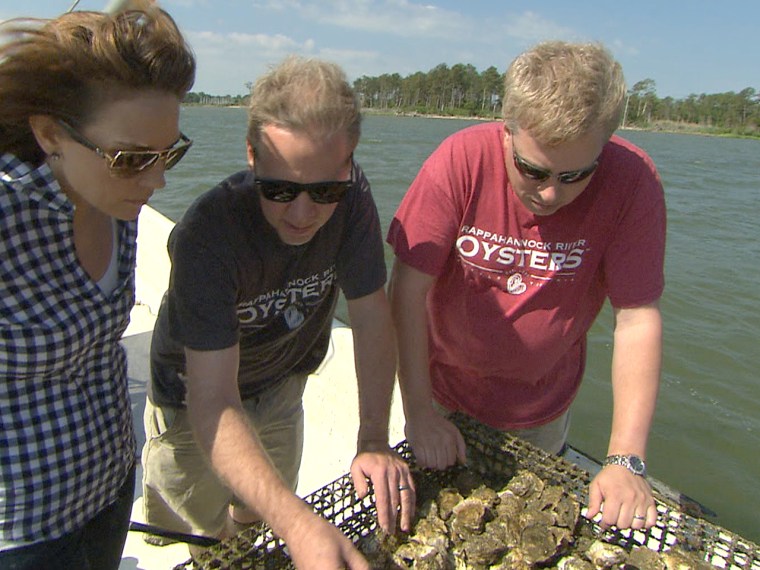 Travis and Ryan created their own crash-course in oystering and aquaculture — raising and farming oysters, rather than just gathering what they found in the bay. This represented a fundamental change in the family's business.
"Today our oysters are grown 'off bottom,' positioned squarely in the water column where food quality and quantity are greatly improved," the Rappahannock River Oysters website explains. "Not only do the oysters grow faster, they grow richer, plumper and rounder."
Less than two years after they got started, Travis and Ryan sold their first bivalves to one of the country's top restaurants: Le Bernadin in New York.
"We had nothing to lose," Ryan Croxton recalled. "We had day jobs. It wasn't like it was, you know, live or die, and we felt like the best critics would be the best chefs."
The chefs at the famed seafood restaurant swooned — and today, just over a decade later, renowned chefs still call on the Croxtons for top-notch oysters. What started out as a sentimental hobby has become a full-time job for the cousins, who sell 100,000 oysters a week.
In addition to harvesting four oyster varieties — Rappahannocks, Stingrays, Snow Hills and Olde Salts — the Croxtons also run three restaurants in Virginia and Washington, D.C. At one of them, Merroir on the banks of the Rappahannock River in Topping, Va., diners can watch the harvest being brought in from their tables.
"My grandfather would have never imagined this, but if my father had seen what is happening he would be so proud," Ryan said.
Ryan and Travis also have become passionate advocates for the waters that have given their family so much, and they're doing what they can to help revitalize Chesapeake Bay. They've been recycling oyster shells since the beginning and using the shells they collect to grow more oysters. Some of those they harvest; others they use to restore the natural reefs that had been decimated over time.
"Our mission is simple," Travis and Ryan say on their website. "To put the Chesapeake Bay oyster back on the map."