Is the notion that mayonnaise needs to be refrigerated a myth?
A new report by global information company NPD Group finds that mayo is ready to leave the fridge and join ketchup and mustard bottles at room temperature on the table at your local eatery.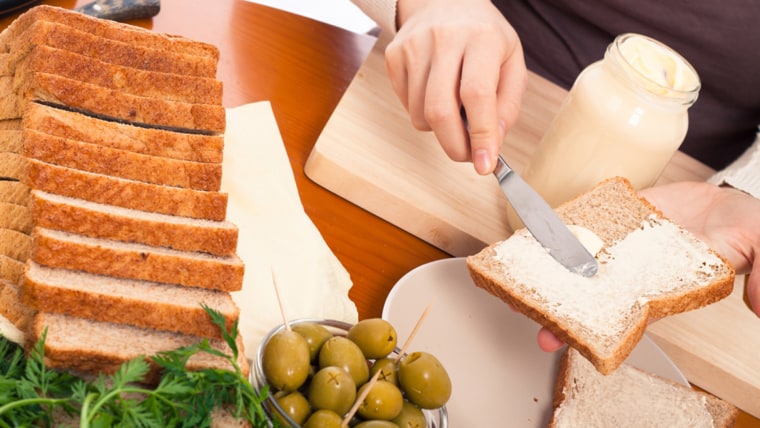 Commercially produced mayonnaise, as opposed to the homemade version, does not need to be refrigerated, according to the report.
Food scientists find it's because mayo undergoes strict testing and "its acidic nature slows the growth of the bacteria associated with food-borne illnesses,'' according to NPD Group.
RELATED: Clean wood with mayonnaise? 8 surprising cleaning tips
However, that doesn't necessarily mean when you crack that jar for a picnic or a day at the beach there are no worries. Mayo can still be contaminated by other foods or dirty utensils, experts say.
And while questions remain about whether the fatty spread should be eaten at all (or, as this mayo-hater would prefer, buried deep beneath the earth's molten core), keeping it in the fridge is mostly about extending shelf life.
RELATED: Love it or hate it, mayo gets more popular -- and chefs are divided
"The bottom line is that mayo doesn't spoil faster than other foods, but the shelf life of even ketchup and mustard is much longer if refrigerated than on the counter,'' NBC News health and nutrition editor Madelyn Fernstrom told TODAY.
Also, the mayonnaise found on the counter at your local sandwich spot may be a specially processed mayo specifically for tabletop use at restaurants, according to Fernstrom.
You also might start seeing more and more of it popping up on the table when you eat out, according to NPD Group.
RELATED: The healthiest (and unhealthiest!) condiments, ranked
There has been an 11 percent increase in full-service commercial outlets ordering case shipments of tabletop mayonnaise in the past year, according to NPD Group's SupplyTrack service, which tracks products shipped from foodservice distributors to more than 500,000 commercial and non-commercial operations.
The rise of mayo as America's favorite condiment resulted in $2 billion in sales in 2013, compared to $725 million for ketchup, according to market-research firm Euromonitor.
"Mayonnaise manufacturers innovated by taking a classic product and repackaging it for a new purpose," Supply Track vice president Annie Roberts said in a statement.
"This all-purpose staple now has its rightful place on the restaurant table, and restaurant customers can literally 'hold the mayo.'''
Follow TODAY.com writer Scott Stump on Twitter.