Lovers of bite-sized pieces of fried chicken rejoice! Soon, one of America's favorite burger chains is rolling out a brand new menu item.
Shake Shack, the fast casual joint that's known for its freshly-ground beef burgers smothered in that signature ShackSauce, just launched chicken nuggets as a new menu item on Tuesday.
The nuggets, called Chick'n Bites, are made with "fresh, never frozen, all-natural, antibiotic-free whole muscle chicken," according to a spokesperson for the company. "Muscle chicken" simply means that instead of using chopped or ground up chicken bits that are formed into nugget-like shapes, the Chick'n Bites are made with whole pieces of chicken breast.
Shake Shack chef Mark Rosati told TODAY Food that a lot of thought and prep work went into making this new item since his team tested eight to 10 versions of the nuggets before coming up with the final version.
"We've been working on the Chick'n Bites for about a year," he said.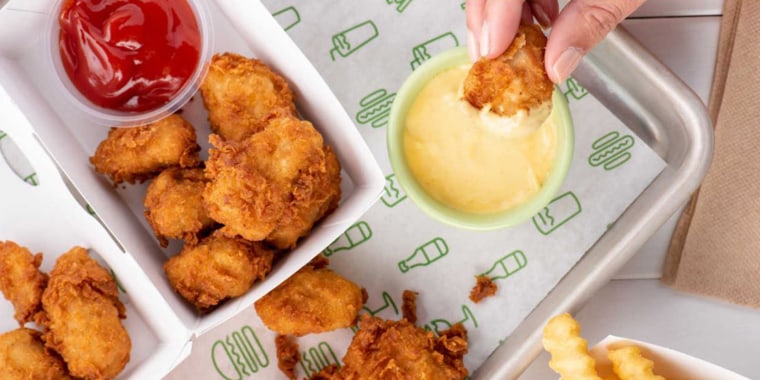 The nuggets are first cooked sous vide — that's a fancy French cooking technique where vacuum-sealed food is cooked in a water bath at a precise temperature. Cooking just about anything via this special method will make it tender and juicy — especially poultry and meat.
Then the chicken is battered and deep fried to crispy perfection.
"We didn't just cut our Chick'n Shack sandwich into smaller pieces and fry it," Rosati said.
Customers can order a six-piece ($4.39) or a 10-piece ($6.39) box of nuggets and dip them in honey mustard or barbecue sauce — although ketchup or ShackSauce are also solid options.
"We took a moment to build it from the ground up — how it's marinated, how it's cooked, the flavor profile of the flour, the crispy crust to chicken ration, how big the bites felt in your hand, how easily they dipped into sauces," Rosati said. "We spent a lot of time making sure the profile felt good."
But of course, there's a little catch. As of Tuesday, the chicken nuggets are only being tested at the new Shack Shack that's located in New York City's West Village. But "they'll be available in other New York City locations beginning in late September, and then up-for-grabs in other soon-to-be announced markets across the country in October," according to Thrillist.
The lower level of Shake Shack's new West Village location will also be the home of the "Innovation Kitchen," a test kitchen where the company's culinary team will work on developing new menu items.
Fans of Shake Shack's ChickenShack fried chicken sandwich have been asking the restaurant to put nuggets on its menu for years, so it's pretty major that they're finally making an appearance. The ChickenShack sandwich launched in 2015.
Don't live near New York? No worries. The restaurant also announced that it's bringing back its spicy Hot Chick'n sandwich on Thursday, which will help fulfill a craving for deliciously crispy fried chicken. The spicy chicken sandwich will be available at Shake Shacks nationwide.
Now, the only problem with the launch of Shake Shack's Chick'n Bites and the return of the Hot Chick'n sandwich is that if they're both on the menu, it will make deciding what to order even tougher — but that's a pretty good problem to have.