As part of our Fresh Cooks Live: TODAY's Spring Cookalong series, Krista Simmons, travel writer and food editor for LAist.com showed us how to take our taste buds around the world without leaving the house.
"I was definitely a different kind of kid," Krista told TODAY.com. "Instead of watching cartoons, I was obsessed with PBS cooking shows like "Great Chefs, Great Cities" and Julia Child. The travelling foodie writes about her adventures and cooks delicious meals inspired by her trips, which she shares with her readers and followers on Twitter and Instagram.
"I love wandering around the globe and gathering inspiration from the sights, smells, and sounds of street stalls and farmers markets," she said. "These dishes are all tweaked to make sense for the home cook. They're approachable, and a bit more healthy too, to help me keep my balance when I'm on terra firma."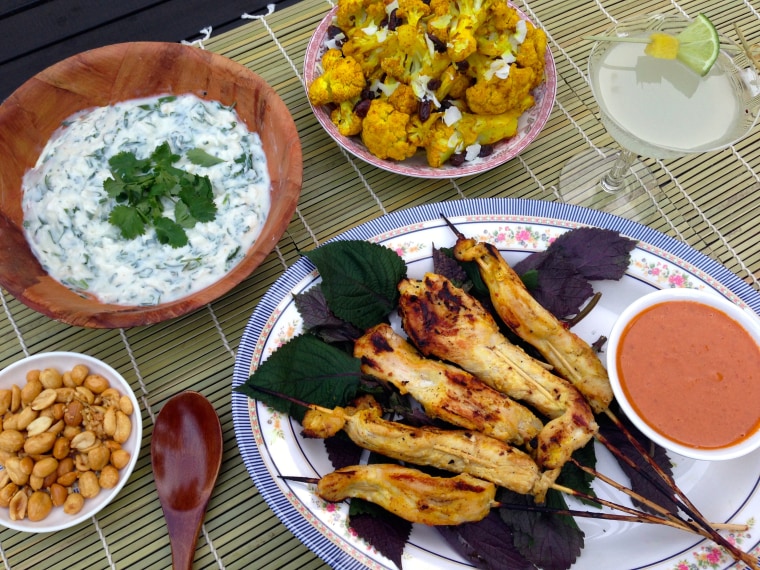 Saigon sling

Cocktail ingredients
1 young coconut 

1 oz coconut water

1 oz gin

1 oz lemongrass ginger simple syrup (see recipe below)

1 stick lemongrass, quartered

Juice of 1/2 lime

Candied ginger

Lime wedge

Bamboo cocktail toothpick for garnish, optional
Simple syrup ingredients:
1 cup sugar

1/2 cup water

2 sticks lemongrass, cut into quarters and bashed

2 bulbs ginger, peeled and coarsely chopped into a large dice 
Combine simple syrup ingredients in a small saucepan. Bring to a simmer and stir until sugar is dissolved. Cool while still in the pan, allowing the ginger and lemongrass to steep. Once cooled, strain out lemongrass and ginger and place in a squeeze bottle. Keep in the refrigerator for up to a week. 

Place the quartered lemongrass stick into a shaker and muddle to open up the aromatics. Then add ice, coconut water, gin, lemongrass simple syrup and lime juice. Shake vigorously, then strain into a coupe glass and garnish with 1/4 lime wedge and candied ginger. Sip and enjoy! 
Indian curry roasted cauliflower with coconut raita
3 tablespoons coconut oil

1 teaspoon mustard seeds
1 teaspoon cumin seeds
1 teaspoon fennel seeds

1 tablespoon curry powder

1 teaspoon sea salt

1 head cauliflower cut into florets

Cooking spray

raisins (garnish)

toasted coconut flakes (garnish)

cilantro (garnish)

For raita:
1/2 cup nonfat yogurt

meat from 1 young coconut, diced

2 tablespoons chopped fresh cilantro

2 teaspoons chopped green onions

1/4 teaspoon ground coriander
1/4 teaspoon ground cumin
Place a large pot on a high flame, then add two tablespoons coconut oil to melt until it's sizzling hot. Toss in cauliflower florets, and allow to caramelize, stirring once or twice to ensure it doesn't burn. While the cauliflower is caramelizing, toast mustard seeds, cumin seeds, mustard seeds, fennel seeds, and curry powder in a small skillet. Once cauliflower is caramelized, add the remaining tablespoon of coconut oil to coat. Then add in the toasted spices while stirring into the cauliflower in about three separate batches, being sure to coat evenly. Once coated, turn down the heat to low, add salt, and cover to cook on low for about 10-15 minutes or until fork tender. While the cauliflower is roasting, make the raita. Using a fork, combine all the ingredients in a medium sized mixing bowl, then garnish with a few sprigs of fresh cilantro. Garnish the finished cauliflower with coconut flakes and raisins, and serve alongside a bowl of the raita.
Chicken satay skewers with Sriracha peanut sambal
Coconut oil to coat grill

1.5-2 lbs chicken breast tenders (10 1/2 inch strips)

1/2 cup nonfat yogurt

1/2 cup coconut water

1 teaspoon grated fresh ginger

1 teaspoon minced garlic

1/2 teaspoon fish sauce

1/2 teaspoon soy sauce

1/2 teaspoon sambal oelek, preferably Huy Fong 

1 tablespoon curry powder

Thai basil, crushed peanuts, and lime wedges (garnish)

For Sriracha sambal:
1/2 cup roasted salted peanuts

2 cloves garlic

2 tbsp sambal oelek, preferably Huy Fong

1/4 cup coconut water

1 tbsp grated ginger

2 tbsp honey

1 lime, juiced

1 tbsp soy sauce

1 tbsp fish sauce
1 tbsp coconut oil 
To make the marinade, combine yogurt, coconut water, ginger, garlic, fish sauce, soy sauce, sambal and curry powder. Add chicken tenders one at at time, making sure they are evenly coated. Cover bowl with plastic wrap and place in the refrigerator to marinate for at least 2 hours.

Place 10 bamboo skewers in a shallow pan of water to soak for at least 30 minutes to prevent them from burning. Remove, then thread chicken onto sticks and place on a platter to take to the grill or grill pan.

Turn on your grill to medium-high heat. Coat the grill with coconut oil to prevent sticking. Place skewers on grill, and cook for about 3-4 minutes each side, until fully cooked through.

While the chicken is cooking, make the sambal. Place all the ingredients into a blender, then pulse util smooth. 

Serve the satay on a bed of Thai basil leaves with a lime wedges and a small bowl of the sambal for dipping.