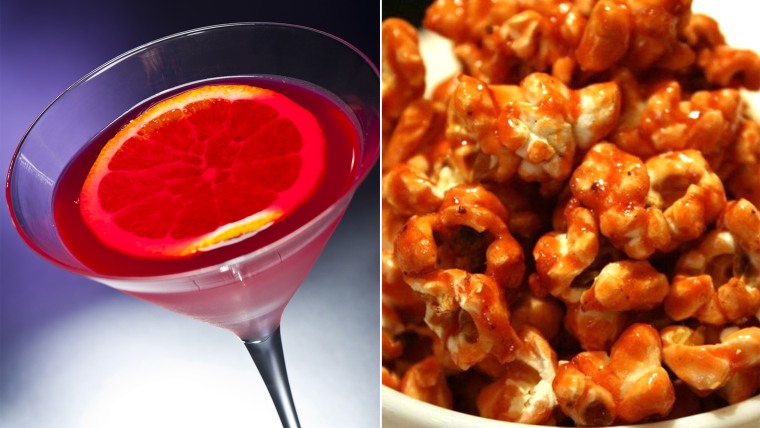 A Negroni is no longer just a drink. As bartenders get more creative with what they are making in the glass, chefs are taking some of these creations and turning them into edible treats, repurposing this classic Italian cocktail into an array of tasty snacks.
"The Negroni specifically pairs well with citrus and adds a nice acidity into things that otherwise wouldn't have it," said pastry chef Brian Yurko of Saxton + Parole in Manhattan.
Baking with the Negroni—a cocktail that comprises equal parts Campari, gin, and sweet vermouth—was the hot topic during the recent 2014 Manhattan Cocktail Classic, and one Yurko covered during a seminar about the Negroni for the event.
First, he showed off a downy pink Negroni marshmallow that, while it remained buoyant in the mouth, packed a mighty Campari kick. He also shared his delicate Negroni "caviar," which added an orange-tinged bitterness to whatever they were put in. He also created a delicate Negroni "glass," which had all the sweet and bitter components as the cocktail, but a cool, smooth texture that melted on your tongue. Yurko has also used the Negroni to make sorbet (recipe below) and a fluffy meringue for the restaurant.
To work with the cocktail, Yurko uses it like any other component. "I look at it as an ingredient same as using chocolate or orange juice in something," he said. "It's all about what will accentuate and make a dish better, and eliminating what will make it worse."
While Yurko's take on the Negroni proves unique, he is not alone in using the cocktail in food. New York-based dessert shop Butter and Scotch has been known to whip up a Negroni pie and innovative ice cream shop Humphry Slocombe in California created a Negroni ice cream for this year's Negroni Week earlier this month. At San Francisco's Aveline, pastry chef Kaley Laird has been perfecting her Negroni gumdrops (recipe below). And at nearby restaurant Perbacco, chef Staffan Terje uses the drink to enhance his caramel popcorn. He first coats the exploded kernels with a caramel made with Campari and sweet vermouth, and in place of the gin, uses a salt with botanicals found in the spirit like juniper, coriander seed, cardamom and licorice root. The result showcases the marriage of the Negroni's flavors in a tangible, colorful snack.
The next time you feel inspired in the kitchen, try whipping up some sweets and treats with this fantastic cocktail. And, while you're at it, throw back a couple too, just for good measure.  
Negroni sorbet
Created by Brian Yurko at Saxton + Parole
Ingredients:
¼ cup water   

¾ teaspoon locust bean gum  

½ cup sugar  

3 ½ cups grapefruit juice  

1 ¾ cups orange juice   

1 1/3 cup Negroni (equal parts Campari, gin and sweet vermouth)   

Directions:
Combine the water and locust bean gum using an immersion blender, making sure there are no lumps remaining when finished. Add the mixture to a small pot with the sugar. Cook the mixture to 180F, which will make it much thicker than a normal two-to-one syrup. Combine the mixture with the juices and Negroni, using the immersion blender. Refrigerate for at least four hours. Churn the sorbet as per the instructions for your ice cream machine. Keep frozen until needed.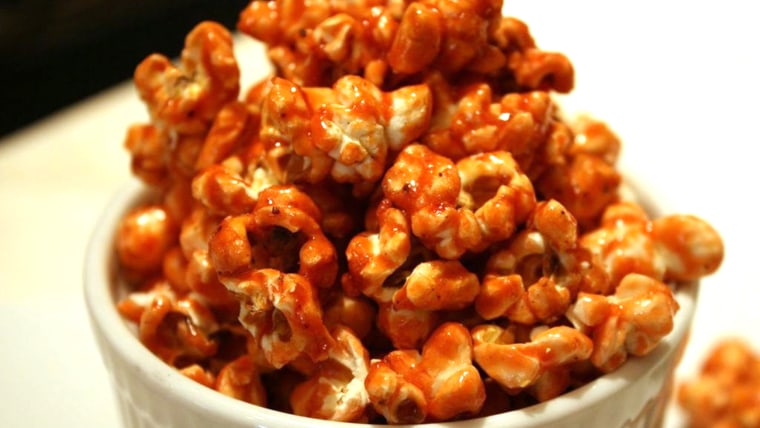 Negroni caramel popcorn

Created by Chef Staffan Terje at Perbacco
Serves 4
Ingredients:
8 cups popcorn, popped

2 tablespoons gin salt* (recipe below)

1 cup sugar

4 tablespoons water

4 teaspoons corn syrup

2 tablespoons honey

1 ounce butter

1 cup water

1/2 cup vermouth

1 cup Campari

1/2 teaspoon baking soda

1 orange, zested

Directions: 
Cook salt, sugar, water, corn syrup, honey, butter, Campari, vermouth, and orange zest until golden brown. Add baking soda and toss with popcorn. Pour out onto a greased parchment-lined sheet pan. Spread out into a thin layer, tossing until cooled. Once cooled, store in an airtight container.
Gin Sea Salt
Ingredients:
6 1/5 tablespoons salt

2 teaspoons juniper

½ teaspooon coriander

½ teaspoon cardamom

¼ teaspoon fennel seed

½ teaspoon anise

2/3 teaspoon licorice root

½ teaspoon dried mandarin peel

½ teaspoon lemon zest

Directions:
Grind all spices together in a blender until very fine. Mix with salt and spread on a baking sheet to dry out for about four hours. Store in air tight container.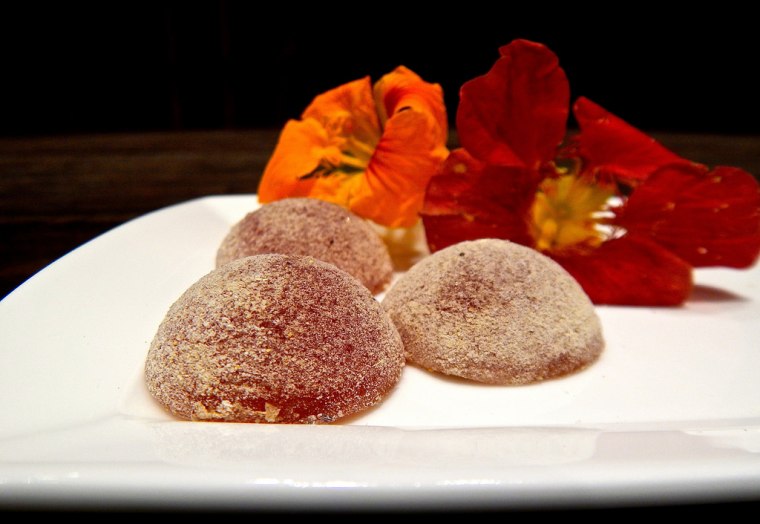 Negroni gumdrops

Created by Kaley Laird of Aveline
Ingredients:
12 sheets gelatin

2 cups granulated sugar

3 tablespoons orange-infused agave nectar

½ cup Campari

½ cup vermouth

¼ cup gin

1 teaspoon salt

Directions:
Spray your mold with vegetable spray and set aside. Bloom the gelatin in ice water and set aside. Combine the rest of the ingredients in a pot on the stove and bring to a boil. Cook the mixture down until it begins to become a thick syrup, about 240 degrees. Remove from heat and stir in gelatin. Keep stirring as the gelatin melts to ensure that it disperses. Portion liquid into the mold then allow to cool in a refrigerator until set. The longer you allow them to rest the firmer they will be for you to work with. Remove from mold and coat in Negroni sugar (recipe below). Allow to set out at room temperature on a dryer rack after it has been coated in sugar. This will help to create a sugar shell while the inside remains soft. Then serve.
Negroni sugar
Ingredients:
2 the dehydrated orange peels

2 teaspoons salt

1 whole star anise

½ a dried hibiscus flower

3 whole black peppercorns

2 whole cloves

1 whole allspice

4 juniper berries

3 tablespoon honey granules

4 dried chamomile flowers

Pinch sarsaparilla root

Pinch dried elderflowers

1/8 teaspoon dried lavender flowers

2 cups sugar, separated into one cup each

Directions:
Combine all ingredients except for the sugar in a spice grinder and blend to a powder. Blend that same mixture in the spice with 1 cup of the sugar. Sift the sugar and spice mixture into the remaining 1 cup of sugar, stir to mix.