When you're following a new eating regimen (or just trying to understand exactly what's in your food), it can be difficult to navigate certain menus when you're dining out.
Trendy diets like Whole30 or paleo are taking off, but customizing items to fit the nutritional requirements can be tough. Panera Bread, which recently started offering delivery from over 1,000 locations,says it's trying to make it easier for customers to make simple swaps regardless of whether they're craving a soup, salad or sandwich.
TODAY Food spoke with a nutritionist to get the real deal on some of chain's suggestions and discover more ways to make the most of out of your meal.
Whole30 Greek Salad switcheroo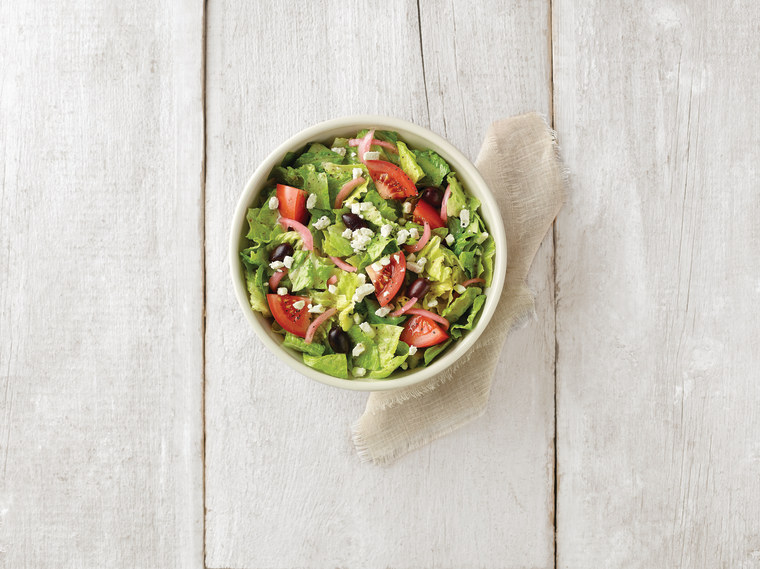 Since cheese and some ingredients commonly found in salad dressings (like xanthum gum) are a no-no on the Whole30 diet, Panera suggests holding the feta and simply replacing the dressing with olive oil. Then add in some bonus protein like chicken or a hard-boiled egg for a bigger nutritional punch.
If you're taking that salad home, Panera recommended a home-prepared salad dressing made with 1 tablespoon red wine vinegar, 1 tablespoon fresh lemon juice, 1 clove of minced garlic, a pinch of oregano, 4 tablespoons extra virgin olive oil, and salt and pepper to taste, to drizzle on those greens.
Protein-power Paleo Seasonal Greens Salad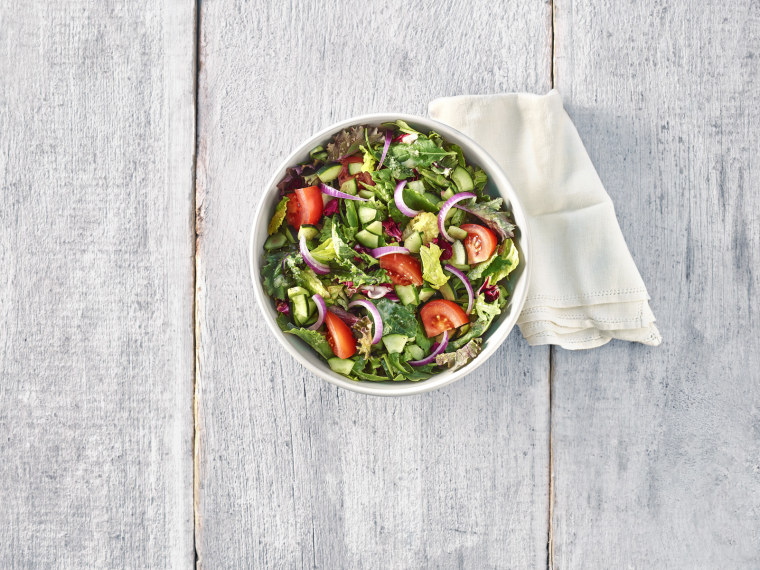 Trying to eat like a caveman? That means lots of protein — so plain old salad greens just won't cut it. Instead, try starting with a base of the chain's Seasonal Greens salad, made with a blend of arugula, romaine, kale and radicchio, tomatoes, red onions and diced cucumbers. Then, give it a protein kick with chicken along with almonds for some crunch.
Throw in a sliced avocado for some heart-healthy fats, and request olive oil as the dressing or add a squeeze of lemon juice.
Avocado veggie swap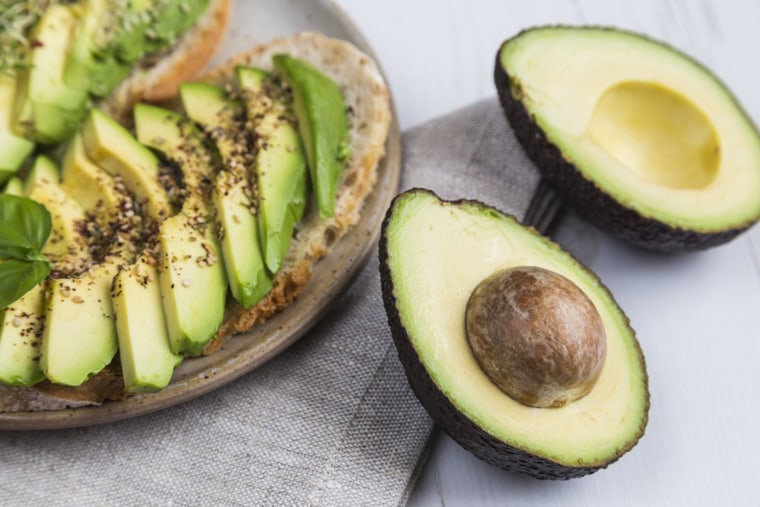 Avocado might be an extra expense at some chains but vegetarians can substitute avocado for the meat in any salad or sandwich at Panera for free. However, they won't get any extra protein.
If you still eat some animal products, then adding in a chopped egg to the order would help boost the nutritional profile of any dish, said Bonnie Taub-Dix, RDN, creator of BetterThanDieting.com and author of "Read it Before You Eat It - Taking You from Label to Table."
A lower-sodium Broth Bowl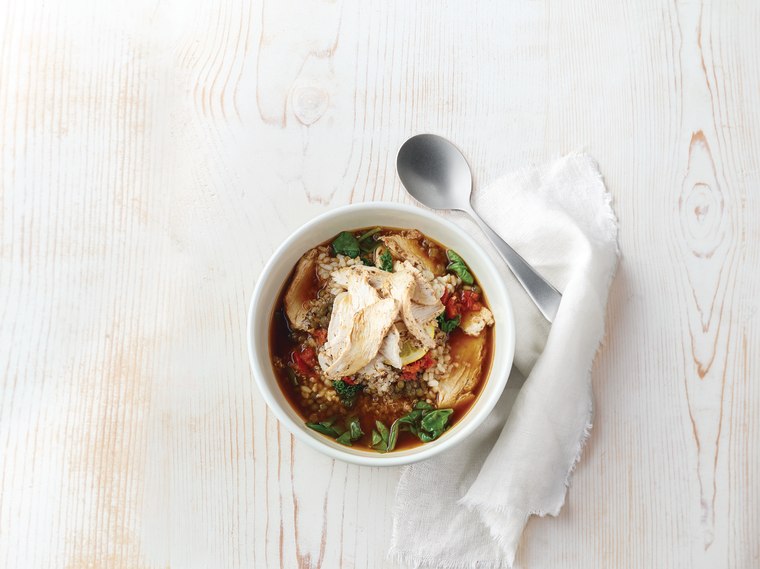 Panera bowls combine a range of different ingredients steeped in flavorful broth. However, Taub-Dix cautions that some of those soups are pretty salty.
"As is, this dish [the Lentil Quinoa Broth Bowl with Chicken] packs around 1,300 milligrams of sodium," she told TODAY Food. "Even with a ladle less of broth, the sodium level could be higher than you realize." As a comparison, note that when a food is labeled as "low sodium," that usually means about 140 milligrams of sodium or less per serving, she explained.
For those watching their sodium, customers can ask for just one ladle of broth then boost the nutrition of the dish by adding in extra greens like kale or spinach.
Mediterranean vegan makeover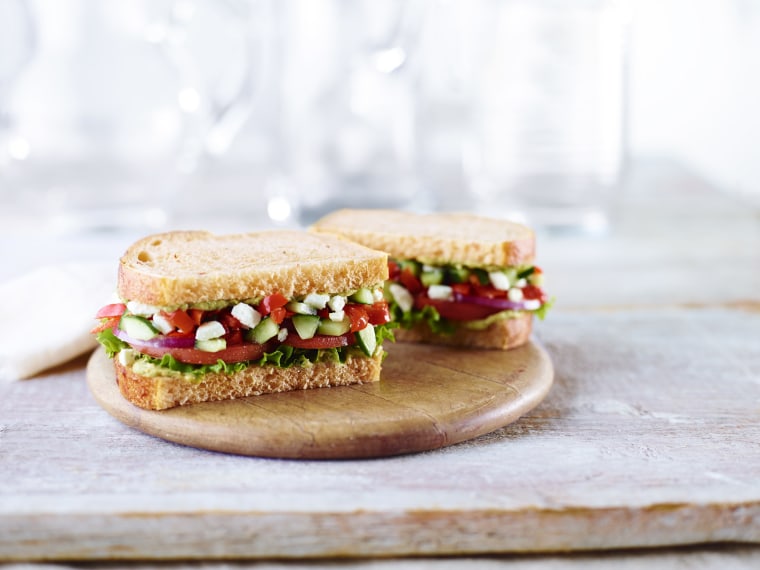 The Mediterranean Veggie Sandwich, filled with peppadew piquant peppers, cucumbers, lettuce, vine-ripened tomatoes and red onions, can be transformed into a vegan option with a few simple changes.
First, swap out the tomato-basil bread for the chain's black pepper foccacia and then take out the feta cheese. Taub-Dix said an added perk of ditching the feta is less sodium, as 2 tablespoons of feta contain about 600 milligrams. For extra creaminess, add in some avocado.