Calling all kids from the 1980s and 1990s! Remember those scratch-and-sniff stickers that smelled like pickles and cookies and bubblegum ... or even those crazy smelly markers?
Well, now Americans can peel their stamps and smell 'em, too, with the U.S. Postal Service's (USPS) release of its first scratch-and-sniff stamp collection on June 20.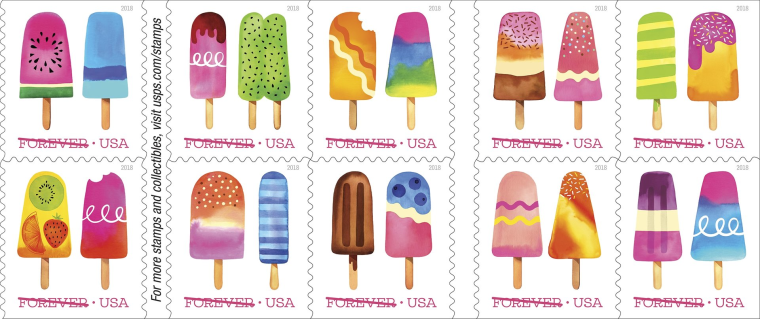 Sadly for sweet and sour food lovers there aren't any pickles in the bunch, but customers and stamp collectors (do people still collect stamps!?) can choose from one of 10 First Class Mail Forever stamps that feature frozen treats for summer, with each priced at 50 cents. Margaret Berg of Santa Monica, California, created the watercolor illustrations for the stamps.
In a press release, the USPS said Americans love cool, refreshing ice pops on a hot summer day and listed several types of popular popsicles, such as those with fresh fruit and even the double-stick variety for sharing. All are included on the new stamps, with each design featuring two popsicles in a variety of colors and flavors.
So far, they're getting a thumbs up online:
But what will they smell like? The USPS told TODAY Food they won't be releasing exact details about the scent of the stamps but that letter lovers can expect the new collection "will add the sweet scent of summer" to mailing materials. We're just hoping they won't lose their smell as they make their way to their recipient.
We're happy stamps don't have to be licked anymore, but imagine if they could make a variety that "tasted" like popsicles. Now we're talking! Belgium introduced stamps that both smelled and tasted like chocolate a couple years ago.
This isn't the first time the USPS has issued creative stamps. In 2017, the "Have a Ball" stamps had a special coating applied that gave them a textured feel, and that same year the "Total Eclipse of the Sun" stamps used body heat to transform the stamp into an image of the moon.
While customers can purchase the Frozen Treats stamps at post offices nationwide beginning June 20, they are also available in books of 20 for $10 via pre-order online. Other special edition stamps now available include designs featuring Sally Ride, Mr. Rogers, Lena Horn and even Disney villains.
Do you have an idea for a new stamp design? You can actually submit suggestions to the USPS via the Citizens' Stamp Committee website.