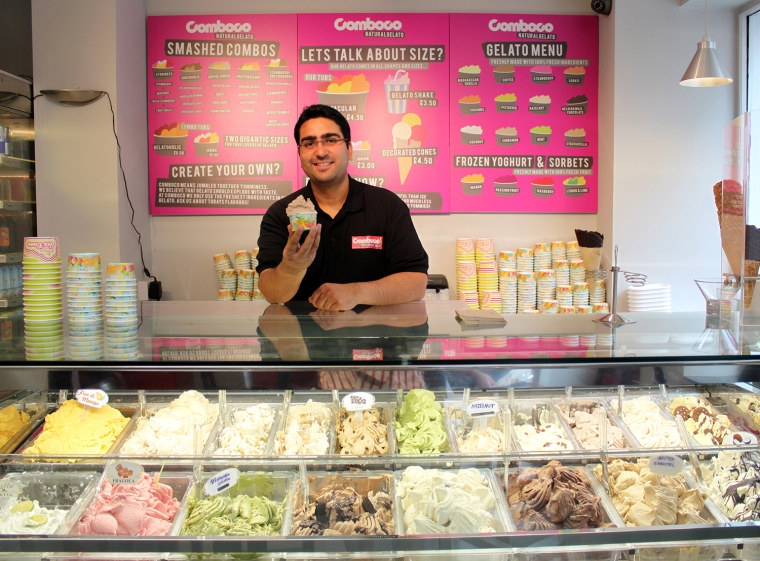 A London restaurant is serving up a full English breakfast with a twist. While the dishes sound rather commonplace - bacon, scrambled eggs, pancakes with maple syrup, toast with whipped butter - the novelty is that they are gelato flavors. Yes, gelato, the Italian version of ice cream.

"We wanted to create something different, something fun, and we thought gelato can be eaten at any time of day," Ashish Saggar, the mastermind behind Comboco's frozen delicacies, told TODAY.com.
Honing in on American tastes, Saggar has also designed a range of "cereal milk" flavors that taste just like the sweet milk in your bowl after you have eaten Coco Pops, Cinnamon Grahams or Cap'n Crunch's Peanut Butter Crunch – a concept first made popular stateside by Momofuku Milk Bar in New York City.
The café is in the heart of London's Soho district, a vibrant area known for its eclectic mix of world-renowned West End musicals, an out-and-proud gay scene, and a tourist-friendly Chinatown. So, Comboco's "Ice Cream for Breakfast" menu offers something for everyone, starting at £3 ($4.65) a scoop.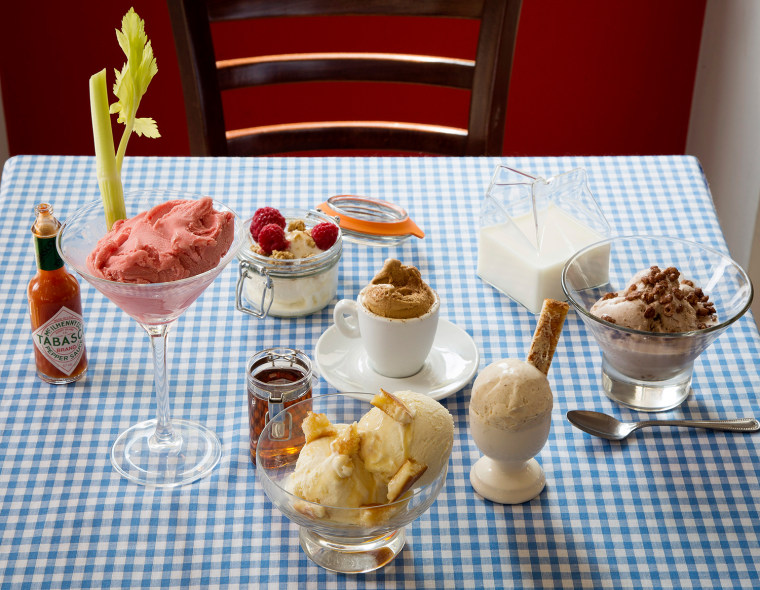 There's Greek yoghurt gelato with granola and fruit compote for health aficionados. It's so good, you wonder why it isn't served as gelato more often!
The toast with whipped butter flavor is rather surprising, as it tastes just like buttered toast but somehow works as a gelato. It is slightly salty and retains the toasty taste of the bread with the velvety smoothness of butter. It is oddly reminiscent of a buttery sweet and salt popcorn. The consistency is a little heavy, but Saggar said they are working on their mix to improve it.
Pancakes and Canadian maple syrup are blended together to create a creamy, wholesome gelato flavor that is indulgent without being sickly sweet. However, I'm not sure I could eat a whole meal of it.
Meanwhile, those recovering from a booze-fuelled night out can opt for a Bloody Mary gelato, spiked with Tabasco and a splash of Worcestershire sauce.
"The idea is that if you need a bit of a hit in the morning, the lime overhauls your body with vitamins C and E and tomatoes contain lycopene which is good for blood flow," said Saggar. "It should alleviate a hangover, but if that doesn't do it, the Grey Goose Vodka will!" he added.
Comboco isn't the first London outlet to offer outlandish ice cream flavors – The Icecreamists caused a stir when they came out with Baby Ga Ga, made from expressed human breast milk, and Gelupo celebrated the Queen's Diamond Jubilee with a coronation chicken concoction.
But, Saggar isn't just relying on the hype around his breakfast blends to fuel business.
"People must enjoy the flavor; we are all about the taste," he said.
The 31-year-old former chartered accountant has an infectious enthusiasm for his creations.
"I'm very passionate about the product," he said, as he described how his double espresso gelato is made from a blend of 100 percent Arabica beans.
Before serving his first scoop a month ago, Saggar visited Italian gelato factories in Sorrento and Positano -- "where they taught us how Mama would have made it, very natural" – and flew expert makers from Italy to London to work on his set up for a week. He currently has two technicians perfecting his Bloody Mary mix.
While gelato for breakfast sounds indulgent, Comboco tries to keep it as natural as possible. The base gelatos are made of either pasteurized organic milk or probiotic yoghurt. Whole ingredients – such as fresh English strawberries, Scottish raspberries, or more extravagantly, an entire loaf of toast – are mixed in and the concoction is churned slowly as it freezes to give it gelato's signature dense texture. All flavors must be under nine percent fat to be advertised as gelato. Anything over would be ice cream.
In addition to the breakfast range, salted caramel and toasted pistachio are among the café's most popular flavors. Real peanut butter appeals to American tourists and basil and mascarpone is another refreshing dessert.
So, what's next for the gelato aficionado?
"We're starting [gelato with] savory cheeses with Gorgonzola and walnut and will move toward local English cheeses next," he said.