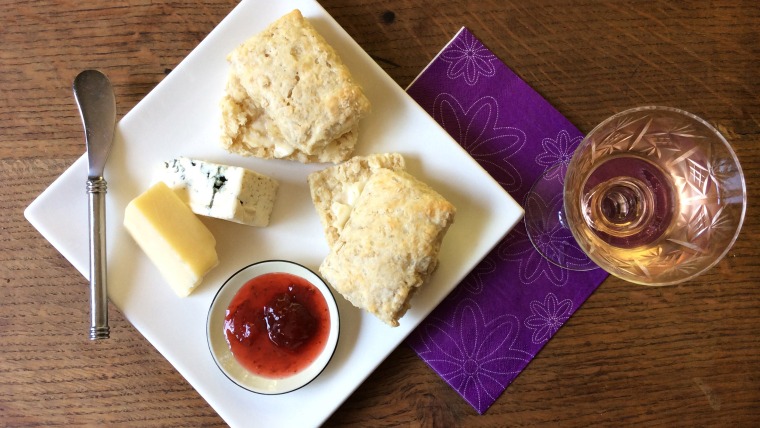 Some Scottish dishes aren't for the faint of heart (ever tried haggis?), but Scotland's traditional cuisine is having a moment as fans of the "Outlander" novels and new Starz series take to their kitchens to cook along with the show.
They're finding inspiration at Outlander Kitchen, a website Theresa Carle-Sanders launched three years ago to showcase recipes she developed based on the Diana Gabaldon novel series, which begins in 18th-century Scotland.
Carle-Sanders mines the books for food-from-fiction ideas; then, using recipes she culls from old cookbooks and online, tweaks them to please the modern North American palate. She has plenty to work with.
Food is important in the story, Carle-Sanders says. "Procuring and making food was a big part of the day then. We look at so many everyday situations [in "Outlander"] that we don't always read about in other books because the author is advancing the plot. Diana luxuriates in a scene and builds up smell and taste," Carle-Sanders adds. "She weaves it in very artfully: It's not like you're getting smacked over the head with bannocks and oatcakes, but she describes food very beautifully even when it's not beautiful food."
It's not necessarily easy to find the food described in the series. Though Irish pubs are a staple of the American restaurant scene, Scottish restaurants are few and far between. "Scottish food has a terrible reputation," Carle-Sanders says. "But it's a bit passé, that opinion. I've been to Scotland twice in the last three years and eaten like a king for less than you would here. They're really into local and organic right now. Scottish food has modernized."
Diana Gabaldon sums up 18th-century Scottish food in this passage featured on Outlander Kitchen: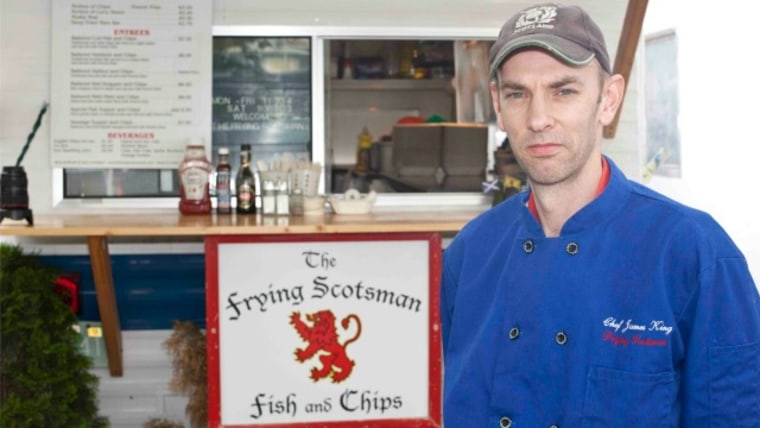 " 'The food was either terribly bad or terribly good,' " Claire had said, describing her adventures in the past. 'That's because there's no way of keeping things; anything you eat has either been salted or preserved in lard, if it isn't half rancid – or else it's fresh off the hoof or out of the garden, in which case it can be bloody marvelous.' "
Nowadays, plans are underway to polish up Scotland's epicurean image. Scottish Food & Drink Fortnight—a two-week celebration of local cuisine—launched Sept. 6, and the government has designated 2015 as the "Year of Food and Drink." 
"Haggis, whiskey and shortbread, most people know about, but there's an awful lot more to Scotland's larder than that," says Fiona Richmond, project manager for trade association Scotland Food & Drink. With a long tradition of farming and 10,000 miles of coastline, she says, Scotland's beef, lamb, salmon and game star in the cuisine as well.

The lack of restaurant options on our side of the Atlantic shouldn't stop anyone from discovering Scottish cuisine. "If you want to experience Scottish food, the best thing to do is cook it yourself," Carle-Sanders says, "because it has a homemade component to it anyway. Most of it is traditionally made by someone's grandmother from a passed-down recipe."
Ready for a taste of Scotland in your kitchen? Try your hand at these dishes.
Heirloom shortbread: This sweet, buttery confection is nearly synonymous with Scottish treats, and this rich but simple recipe is passed down from a Scottish 'nana.'
Bridie: These hand-held savory pies made of abundantly seasoned beef are said to be named for a traveling food vendor named Maggie Bridie. 
Banoffee pie: It may not be traditional fare, but this decadent banana-meets-toffee pie was all the rage among Outlander cast and crew. Carle-Sanders makes a version with caramelized condensed milk and a homemade biscuit crust. 
Rob Roy: You could certainly enjoy a dram all on its own, but if you'd like to launch cocktail hour with flair, try this classic take on a Manhattan. 
And if you're looking for a recipe for haggis, that infamous Scottish specialty made from stuffed sheep stomach, check out the one below from James King, a Scot now living in Portland, Oregon. He runs the The Frying Scotsman, a fish-and-chips food cart where he also serves up fried haggis links that he sources from an Oregon farm. This traditional, from-scratch haggis recipe is just like one he would prepare at home. His wife Sally Murdoch warns that this recipe takes some courage to try. (Note that livestock lungs are prohibited for use as human food in the United States, so an American-made haggis won't be quite as authentic.)
Haggis
Makes about 4 servings
  1 sheep stomach (ask a butcher or farmer) cleaned, turned inside out and soaked overnight in cold salted water
  Heart and lungs of one lamb
  1 lb. ground lamb
  2 large onions, finely chopped
  1 cup oats
  1 tablespoon salt
  1 teaspoon freshly ground black pepper
  Stock (ideally the water you boil the meat in)
  1 teaspoon dried coriander (optional)
  1 teaspoon nutmeg (optional)
  1 teaspoon cinnamon (optional)
Fill a large pot with all the meat (but not the stomach) and boil until cooked through, about an hour. You'll need enough water to cover the meat during the boiling process.

Once the meat is cooked through, remove and mince it. Save the water to use as stock. Mix the minced meat with the seasoning and stock.
Pack all ingredients into the stomach bag and tie the top with twine. Place the stomach bag into a large pot of cold water, bring to a boil and simmer for 2 hours. Cut open bag, discard it and serve the haggis hot with mashed potatoes or turnips.