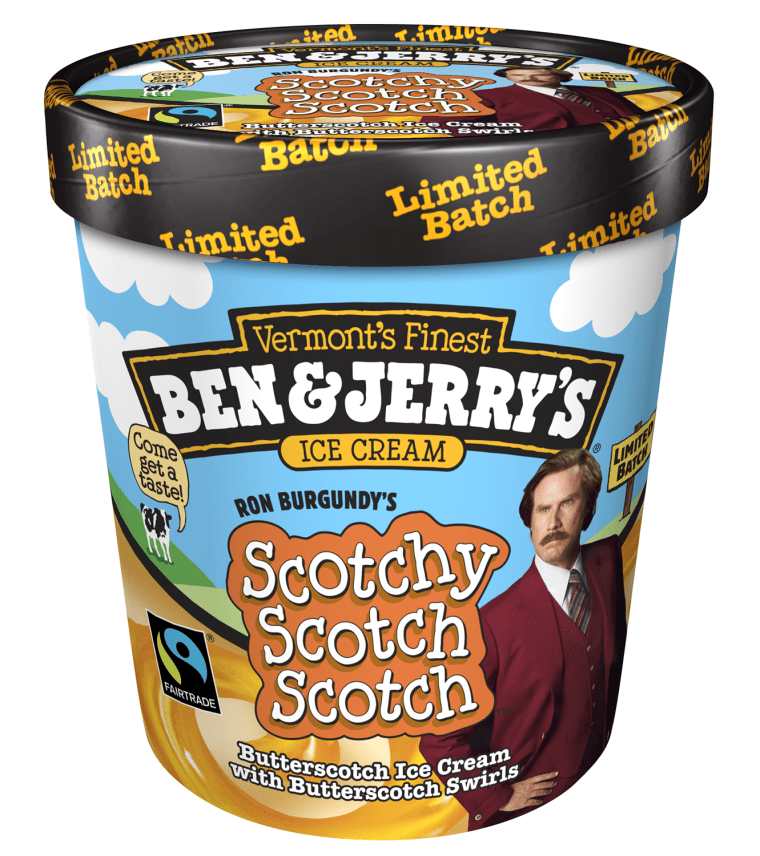 Will Ferrell is joining the ranks of Willie Nelson, Tina Fey, Jeremy Lin and Jerry Garcia — albeit through his alter-ego, Ron Burgundy — with the release of his own namesake flavor of Ben & Jerry's ice cream.

"Scotchy Scotch Scotch" — inspired by Ron Burgundy's penchant for swilling shots behind the news desk — is tied to the upcoming "Anchorman 2: The Legend Continues."
No, there's no real booze in it — the "scotch" is really butterscotch, and you have to be a big fan of the sweet stuff to enjoy this one: butterscotch ice cream laced with ribbons of butterscotch swirl.
To kick off sales of the new flavor, Ben & Jerry's staged a press event Tuesday in New York City, where a flock of 20 Ron Burgundy look-alikes jumped out of an ice-cream-truck-turned-Channel-4-news-truck.
Kind of a big deal: It's Ron Burgundy's book cover
Half of the Ron Burgundy look-alikes were scoop shop employees from Hoboken, N.J., and the other half were corporate employees from Vermont, spokesperson Liz Stewart said. "Some of them pulled it off pretty well," she said. (Halloween costume idea alert: The company pieced together the costumes with burgundy suits, '70s-style ties and stick-on mustaches, all found online.)
The flavor is now available in participating scoop shops across the country, but you'll have to wait another few weeks to find it in grocery stores. And you'll have to wait even longer for the "Anchorman" movie sequel, which hits theaters December 20 from Paramount Pictures, whose execs had a hand in the flavor development.
Chrysler taps 'Ron Burgundy' for offbeat ads
Only time will tell if Scotchy Scotch Scotch will make it into the ranks of celeb-inspired flavors that earned more of a permanent home on shelves — such as Stephen Colbert's AmeriCone Dream (vanilla with fudge-covered waffle cone pieces and caramel), Jimmy Fallon's Late Night Snack (vanilla bean with a salty caramel swirl and fudge-covered potato chips), and the time-tested Cherry Garcia — but right now, it's only a limited release.
Ben & Jerry's unveils '30 Rock' flavor: Liz Lemon Greek Frozen Yogurt
Of course, the anchorman himself thinks highly of it.
"Scotchy Scotch Scotch is a delicious ice cream and I hope Ben and Jerry consider my other suggestions," Ron Burgundy said in a press statement. "Malt liquor marshmallow, well liquor bourbon peanut butter, and cheap white wine sherbet."
What do you think? Will you give the new flavor a try?