It's the kind of idea that makes you slap yourself and ask, "Why didn't I think of that?"
Bantam Bagels, a new shop opening in New York's West Village, will be dedicated to "bagel holes": doughnut hole-sized bites of bagel dough, stuffed with a variety of fillings, from the traditional to the truly creative.
The brainchild of couple Nick and Elyse Oleksak, Bantam was conceived just over a year ago as a new way to enjoy the bagel, perfect for health-conscious, carb counters who want a bite of indulgence without committing to the plate-sized portions served up at many shops.
"The idea actually came to me in a dream," Nick, 29, told TODAY.com. "One of the most iconic New York City foods is the bagel… but people shy away from it now because the food world is trending toward smaller-sized options. We're taking that into account and making sure they can still enjoy their New York City bagel."
While the "Bantams," as the stuffed bagel bites are called (the term "Bagel Holes" is being trademarked by Dunkin' Donuts), aren't a low-calorie food, their small size makes them a healthier option when a craving strikes. But, with 15 regular flavors and five or so rotating specials, it's easy to end up eating a variety — not great for your waist line, but great for eliminating the sweet-versus-salty breakfast conundrum.
As far as flavors go, there are the usual suspects, like plain bagels filled with plain cream cheese and sesame bagels filled with vegetable cream cheese. But the specials are where the couple gets to have some fun: There's Hot Pretzel, featuring a pretzel bagel with salt on the outside and a cheddar Dijon cream cheese filling, and The Bleecker Street, which pays homage to the New York City street where the store is located, featuring a pizza dough bagel topped with pepperoni and filled with marinara and mozzarella cream cheese.

"It was fun testing out recipes; we ate a lot of bagels," said Nick. "Anything that you love to eat as a food, you can make into a Bantam. It's been so exciting for us."
The couple's craziest creation, Elyse added, is a Thai basil cayenne pepper bagel filled with a green curry coconut cream cheese and topped with a thin-sliced hot chili; it's called The Honeymoon, since Thailand is where the Oleksaks had theirs.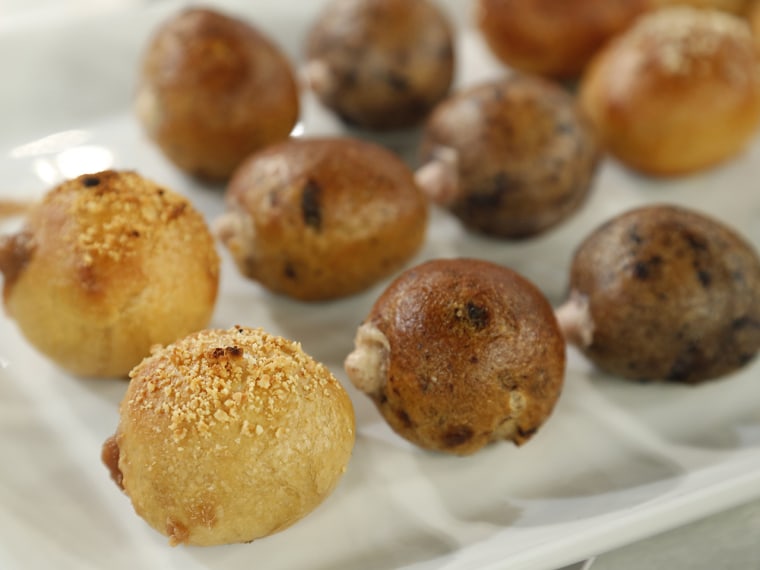 Is this bagel blasphemy? With such an iconic food being turned inside out, purists are sure to be critical, but the Oleksaks believe they can win them over.
"We were at [an event] and a sweet old grandmother came up to me and goes, 'These aren't bagels …. You don't know what a bagel is,'" Nick recounted. "I said, 'I'll see you in a couple weeks,' and she ended up taking a dozen home with her."
Perhaps the most surprising fact about Bantam Bagels is that the Oleksaks, who both had backgrounds in finance, had zero baking experience when they decided to pursue the idea.
"Truthfully, we both had to learn to bake," said Elyse. "We looked up recipes on the Web, we tweaked them, we worked with bagel experts — not anything fancy, but we worked with people who have years and years of experience in the field and we worked on it till we got the right recipes."
Fast-forward a year and the couple is already basking in the glow of the media spotlight, with write-ups in local media and The Wall Street Journal and a cameo on TODAY.
For those skeptical about whether the Oleksaks are just getting fanfare for the concept's novelty, it turns out a year of practice was enough for them to make really flavorful bagel creations — crispy on the outside and chewy on the inside with just the right amount of filling.
And that's been the reaction around the country.
"I brought them into work at the beginning and people went crazy for them, and we thought, 'this might be something worth pursuing,'" Nick explained. "And from that point on, we put the pedal to the metal and came up with a business plan, went on a road show, tested it on friends and family and came up with Bantam Bagels."
It's only been six months since the Oleksaks decided to open Bantam Bagels, and they're already thinking about what's next.
"We want to be everywhere, we want to change the way you bagel," said Nick. "We don't want it to be something you can only get [in New York City], we want to make bagels accessible to people everywhere."