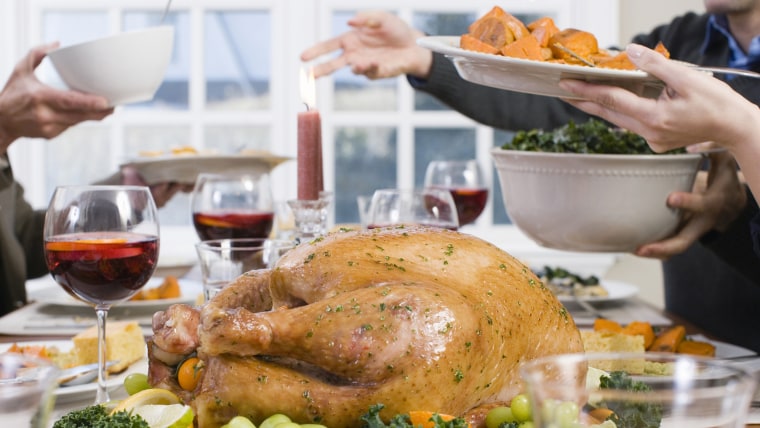 Take a break from pre-Thanksgiving dilemmas like how to handle drunk guests and whether or not to wrap the turkey in bacon (is it even a question?) and consider this stat: The average cost of a 10-person Thanksgiving dinner in the U.S. is $50.11, according to the American Farm Bureau Federation (AFBF). That's actually up 70 cents from last year.
Each year AFBF, a voluntary member organization that represents American farmers and ranchers, conducts what they call "an informal price survey of classic [Thanksgiving] items." (Note to self: Artisanal slab bacon is not considered a classic Thanksgiving item.)
Related: Get all the recipes you need for the ultimate Thanksgiving menu!
To gather research, AFBF sent 138 volunteer members in 32 states to report on prices at their local grocery stores. In their imaginary shopping cart were a 16-pound frozen turkey, sweet potatoes, carrots and celery (to be used for a crudité platter), frozen peas, fresh cranberries, bread stuffing ingredients, a package of brown-and-serve rolls and pumpkin pie fixings (including canned purée). They also included coffee and dairy items like whipped cream, butter and milk. Special sales and deals, such as spending a certain amount and getting a free turkey, were not considered.
If you're still trying to figure out in what alternate, more affordable universe this kind of shopping is possible, TODAY caught up with AFBF Deputy Chief Economist John Anderson for the full scoop.
Related: 30 easy, cheap recipes so you can eat well on a budget all month long
First, Anderson stresses that most members don't live in large urban areas, where costs are going to naturally be higher. "We looked at a lot of places like Wal-Mart, Kroger and Safeway, but not really urban centers, where we may be a little under-represented. So if you're trying to fill this basket for fifty dollars in, say, midtown Manhattan, you're going have a hard time, since those stores have much higher operating costs than the smaller towns where most of our members live," he said.
Anderson also emphasized that if you prefer a fresh turkey, that's naturally going to drive up your costs. "You definitely aren't going to find that for $1.44 per pound," he said. And forget designer birds: A single small heritage turkey can cost double the price of the entire AFBF meal.
But if you're serving frozen turkey, Anderson said that careful shoppers might even be able to beat his $1.44 per pound price. "Since our researchers are looking in late October and early November to get their numbers in, they are missing some of the best specials that tend to be offered the week before and week of Thanksgiving," he said.
Although the prices were set for a party of 10, a few things were not taken into account. If you're serving alcohol, that's going to be its own line item. Another consideration they omitted? The amounts needed to reach that essential, comfy-pants-required food coma. "As I understand it, we were looking at normal serving sizes, so you are responsible for your own portion control," Anderson says, adding, "and we all know how that goes out the window on Thanksgiving, so I wouldn't be surprised if it doesn't totally stretch."