It seems that every coffee shop and many fast food restaurants offer grab-n-go cups of vanilla yogurt layered with granola and some kind of syrupy fruit. I've always steered clear of them because they seem too much like dessert, and if I'm going to have dessert for breakfast, I'm going to go all the way and have a doughnut.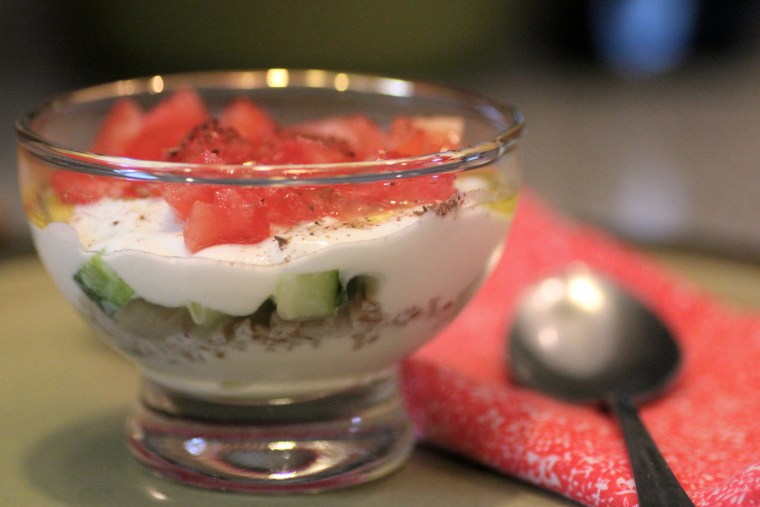 But there's another way to start your day off with yogurt. I started making savory versions of yogurt parfaits almost as an accident: we were out of fruit at home, and I was rushing out the door to drive to an appointment. I threw together cooked wheat berries with vegetables leftover from dinner night before, topped it all off with yogurt, and headed out the door.
Give grains a twist: Make savory oats with bacon, forbidden black rice
I didn't eat my concoction until several hours later, and but by then the flavors had melded into something wonderful: the grain had soaked up a little of the liquid from the yogurt, and the vegetables made the yogurt taste almost like a very rich dip. It reminded me a bit of 7-Layer Russian Salad, only a lot easier to make.
Shortly after that, I got a copy of Cheryl Sternman Rule's book "Yogurt Culture" which is packed with all kinds of recipes using traditions from many cultures, and it inspired me to try other savory combinations of my own. I was hooked.
Outrageous oats: 13 sweet and savory ways to upgrade oatmeal
Savory yogurt parfaits make a great low-sugar breakfast, but I also like having one for lunch or a snack. They're packed with protein and fiber.
Think of savory yogurt parfaits as a simple concept to build on. You can use most any type of cooked, chilled grain, such as bulgur wheat, quinoa, wheat berries, or oat groats. The vegetables, too, are up to you.
When you make these with Greek yogurt, they're more filling than you might expect, so I like to make them on the smaller side. It's not necessary to let them sit in the fridge before digging in; you can eat one right after assembly, or put several together at once to enjoy over the next few days. Finishing garnishes like a little flaky salt, a drizzle of good olive oil, or a sprinkle of the tart Middle Eastern spice blend za'atar are a nice touch, but completely optional.