Nothing beats a sweet sisterly surprise — especially when it's Sandra Bullock shocking her sister, TODAY regular Gesine Bullock-Prado.
On Tuesday, Gesine stopped by the TODAY kitchen to showcase a cherry lattice pie with Hoda Kotb and Jenna Bush Hager ... but Sandra had baked up a little surprise of her own!
Before the group started baking, an unsuspecting Hoda told the Vermont-based baker that the show had a special guest stopping by. "Before we begin, we do have a viewer who's written a million times," Hoda said. "She loves you. She's never missed an episode of your show and she's going to join us as your sous chef."
What nobody guessed — including Hoda, who recently interviewed the actress about her incredible adoption experiences — was that Gesine's big fan was actually her sister!
"I had no idea, I saw you this morning, you weirdo," Gesine said to her sis (who was slyly introduced as "Annie Tate" before she walked into the kitchen.)
Sandra replied with a smile, "I lied."
"How did you pull that off?" Hoda, in total shock, exclaimed. "That is crazy! We never pull anything off, we know everything!"
"Well," said Sandra, "it's time to pull some things off."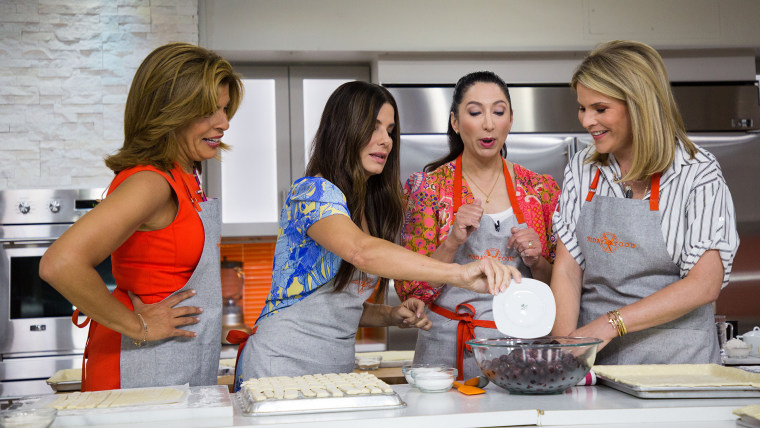 After a round of hugs and kisses, everyone jumped into baking.
Gesine, host of Food Network's "Baked in Vermont," frequents TODAY to share recipes like adorable Valentine's Day cookies and pastry masterpieces like a caramel apple pie and a Fourth of July berry pie.
"She said she would teach me how to bake on my birthday and she never did," Sandra, who is currently promoting her new film "Oceans 8," jested.
Tuesday was her lucky day!
As the sisters pulsed butter with lemon juice, they bickered over who is bossier and came to an agreement: Gesine is ... but only in the kitchen — Sandra's kitchen included.
"I cook on the weekends," Sandra said. But her sister will come over to whip up a few things, too.
"And I cook in her house and I make a mess," Gesine admitted.
As to whether Gesine passes her baking knowledge on to her sister, Sandra said, "She's taught me nothing!" But Gesine said her sister just doesn't listen when she tries.
"This is what we do on Sundays on the 'Food Network,' we sit in our pajamas and watch her make the things she said she would teach me but never did," Sandra said as she tried her sister's pie.
Maybe it was because of Sandra's sweet surprise, or maybe it was just the gorgeous cherry pie, but Hoda admitted this may have been her favorite segment ever.