Wedding traditions may differ across the pond on British soil, but people across the board (the Pinterest board, that is) are getting ready to throw some very civilized celebrations to watch Prince Harry and Meghan Markle walk down the aisle.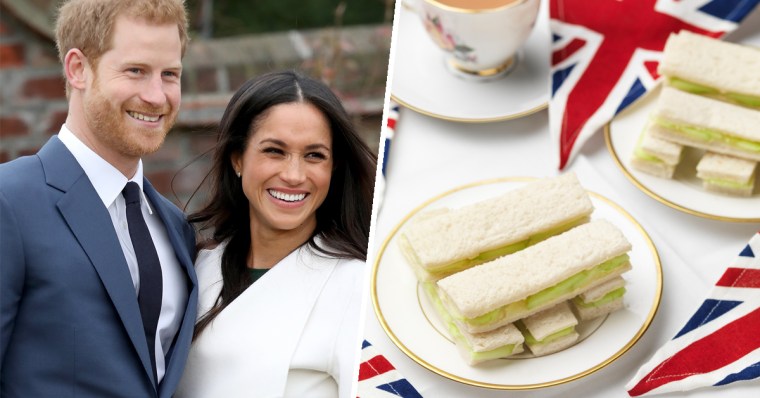 As the world inches closer to the big day on May 19, royal family fanatics and party planners are continuing to search for the coolest royal wedding-themed ideas. According to a Pinterest spokesperson, saves for "royal wedding viewing parties" have spiked 1,796 percent since January and searches for "royal wedding party food" are up 2,618 percent.
While modern wedding food trends in the U.S. lean more towards doughnut walls, s'mores and couples' cocktails, the Brits do things a bit differently, apparently. And one teatime snack is getting a whole lot of attention on the digital inspiration board site.
With more than 75,000 saves, a spin on a classic recipe for a cucumber tea sandwich is the most popular royally-themed food find on Pinterest this month. The recipe was created by the blog The Kitchen is my Playground in August 2015 and details how to make a light vegetarian tea sandwich with three different spreads.
Cucumber sandwiches and savory sausage rolls aren't the only popular pins flooding royal fans' recipe boards. Looking to bring something as sweet as Harry and Markle's romance to the table? Try The Daring Gourmet's adorable mini-Victoria sponge cakes, a bite-sized version of the British classic.
Fruit tarts have also been gaining a lot views, Delish reported. They're easy to make and also a great way to show off a variety of seasonal fruits.
Since the royal wedding will be aired in the morning stateside, Refinery29 noted that other trending recipe pins include breakfast-themed dishes like pancake skewers and coffee cocktails. Of course, we wouldn't mind celebrating with a classic bloody mary, too!
So if you're joining TODAY at the Royal Wedding (in London or from the comfort of your own home), you now have the perfect menu to eat like a Kensington Palace regular.
Erica Chayes Wida is a New York City-area based journalist and photographer covering food, lifestyle, parenting and travel. Follow her on LinkedIn and Contently.