With a new baby in the palace and a big wedding just a few days away, the British royal family is in the spotlight even more than usual these days. Whether it's the queen's reported preference for brown eggs, a royal Christmas dinner, childhood favorites of Princes Harry and William — or even culinary aversions like garlic — what the royals eat is a source of constant fascination, on par with what they wear every day.
And while the princes, princesses, dukes and duchesses might not be regular folks in many ways, it turns out they have fairly down-to-earth tastes when it comes to some their favorite foods. Here are some of their go-to meals and treats ... just in case you're having any of them over to dinner soon.
Sticky toffee pudding - Catherine, Duchess of Cambridge and Prince William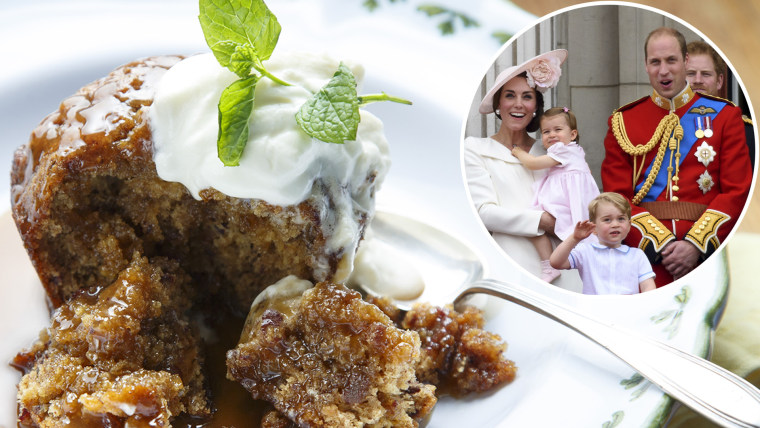 Former royal chef Darren McGrady told TODAY Food in 2017 that sticky toffee pudding is a favorite of both Catherine, Duchess of Cambridge, and Prince William. Want to make it yourself? Try McGrady's version, which he served at Buckingham Palace. He recommended incorporating chunks of Scharffen Berger chocolate to the mix and calls the dish a "fabulous treat for these cold weather days and so easy to make too."
Chocolate biscuit cake - Queen Elizabeth and Prince William
"This chocolate biscuit cake is Her Royal Majesty the queen's favorite afternoon tea cake by far," McGrady told TODAY Food. "This cake is probably the only one that is sent into the royal dining room again and again until it has all gone." Prince William also reportedly loves this cake: It was the groom's cake at his wedding in 2011.
Banana-flavored everything - Prince Harry
While rumors that Prince Harry and Meghan Markle would be serving a banana wedding cake have been quelled (it's going to be lemon elderflower, the palace confirmed in March), when they were young, both Princes Harry and William loved anything and everything with banana, including banana flan and banana ice cream, McGrady told Hello!
Homegrown or foraged produce - Prince Charles
When the Prince of Wales and Camilla, Duchess of Cornwall, advertised for a new sous chef last year, a knowledge of sustainable and organic food was among the job requirements. Carolyn Robb, a former chef to the prince, called him one of the forerunners of the organic movement.
"His farm at Highgrove House was one of the first in the UK to be certified as fully organic," Robb told Food & Wine in 2015. "He also had a traditional English kitchen garden with vegetables and fruit trees. We planned all of the menus around what was in the garden."
Charles is also a fan of foraged food, such as wild mushrooms. Robb writes of foraging for mushrooms with the prince in her 2015 cookbook "The Royal Touch," saying, "One of my fondest memories of my visits to Balmoral, in Scotland, is of foraging for wild mushrooms in the woods in the late summer, something that we did every year. On a few occasions, I accompanied HRH Prince Charles when he went mushroom picking, which was a privilege and something I greatly enjoyed. HRH's knowledge of wild foods is extensive and I learnt many fascinating things from him on these wonderful outings."
Takeout with a side of TV - Prince William and the duchess
During a recent BBC Radio 1 interview, William and the duchess revealed that they like to chill out with takeout in front of the TV, just like the rest of us. "Curry," was the Duchess of Cambridge's immediate answer when asked what they like to order in. So how on earth do you get delivery to a royal palace? "It doesn't tend to get ordered to the palace," William said. "We go and pick it up — not ourselves."As for what they watch, William said they are big fans of "Homeland" and have also watched "Game of Thrones."
Pasta and pizza - Princess Charlotte and Prince George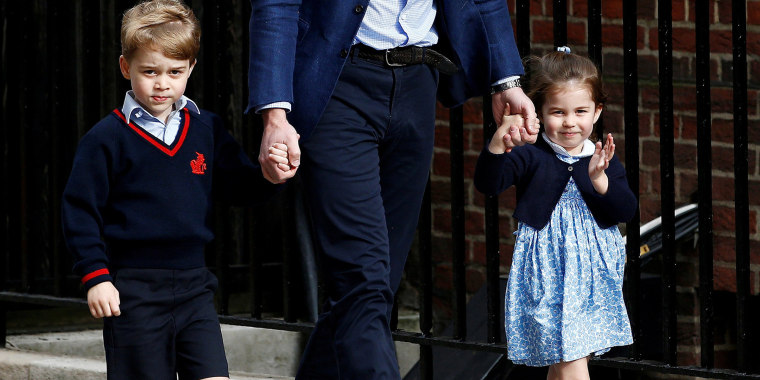 Surprise! Like pretty much every other kid, Princess Charlotte is a fan of pasta, the duchess revealed during a visit to Great Ormond Street Hospital in London. When a young patient told her that some of his favorite foods were olives and pasta, the former Kate Middleton replied that she loves olives and that "Charlotte likes pasta, too."
And during a visit to St. Luke's Community Centre, the duchess explained that her two older kids enjoy playing with pizza dough because "they can get their hands messy." Whether they actually eat the pizza is another thing, but at least the young prince and princess are already having fun in the kitchen!