On its face, Rogue Sriracha Hot Stout Beer is an irresistibly interesting brew, one that provokes such curiosity that you simply must try it.

It starts with the screaming red bottle, which mimics a hot sauce vessel so iconic that men, women, and even babies dress up as it for Halloween.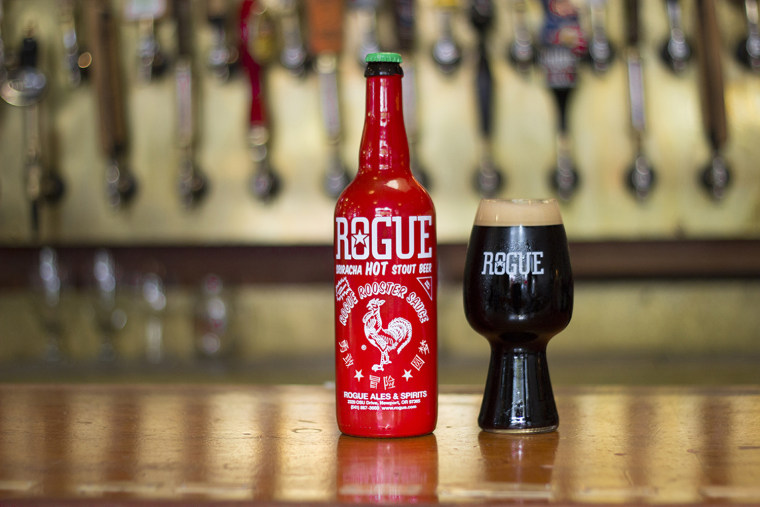 Of course, there's also the burning question: What will Sriracha's flavor — spicy, sweet and garlicky — do to a 5.7 percent ABV American stout?
Or even better yet, why brew a beer with Sriracha in the first place?
"The inspiration was pretty simple — we as employees and as Rogues love Huy Fong Sriracha sauce," Rogue Brewing President Brett Joyce told TODAY.com. "The question almost immediately became why not?"
One thing's for certain, the packaging is fantastic. When you see this 22-ounce homage to a Huy Fong Sriracha hot chili sauce bottle (complete with a giant rooster, Chinese symbols, and a green cap) you want to touch it, pick it up, or, more accurately, click on it — the beer is initially only available for purchase online or at Rogue Ales Public Houses if you happen to be in Oregon.
"Based on the initial wave of interest, we're optimistic that this will be a hit," Joyce said. "In the few days that it has been available, it has become a record-selling product for us." 
A good selling beer doesn't necessarily mean it's a good tasting beer. There are plenty of spicy brews out there, and they can be hit or miss. Some are sublime, like Dogfish Head's smoky and rich Theobroma, with its gentle ancho pepper heat that gracefully blossoms a bit more with every tasty sip. And some are plain awful, like Original C Cave Creek Chili Beer, a hot mess that finds itself firmly entrenched on Rate Beer's list of worst beers in the world.
Rogue's Sriracha Stout falls decidedly on the wrong end of this "artful to awful" spectrum.
I poured the beer into my trusty Spiegelau stout glass, which is designed to bring out the best in dark beers. It's the vessel Rogue features in publicity photos for Sriracha Hot Stout, so I figured it was the best glass to truly experience everything the beer has to offer.
Drawing a deep whiff from the curved top of the glass revealed an intriguing ambrosia of sweet stout and sharp garlic. The scent of this beer was imbued with a hint of umami, possessing a meatiness that, when combined with the aroma of Sriracha, switched on my saliva glands and literally got my juices flowing (I often put Sriracha on eggs in the morning, so my inner caveman must have sensed an impending feast).
Then I took a sip and it all went sideways.
There was a hint of licorice and a brace of coffee (two things that don't go particularly well with hot sauce), which give way to a note of Sriracha. So far the beer was weird, but not awful.
But then the finish came on. It started with a sharp bitterness — less of a nice hoppiness, and more like drinking a cleaning product — followed by an unregulated blast of burning pepper. It wasn't sweet or rich or even meaty — it was an almost flavorless heat that assaulted the palate.
The beer smelled interesting, but it tasted like someone squeezed Sriracha into a cold and watery cup of cheap black coffee. No thanks!
Of course, that was after tasting the beer fresh — a little age might add a layer of grace on this otherwise peppery mess. It might also pair well with pho noodles or a burger, and could be married with a crock-pot and some chicken to create an interesting dish. But on its own, it was a hard beer to enjoy.
It makes sense that this Sriracha beer would be a hot seller — the bottle just begs you to buy it, and the sauce itself has become a pop culture hit, and has been infused in everything from potato chips, to beef jerky, to candy canes. But just because it's popular doesn't make it a good idea to turn it into a new brew. This one was a pour out for me.
Jim Galligan is co-founder of the Beer and Whiskey Brothers blog, where he and his brother Don cover the ever-evolving world of craft beer and distilled spirits. Follow him on Twitter.