Don't be intimidated by cutting those hard-shelled squash popping up in supermarket bins everywhere -- practice makes perfect and unlocks a world of fall flavors. This recipe can be made with butternut, kabocha, acorn or delicata squash for a versatile side dish.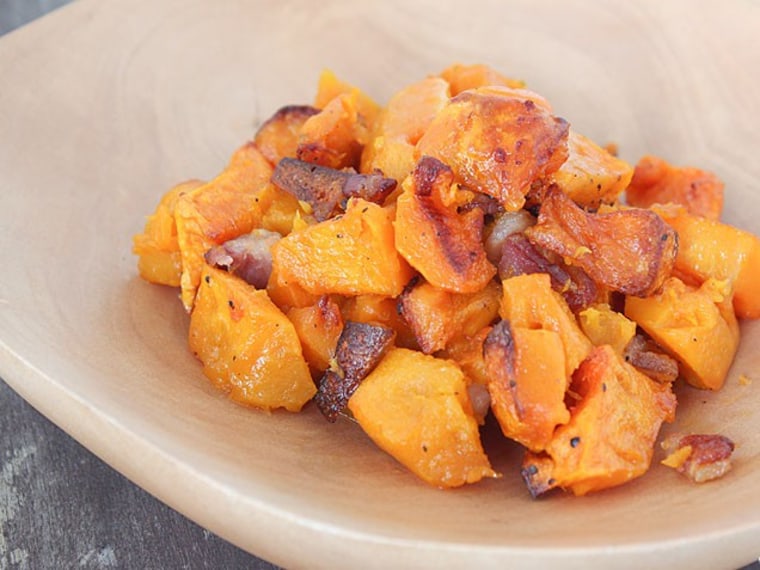 Ingredients:
4-5 cups butternut squash from 1 large or 2 small squashes

1 tablespoon olive oil

1/2 teaspoon kosher salt

1 cup roughly chopped bacon pieces, from about 3 strips thick-cut bacon
1/2 teaspoon freshly ground pepper
Yield: 4-6 Servings
Directions:
To peel a squash, slice off the top and the bottom, then cut into two sections -- the long upper neck of the squash and the round lower bulb. Slice down the sides of each half to remove the hard peel.
Slice the bulb in half lengthwise and scoop out the seeds and innards with a spoon, then cut the peeled squash into 1 1/2-inch cubes.
Preheat the oven to 400.
Toss the squash cubes with the salt, pepper, olive oil, and bacon in a large bowl, then transfer to a 9x13-inch baking dish.
Bake for 30-40 minutes or until the squash is tender and the bacon is crispy.
This recipe originally appeared on iVillage.