Like most wine lovers, I am constantly on the hunt for distinctive, relatively inexpensive reds for everyday drinking — something to go with a quick and informal dinner, such as burgers or lamb or chicken on the grill, or a late-evening bite that would be lost on a more serious wine that deserves to be appreciated over several hours as it evolves.
I found such a wine — and more — the other night when I twisted off the metal cap from a bottle of St. Mary's 2003 "Bells & Whistles," a newcomer from the Limestone Coast in southeastern Australia that sells for about $15.  (The fact that it didn't require end-of-the-day energy to pull out a cork was also a plus.)
Bells & Whistles — yes, another one of those nice-sounding names that tell you nothing about the wine — is an attractive blend that has soft, ripe fruit and is ready to drink.  With 50 percent shiraz (syrah), 40 percent cabernet sauvignon and 10 percent cabernet franc, the wine suggests a mixture of dark and red berry fruit, along with hints of herbs, cedar and chocolate.  Despite its youth, the blend is smooth; there are no rough tannins to contend with here.  Bright acidity makes it refreshing.  The wine is meant for enjoying now.
And that's just what I did — over two nights, actually.  After that first quick dinner, I simply screwed the cap back on.  I finished it with friends while unwinding at week's end.  Surprisingly, the wine had evolved nicely over the course of a day and was more vivid, focused and prettier the second night.
Although St. Mary's has been around since 1937, the 2003 vintage was the first for its Bells & Whistles label. (The winery also produces separate cabernet sauvignon, shiraz and merlot offerings.)  With a yearly production of about 3,000 cases, St. Mary's is a relatively small estate vineyard by Australian standards — "estate" meaning that all the grapes used in the wines are grown on the St. Mary's property.  Until recent years, it was better known as a supplier of grapes to other wineries in the Coonawara region, of which the Limestone Coast is a small sub-region.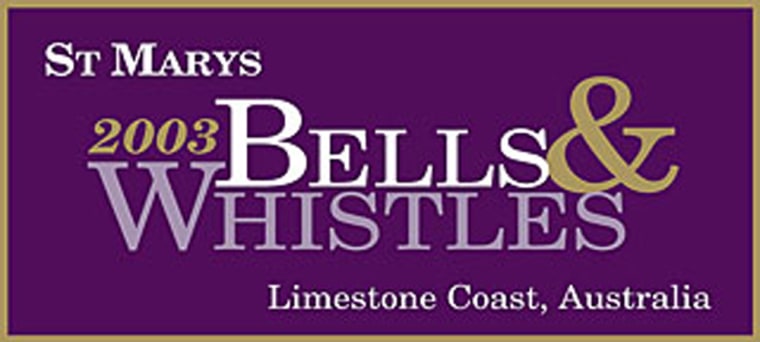 Stylistically, Bells & Whistles stands out.  For one thing, it is somewhat leaner — I would even say more elegant — than many comparably priced reds from Australia, which over the years have became synonymous with the term "fruit bomb" (often with high levels of alcohol).  I discussed all of this with John Gorman, one of the founders of Southern Starz, the California-based company that imports St. Mary's wines.
The Limestone Coast, he pointed out, "is defined by a sweet earthiness that is the core of the wine." That's evident in this wine, which is now available in most major U.S. markets.  Australia, as Gorman and others have noted, has suffered from a lack of clear identity that defines the wines.  Bells & Whistles is a step in the right direction.
Edward Deitch's wine column appears Wednesdays. Write to him at EdwardDeitch