It's easy to be seduced by graceful, beautifully aged wines that are so refined that putting food in their midst is almost an afterthought. But for most people on most nights, it's the food that comes first with the challenge of finding an everyday wine that will do the trick.
A good example of this came the other night in my own kitchen, where the emphasis is on boldly flavored dishes, often improvised and easily prepared, at least in theory. I started with some thinly sliced boneless chicken breasts, sautéeing them in a cast iron skillet with a little olive oil until browned.
After removing the chicken, I put some chopped shallots, garlic and the minced rind of one lemon in the same pan, cooking them for five minutes or so before deglazing the skillet with some vegetable stock, the juice from the lemon and a splash of leftover white wine.  As a finishing touch I threw in some-quality chopped black olives, then returned the chicken, turning it over in the sauce for a few minutes. Served with couscous, I had my own delicious Mediterranean-style chicken dinner.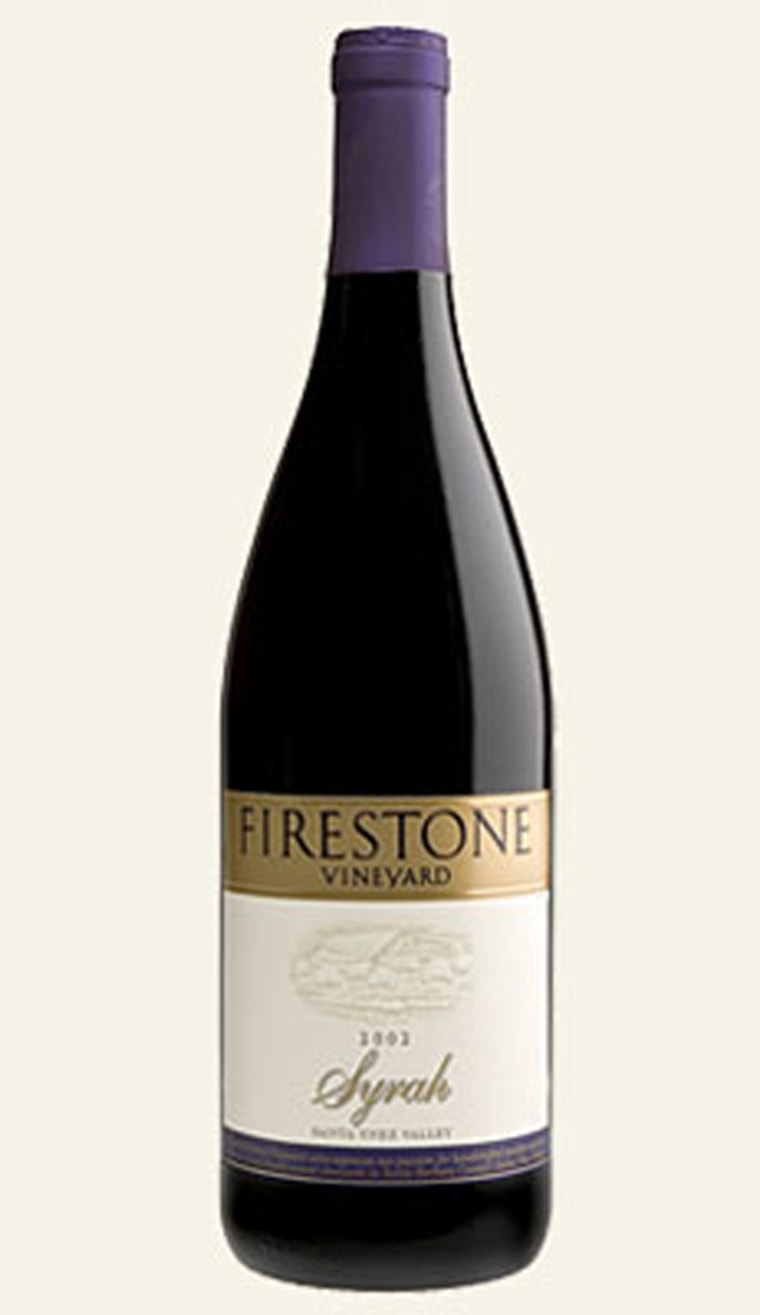 And the wine? Something red, obviously and something that would withstand all the aggressive flavors of the dish. How about a Syrah? The 2002 Santa Ynez Valley Syrah from Firestone Vineyard in Santa Barbara County proved to be an excellent match. I use the word "proved" because this is a good example of a wine that comes into its own with a food context.
By itself, this youthful, muscular Syrah, which is about $18, was more a dinner component, waiting to be assembled. With the chicken, on the other hand, it seemed to complement just about every flavor, including the prominent lemon. The dinner, it turned out, was made for a bold young wine like this. We drank it just slightly chilled; you'll often find that cooling down reds to cellar temperature of 55 or 60 degrees will bring out their flavors.
The Syrah's tastes were assertive: intense blackberry and plum, notes of coffee and chocolate, mint and even orange rind; youthful tannins gave it slightly "chewy" quality. The wine saw 14 months of aging in French and American oak barrels.
It would be easy to look to France's Rhône Valley or to Australia for this type of wine, but I like that California is now making distinctive Syrahs at decent prices. And one more food note: I kept on thinking that this just might be a perfect red for spicy aromatic Indian food. Again, make sure it's slightly chilled.
Edward Deitch's wine column appears Thursdays. Write to him at @hotmail.com.