I love dining on a buffet of items like vegetables, cheeses and nuts, and can make a whole meal out of foods I like to graze on. That's why the trend of grain bowls is right up my alley. To me, there is nothing better than digging a spoon into a deep dish full of my favorite flavors and combinations. Once the entrée-of-choice at the local health food restaurant, grain bowls are invading the menus of mainstream restaurants using of-the-moment-grains like freekah and quinoa.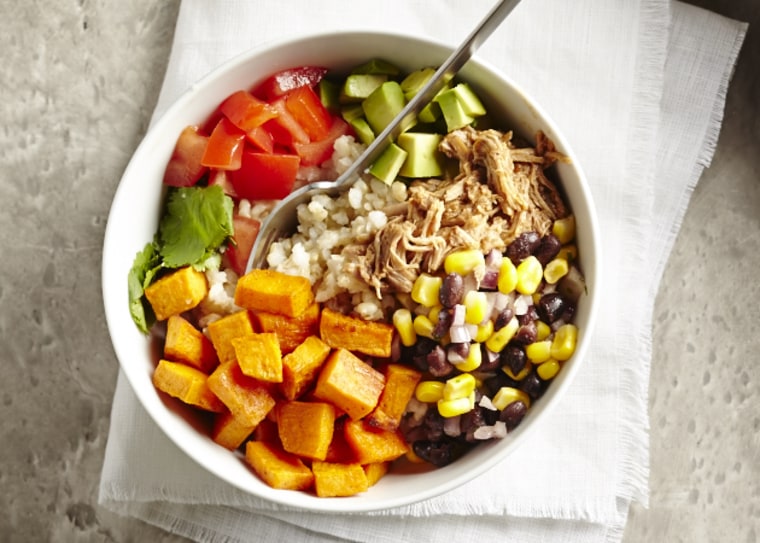 Trends aside, the grain bowl is a great way for busy families to tackle dinner since it creates a balanced meal of grains, protein and vegetables. The strategy of a bowl is to use a whole grain as a base and then build on it with combinations of toppings that have different textures. For the best grain bowl, it's important to have a balance of flavors (salty, sweet and acidic), and to use a lot of fresh ingredients that are easy to prepare because simple prep equals easy clean-up.
Even better: Bowls are the perfect way to turn leftovers into delicious new dishes that your family won't recognize as last night's dinner. Also, since a grain bowl is a great way to cut down on waste, drag out the casualties of past dinners, like the half-used onion and cucumber, leftover tomatoes and remaining red potatoes. Bonus: You'll save money too.
5 tips for building a delicious grain bowl
1. Re-imagine your leftover protein in a bowl full of items you like to eat alongside the meat
For instance, if you have leftover roast chicken, pair it with black beans, cheese, rice, avocado and a spoonful of salsa to replicate your favorite burrito.
2. Keep the rainbow in mind
Add fresh chopped vegetables (we like that no cooking is required for this step) like tomato, red pepper, carrot, avocado, spring onion, cucumber, spinach, kale or purple cabbage. You can even grill or bake some veggies like sweet potato, squash, peppers, zucchini, onion or eggplant to add another dimension of flavor.
3. Cook a variety of healthy grains
Proteins and vegetables are best presented over a healthy grain that will help satisfy a hungry family. Try brown rice, Israeli couscous, farro, pearl barley or quinoa. Cook these in advance and store them in the refrigerator to make dinner prep easier.
4. Remember that your freezer and pantry are your friends
Keep vegetables like corn and peas on-hand in the freezer to cook and quickly toss with some oil, fresh lemon or lime and your favorite herb. We love mint with peas or cilantro with corn. Or grab a can of chickpeas or black beans to add to your bowl.
5. Don't forget the toppings
Give it all a drizzle of your favorite dressing or sauce and add fresh herbs.
If you're sold on the bowl, below is the latest dinner bowl we're crushing on.Feel free to add your own leftover protein to this recipe, or try this pulled pork.
RELATED
This article was originally published on May 19, 2015.