There's going to be one more fast-food joint where we can all satisfy our nacho cheese cravings.
TODAY.com can exclusively report that Wendy's will be offering two new items: a Loaded Nacho Cheeseburger and Queso Fries, taking on the Tex-Mex-inspired roots of its competitor Taco Bell. On Aug. 22, the redheaded burger chain announced both items are now available on its nationwide menu.
"Wendy's® is throwing a flavor-packed touchdown into the hearts and taste buds of fans everywhere with its latest menu additions to the Made to Crave line-up — the Loaded Nacho Cheeseburger, Loaded Nacho Chicken Sandwich and Queso Fries," Wendy's wrote in a press release, aligning with the upcoming football season. "This winning combination of crunchy, cheesy goodness will have fans waving goodbye to their bland meals and transferring to Wendy's. It's time for a flavor upgrade."
Wendy's Loaded Nacho Sandwiches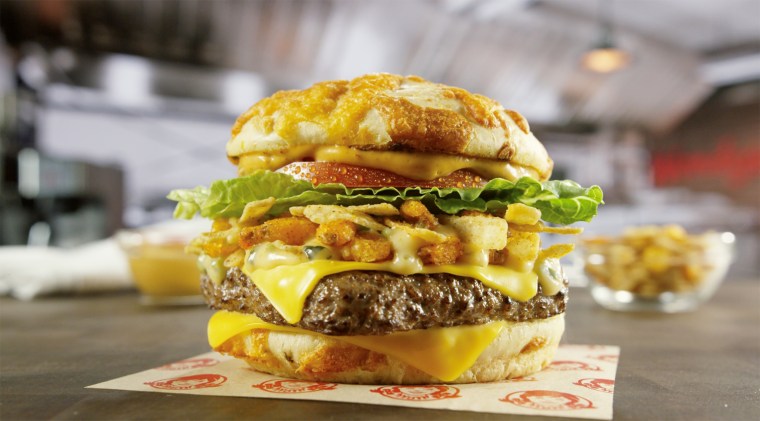 Wendy's says its new Loaded Nacho Cheeseburger aims to deliver the "unbeatable experience of a fully loaded nacho platter in every mouthwatering, unforgettable bite." 
The cheeseburger is a "never frozen" square beef patty topped with melty cheese, roasted poblano pepper queso, spicy corn and tortilla strips, and a "tantalizing" spicy chipotle sauce, lettuce and tomato.
Finally, this big chungus of a burger is sandwiched between a jalapeño cheddar bun that the chain says packs a "zesty taste with a kick of spice." Additionally, those who prefer chicken can sub out the beef for chicken to make a Loaded Nacho Chicken Sandwich for game day.
Wendy's Queso Fries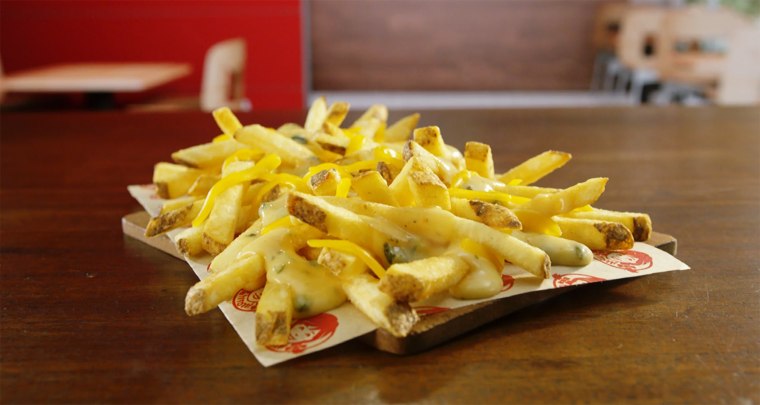 Wendy's Queso Fries are a little different than cheese fries you can find elsewhere (not to name names). The all-new menu item starts with the chain's natural-cut, skin-on, sea-salted fries, tops them with the same delicious roasted poblano queso from its Loaded Nacho Sandwiches and adds shredded cheddar to complete the cheesy side dish.
"Every bite of Wendy's natural-cut Hot & Crispy Queso Fries are bound to take fans' tastebuds on a cheesy, melt-in-your mouth journey to the end zone," Wendy's says.
How to get Wendy's new Loaded Nacho Cheeseburger and Queso Fries
To get a Loaded Nacho Cheeseburger ($6.69), Loaded Nacho Chicken Sandwich ($7.19) or Queso Fries ($3.29), starting today, all you have to do is go in-store, order on Wendy's website or app.
Folks with DashPass, DoorDash's membership program, can get the Loaded Nacho Cheeseburger, Loaded Nacho Chicken Sandwich or Queso Fries for free with a minimum order of $20 or more, excluding taxes and fees, from Aug. 31 until Sept. 3, or while supplies last, from participating Wendy's locations.
Wendy's is taking on Taco Bell with its latest flavors
By now, you've probably been reminded of another big chain whose menu is engulfed by these flavors — Taco Bell. Of course, this is no accident.
"We're always focused on flavor. That is, who we are and what we're all about," Carl Loredo, global chief marketing officer at Wendy's, tells TODAY.com. "Unlike others who are out there with limited-time offerings, what we found is folks are going to fall in love with this Loaded Nacho Cheeseburger. What we didn't want to have happen is to be pulling it off the menu in six weeks."
These new additions are part of Wendy's Made to Crave Menu, a sub-menu within its offerings, which was created in 2019 to bring unexpected flavors to its core menu, like the Ghost Pepper Ranch Chicken Sandwich and Ghost Pepper Fries, among others. While the chain says the menu is designed so that nothing is fully permanent, several items, like January 2020's Big Bacon Classic Cheeseburger, have been holding strong since the item was added.
On social media, Wendy's is known for its spicy language, roasting everyone under the sun on National Roast Day — even TODAY's Al Roker this past April. For the rest of the Wendy's team, the competitive speak is no different — especially when discussing its menu.
"We approach it far differently than a lot of the competition, you know, where they're dropping a sauce or maybe some toppings — we're looking at every aspect of the sandwich," Loredo says. "Our culinary institute is made up of teams of tastemakers, folks that are breaking boundaries — and they're constantly pursuing unexpected, more flavorful offerings for our fans to go try." 
Wendy's also notes that the inspiration for its Loaded Nacho Cheeseburger and Queso Fries came from tailgating season.
"As we begin to talk about fall, a huge focus for us is fall football both in NCAA and the work that we do with the NFL," Loredo adds.
Speaking of competition, Wendy's has been on a bit of a competitive streak this year, releasing items that seem to say to other chains, "We know you do this thing, but we can do it better."
In July, Wendy's took on the preponderance of cold brew beverages at spots like Starbucks, Panera and others by releasing its own take on the drink: the Frosty Cream Cold Brew. And, earlier in August, Wendy's put out its new English Muffin Sandwiches, which take direct aim at McDonald's McMuffin.
Which fast-food chain will Wendy's come for next? Only time will tell.