The breadless behemoth is back.
On March 1,  Kentucky Fried Chicken announced the long-awaited return of a hotly debated menu item: the Double Down. Finally, the prayers of those on Twitter who have been aching for its return have been answered!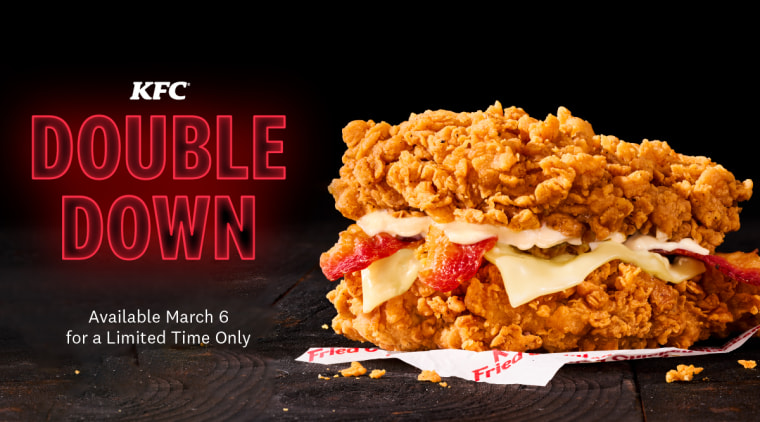 For those who don't remember (or tried to forget), the bun-free sandwich comes with two of KFC's Extra Crispy white-meat chicken fillets (which serve as the "bread"), two slices of both cheese and hickory-smoked bacon, and is finished with the customer's choice of either KFC's mayo or a spicy sauce.
KFC originally debuted the Double Down in 2010 and said it sold more than 10 million sandwiches in the item's first month, even as it was initially considered an April Fools' Day prank since it was announced on April 1.
Still, due to much hype and fanfare, the brand brought it back in April of 2014, only to wait until now to resurrect it. Yes, it's really been gone for that long, even though it feels like yesterday.
In a statement sent to TODAY.com, KFC acknowledged the menu item's cult following and celebrated how, for the first time in nearly a decade, it's back. The Double Down will be available at KFC restaurants across the country starting on March 6 for a limited time — only four weeks — at participating KFC stores.
"The Double Down is one of the most buzzworthy fast food menu items ever," Nick Chavez, chief marketing officer or KFC U.S. said in a press release. "After nearly a decade of people begging for its return, we're embracing the chaos, bringing back our most iconic sandwich ever for just four weeks."
There was Bring Back The KFC Double Down!" Change.org petition that sprang up a few years ago, much like there was for Taco Bell's Mexican Pizza, but unlike that hugely popular petition, this one only got half of its intended 500 signatures.
For those who aren't about that "'no bun' life," as KFC puts it, there is another new sandwich that may be of interest.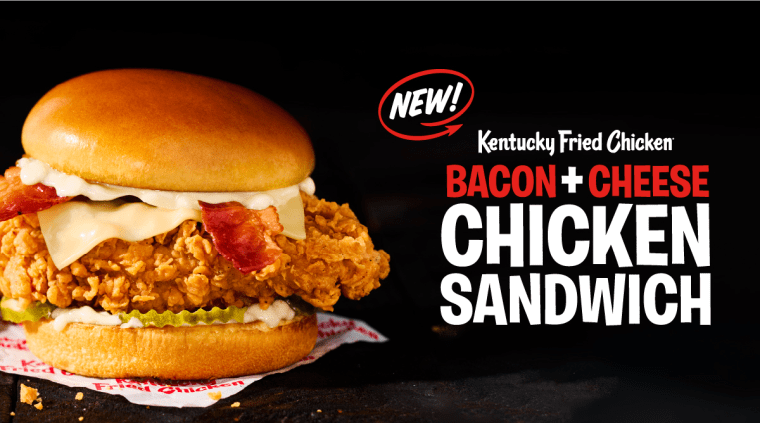 In addition to bringing back the Double Down, KFC is introducing a new item called the Bacon & Cheese Chicken Sandwich. The double-breaded and extra-crispy white-meat chicken fillet comes paired with a slice of cheese, two pieces of hickory-smoked bacon, the Colonel's mayo and pickles, this time on a toasted brioche bun. 
Just like the Double Down, the Bacon & Cheese Chicken Sandwich will be available at KFC starting March 6, but only for a limited time.
And on March 5, KFC will host a "Double Down Drop," allowing select fans early access to get a first taste one day before the rest of the country. The contest is open to legal residents of all 50 states as well as the District of Columbia, who are 18 years of age or older.
To sign up, head over to KFC's special website devoted to the contest on March 2. If you're really clamoring for it, be warned: It'll only be available for pre-order on a first-come, first-served basis to the first 2,014 consumers. (That number is a clever nod to when the Double Down was last offered at KFC in the States.)
KFC is also rewarding a select group of eager Double Down devotees with custom merch to don while they're enjoying their long-awaited dish.
The Double Down can be ordered on its own or in a combo meal that comes with an order of Secret Recipe Fries and a medium drink in restaurants and online through the KFC app or KFC's website.