This weekend, many of us will gather to celebrate the moms in our life, gifting them with amusing activities, thoughtful gifts, bountiful breakfasts in bed and more to say thank you for all that they do. 
One maybe-unexpected restaurant chain wants to help moms out by offering them a deal on the day — and even though it might not be the first place you think of taking dear old mom on Mother's Day, it's become a tradition for many.
On May 4, Hooters announced that its annual Mother's Day deal is back. On May 14, moms who dine at the double entendre-named eatery can receive 10 free wings in any style with the purchase of 10 wings of any style at participating Hooters locations.
The 40-year-old restaurant chain, known as much for its staff's uniforms as its wings, has been offering the deal since as early as 2012. In 2013, the company told USA Today that the chain gave away free chicken wings to about 15,000 mothers that year.
A Hooters spokesperson told TODAY.com that, this year, the chain will be offering a little something for the kiddos as well. Kids under 12 can enjoy a free kids' meal in-restaurant on Mother's Day with the purchase of any adult entrée at participating Hooters locations.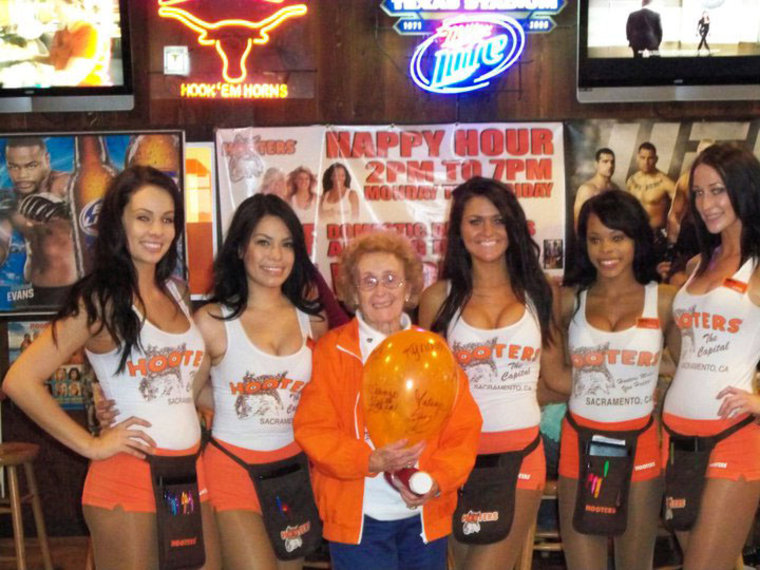 For folks who have alternative plans this Mother's Day, there's still a chance to get freebies. Hooters' free kids' meal offer is available every Saturday and Sunday in May.
The little ones can select anything from the Kids Menu, like Kids Wings, which come with four original breaded or unbreaded pieces, Kids Boneless Wings, grilled or fried Chicken Tenders, Chicken Sliders or Burger Sliders. Each kids' meal comes with a side item and a free beverage.
As you may well have imagined, the idea of bringing your mom to Hooters on Mother's Day — or any day, really — has inspired a strong reaction from social media throughout the deal's history. And, perhaps surprisingly, much of it is positive.
"Nothing says i love you mom like a trip to Hooters," one person commented on Facebook.
"I'm a wife and mommy of 2 and I'd totally go to hooters on Mother's Day! Lol," wrote another user on Facebook in 2014.
"I want to go to hooters for Mother's Day ! I want wings and fries," tweeted one person in 2022.
"Hooters on mother's day is wild," someone else tweeted in April.
"My kids take me to Hooters for mother's day n my birthday every year's bc it's that yummy!" one person on Facebook commented, complimenting the chain's buffalo shrimp, crab legs, boneless wings and chocolate cake. "The girls are friendly (and) nice too."
"I was wondering who would take mom to Hooters for Mother's Day but apparently they were doing free wings with purchase so that must be why their (parking) lot was full?" someone else tweeted in 2021.
"The Tonight Show Starring Jimmy Fallon" even roasted the deal in back in 2017.
"I saw that Hooters will be giving moms free entrées," Fallon said, "But before you take your mom to Hooters on Mother's Day, make sure you have a good playlist for the long, silent car ride home."
At the end of the day, the goal is to make mom happy — and sometimes that means Hooters wings. In 2013, TODAY.com Parents Senior Editor Kavita Varma-White wrote about this very subject, extolling the virtues of Hooters in her essay "Why I let my kids eat at Hooters."
"If the scantily costumed creatures aren't going to mind if my kid leaves mashed Cheerios all over the place, who am I to judge what they wear?" Varma-White wrote at the time. "Its trademark 'delightfully tacky' reputation aside, Hooters is really just another place to get a bite to eat."
And if you have a hankering for fried chicken but would really rather not go to Hooter's on Mother's Day, head over to KFC for free nuggets instead.