Many Midwesterners are up in arms about a soft drink-related change at a beloved burger chain.
On Jan. 18, news broke that Culver's, a chain of burger restaurants that was founded in Sauk City, Wisconsin, would be now serving Coca-Cola products instead of the Pepsi products it had been serving customers up until this point.
Now, folks who want to chow down on its famous ButterBurger, a seared and never-frozen beef patty topped with a "lightly buttered, toasted bun" will have to wash it down with a Coke or Sprite rather than a Pepsi or Sierra Mist (which has been replaced with a new drink called Starry, by the way).
A spokesperson for Culver's confirmed to the The Post-Crescent that the change "is in progress" and that it "will take time" for the chain's "nearly 900 restaurants located in 26 states to make the switch." The beverages page on Culver's website already reflects the switch as well.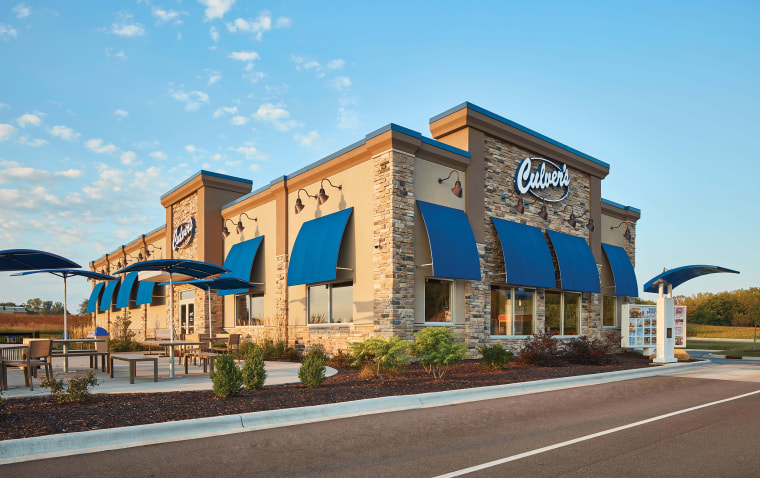 Culver's has not returned TODAY.com's request for comment.
A customer writing on a post on Culver's Facebook page asked why its Holland, Ohio location changed "from Pepsi products to Coke," and Culver's responded, albeit not with a clear answer:
"Yes, our restaurants are making the switch to Coca-Cola products," Culver's replied. "You will still be able to enjoy Culver's Signature Root Beer, Diet Root Beer, Dr. Pepper, fresh brewed sweetened and unsweetened tea, as well as Shakes and Concrete Mixers made with Fresh Frozen Custard."
Culver's then lets the customer know they are free to leave feedback via the chain's feedback form on its website.
But Pepsi devotees on that same Facebook post and across social media are letting Culver's know how they really feel publicly.
"Discovering that @culvers switched from @pepsi to @CocaCola just ruined my entire day," tweeted one person.
"Love Culvers, but not happy to hear that you have switched away from Pepsi. Bad choice," reads another comment, this time on Facebook.
"Culver's has been my favorite place to eat for quite some time now. Maybe up to 4 times a week," commented another Facebook user. "But I am soooooo upset that they switched from PEPSI to coke that I will go other places sometimes, especially when they have a flavor of the day I don't particularly care for. The employees are great and that is one reason I continue to go there."
"Bring back the Pepsi please! That is one of the main reasons I went there," reads another Facebook comment.
Some folks seem to be taking the switch especially hard, vowing to never come back for a ButterBurger or a Concrete Mixer ever again.
"Had my last @culvers today. When you switch back to @pepsi I will be back," reads a tweet, which received a "Seriously?" in response. The initial poster's response? "Seriously."
"I enjoy going to Culver's. The people and food are great. But I avoided other fast food restaurants because they had coke products. Now you're going to be like them," reads another Facebook comment. "You had the best Pepsi on tap. Now I have to search for another restaurant that has Pepsi."
"I like Pepsi and so won't be going there unless I stop and bring food home so I can have my Pepsi," commented another Facebook user, taking matters into their own hands — and encouraging others to do the same. "Everybody take a Pepsi in when they order food and say brought my own since you switched."
Although not quite as loud, there were those who stood on the other side of the soda aisle, celebrating the switch to Coca-Cola.
"Culver's just went from a 9.5/10 to a 10/10 because they switched from Pepsi to Coke," tweeted one person.
"Unpopular Midwestern Opinion: I, for one, am stoked that Culver's is switching from pepsi to coke products," someone else tweeted.
And then there are those who don't really care about Coke or Pepsi — they're just interested in Culver's famous root beer.
"This whole story seems like a lot of hoopla," Ben Shaver, Wisconsin native and former Culver's crew leader, tells TODAY.com. "Who wants to drink a Pepsi or a Coke with a ButterBurger? There's only one correct drink pairing for a ButterBurger and that's a Culver's root beer."
Well, luckily for Shaver, Culver's Signature Root Beer, which customers are known to enjoy on its own or paired with a scoop of the eatery's Vanilla Fresh Frozen Custard, is not going anywhere — at least for now.