Chick-fil-A's new, Southern-style take on its Original Chicken Sandwich is out now — as of Aug. 28 — so I had to try it for myself.
But first, some background: In 2020, the Honey Pepper Pimento Chicken Sandwich was first tested in select North and South Carolina restaurants, but after a successful run, most of the country will be able to enjoy the menu item for themselves — including me.
Additionally, the Atlanta, Georgia-headquartered chain added a new sweet seasonal menu item to its menu: the Caramel Crumble Milkshake. Both items are available nationwide while supplies last, except in Hawaii.
Before I tell you what I thought about the chain's new sandwich and shake, let's do an ingredient recap. The new sandwich includes an original Chick-fil-A Filet but adds a trio of ingredients, some rarely seen on fast-food menus: pimento cheese, pickled jalapeños and a bun drizzled with honey.
Starting at $6.75, Chick-fil-A's newest take on its classic sandwich is meant to evoke both sweet and spicy flavors; the chain is no doubt hopping on the "swicy" trend hitting menus and palates around the country.
The Caramel Crumble Milkshake is made with "creamy butterscotch caramel flavors," Chick-fil-A's "Icedream," blondie crumbles and topped with whipped cream and a cherry.
Honey Pepper Pimento Chicken Sandwich review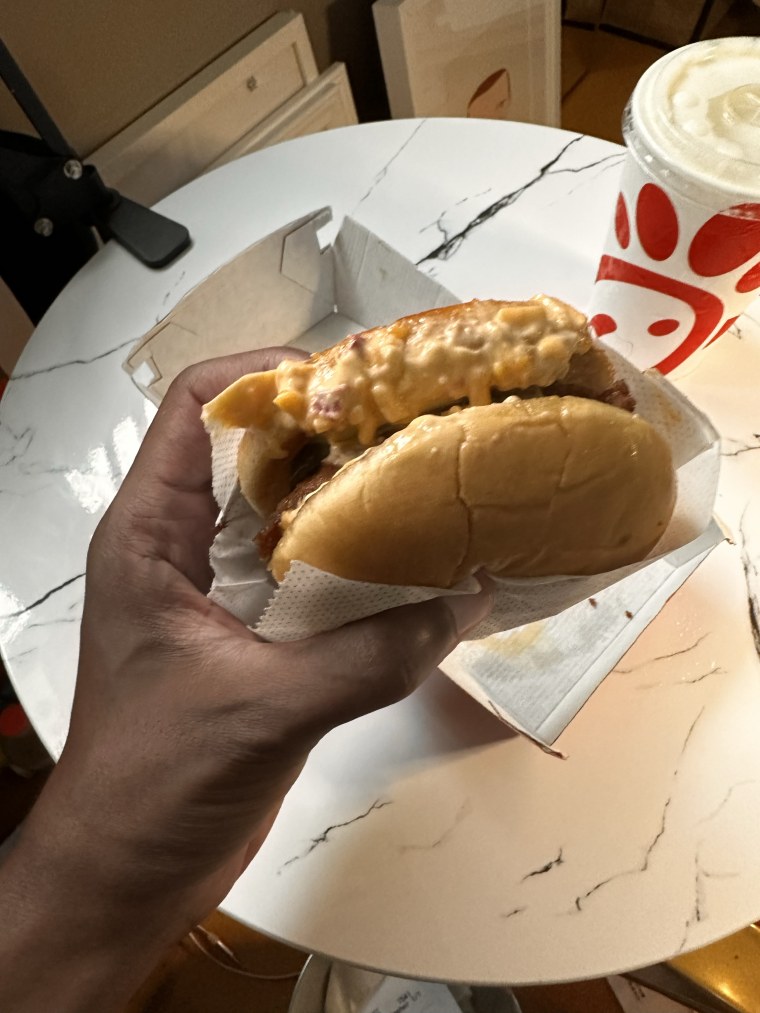 First off, my delivery order ran me $12.75 for a meal with waffle fries and a drink, and the sandwich by itself would have cost me $10.09. I don't know if I live in a more expensive area (Washington, D.C.) than other Chick-fil-A stores but take that as you will.
As I opened the box, the scent of piping hot chicken, jalapeños and pimento cheese wafted out.
The sandwich is placed in a parchment sleeve inside of the box it comes in, and while that may be standard for other sandwiches, it sure comes in handy for this one. My sandwich came with a lot of pimento cheese, and it positively oozed out of the sandwich when I took a bite. I ended up having to use a fork and knife to eat the rest of it without having to pull out a stack of napkins. (Don't shame me for this!)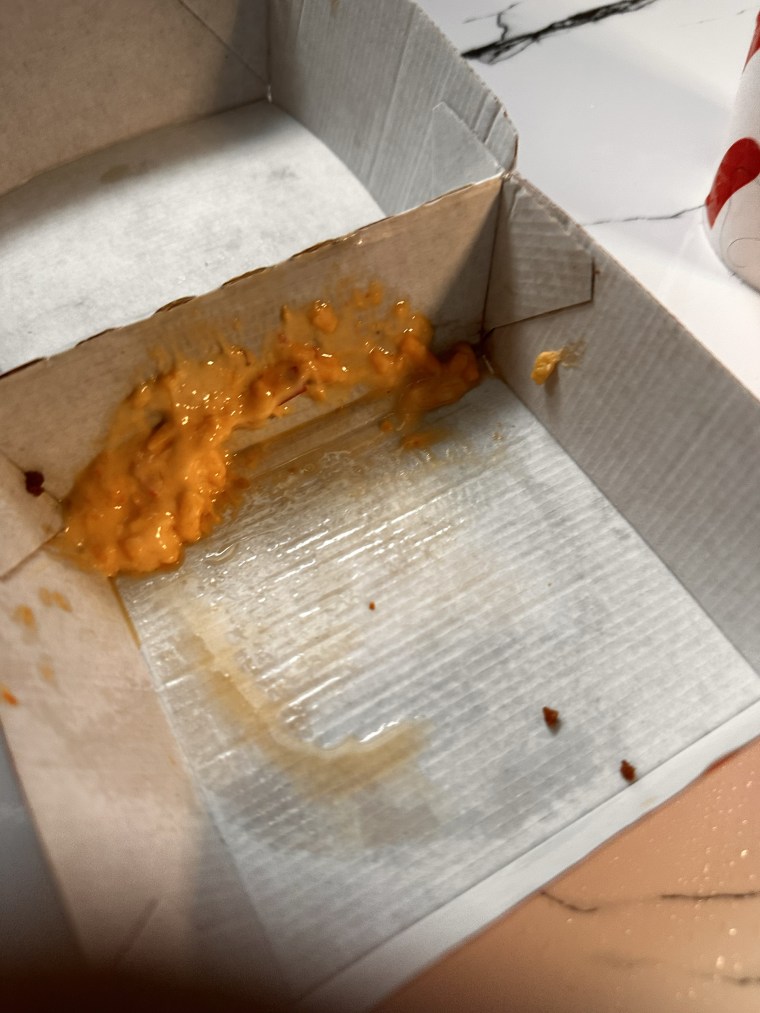 Still, if you get a full bite with all of the included flavors: the honey, pimento cheese and jalapeño, you get a distinctly sweet and spicy bite — and it's delicious. I don't normally gravitate to any of these flavors individually in sandwiches, but all together, they comingle in perfect harmony.
The one thing I would say is eat it quickly, the pimento cheese becomes a bit stodgy as the sandwich cools. Shouldn't be a problem for most people, but I love to take my sweet (and spicy) time to eat.
Caramel Crumble Milkshake review
According to Chick-fil-A chef Christy Cook, the Caramel Crumble Milkshake (formerly known as the Butterscotch Crumble Milkshake) was inspired by the flavors that caramelize at the bottom of a blondie pan.
After testing the item successfully in Salt Lake City in 2021, Chick-fil-A released this "seasonal shake sensation" to the masses this week. So, what did I think of it? Well, it was certainly worth the $6.89 I paid for it, which is saying something.
There's good news and bad news — and then good news again. First, the good: Those blondie crumbles on the bottom of the shake are some of the most delicious inclusions I've ever had in a shake in recent memory. As soon as I read that the shake was inspired by those flavors, can you confirm for me that that's the star of this particular treat. Dare I say it's as good as Oreo in a McFlurry? I dare.
Unfortunately, there's not enough of it in there for me. I can see myself ordering this again, and begging that the poor Chick-fil-A worker to dump about three times the amount of blondie crumbles in there. As always, the chain's Icedream is giving melted Baskin-Robbins ice cream to me, which is a good or bad thing, depending on who you ask. 
I'd order this item again in a heartbeat, so you can guess which side of the fence I'm on.