Chick-fil-A has always offered a few vegetarian and vegan offerings on its menu, but they were mostly sides and salads — never entrees. Now, the chicken chain is debuting a new sandwich — and it doesn't have any chicken in it.
On Feb. 9, Chick-fil-A announced it is testing out its first "plant-forward entrée" — the Chick-fil-A Cauliflower Sandwich — at restaurants in a few lucky markets over the next several months.
Starting Feb. 13, Chick-fil-A will begin testing the new sandwich in three specific markets: Denver, Colorado; Charleston, South Carolina; and the Greensboro-Triad region of North Carolina. Forget Valentine's Day flowers when you could get a Valentine's Day cauliflower instead.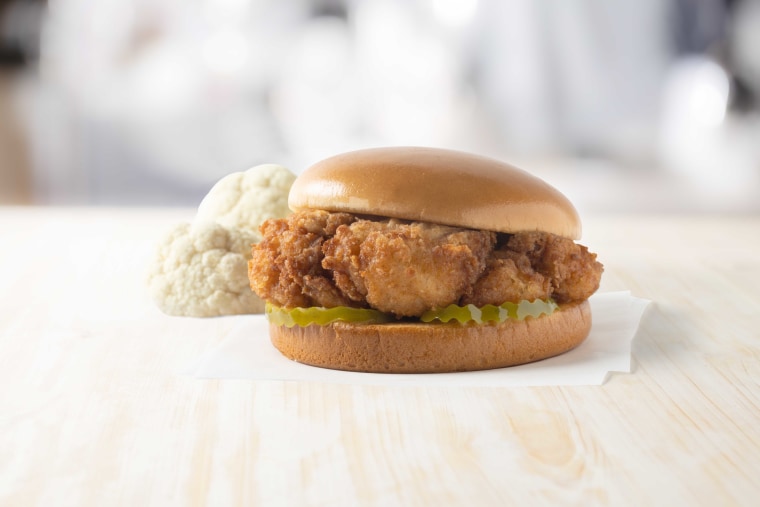 While the sandwich cannot be considered vegan or vegetarian, including egg and milk products in the preparation process, it does forgo the chicken, the protein the chain is most known for. Made with a "tender filet" cut from a whole cauliflower, the Chick-fil-A Cauliflower Sandwich embraces the hearty brassica as the star of the show.
The chain says its new dish is prepared similarly to the original Chick-fil-A Chicken Sandwich, which might be why it looks like a chicken sandwich at first glance. Like the OG dish, the Cauliflower Sandwich is marinated, breaded with the chain's signature seasoning, pressure-cooked and served on a toasty buttered bun with two dill pickle slices.
"Cauliflower is the hero of our new sandwich, and it was inspired by our original Chick-fil-A Chicken Sandwich," says Leslie Neslage, director of menu and packaging at Chick-fil-A, in a press release. "Guests told us they wanted to add more vegetables into their diets, and they wanted a plant-forward entrée that tasted uniquely Chick-fil-A. Our new sandwich is made with the highest quality ingredients and whole vegetables, and we hope it offers customers another reason to dine at Chick-fil-A."
Chick-fil-A's foray into the vegetable patch has been underway for a little while now — in 2019, the chain announced that it would be exploring new vegan options to include in its menu. That announcement came as other chains, like Burger King, McDonald's and even IKEA tested or added plant-based items to menus across the country and beyond.
Stuart Tracy, culinary developer of the new menu offering, said that, over four years of research and development, the team explored every corner of the plant-based space in search of the perfect centerpiece for its plant-based sandwich.
"Time and time again, we kept returning to cauliflower as the base of our sandwich," Tracy said in a press release. "After a significant amount of development, we knew we had a one-of-a-kind entrée; one that puts a delicious spin on what we're known for — great tasting food with ingredients you can trust."
Chick-fil-A says it will be listening to customer reaction to help determine if it'll be rolling out on menus nationwide, so if you're in one of the three test markets, the cauli-power is yours.
You can find the Chick-fil-A restaurants participating in the Cauliflower Sandwich test run by checking the Chick-fil-A app or contacting your local Chick-fil-A.