A fee on some Buffalo Wild Wings takeout bills has drawn online backlash and heated debate, months after a class action complaint was brought against the chicken chain.
On June 21, Buffalo Wild Wings confirmed to TODAY.com that its 99-cent takeout fee was part of a "test" at certain locations — but that test is now coming to an end.
"Several Buffalo Wild Wings restaurants have tested a take-out fee, which is disclosed to guests prior to purchase; however, we are ending the test and will have the fee removed by the end of this summer," a Buffalo Wild Wings spokesperson tells TODAY.com.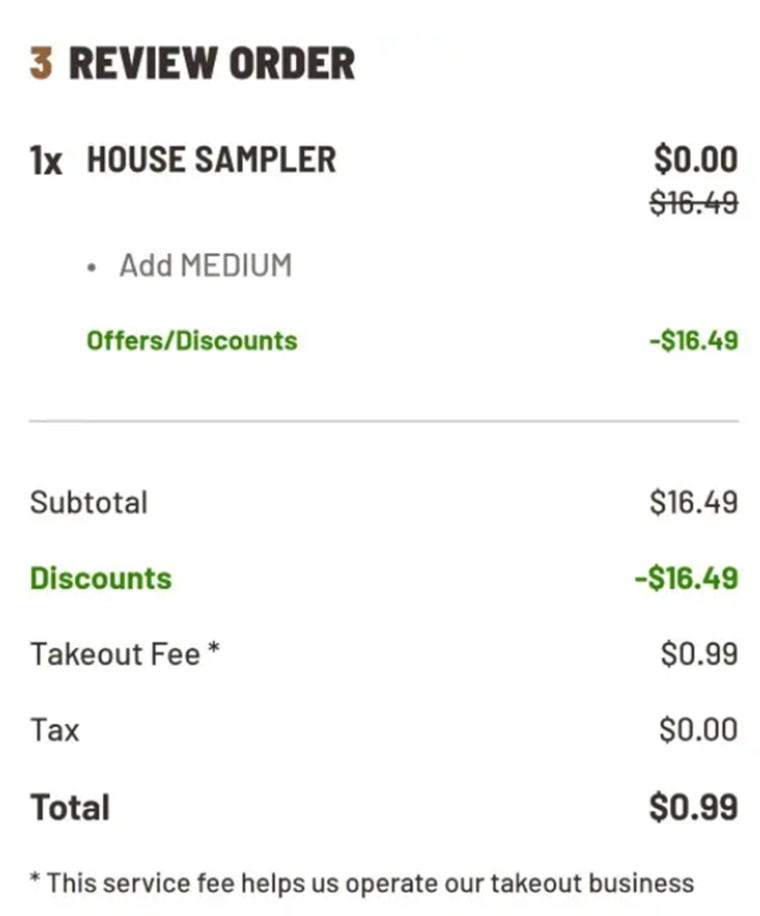 So ... how did we get here? Well, on July 13, 2022, a class action complaint was filed in the circuit court for Montgomery County, Maryland, alleging that Buffalo Wild Wings was conducting "false and deceptive" business practices over the takeout fee.
Plaintiff Divane Pittman — who currently resides in Lanham, Maryland — filed the complaint on behalf of herself and "hundreds of thousands of Buffalo Wild Wings customers" affected by what the plaintiff claimed is "misleading" menu price disclosures.
"For Buffalo Wild Wings to surreptitiously inflate food prices with a later-added 'Takeout Service Fee' is false and deceptive," reads the complaint. "Buffalo Wild Wings is imposing a stealth price hike in the form of late-added fee, rather than charging a list price that reflects the actual cost to consumers of the food it sells."
The complaint states that no other similar chain "imposes a similar deception on its customers," calling Buffalo Wild Wings' takeout fee a "double-edged deception." It argues that the fee is deceptive to consumers, who can't evaluate real price in real time until after they've ordered, as well as to competitors, who also may not have access to final prices.
Brown, Goldstein & Levy, who represent Pittman, did not immediately respond to TODAY.com's request for comment.
As of now, the case has been transferred to the District of Maryland is currently in discovery. But in the months since the initial complaint was filed, other customers have taken to social media to express their dismay about Buffalo Wild Wings' takeout fee.
"I've gone from living in a time when delivery was free to a time when I have to pay to pick up my own food," Reddit user u/ColdCruise posted on June 11 in the r/mildlyinfuriating subreddit. 
In the viral post, the user included a screenshot of their receipt, which includes an order of one medium house sampler. Although the customer's order was discounted as a result of a rewards points deal, they were surprised to see the addition of a $0.99 "takeout fee."
The original poster added context in a comment, saying that the location they ordered from was a Buffalo Wild Wings Go store, a contactless version of the establishment. "This is just a way to squeeze customers for extra profit."
And u/ColdCruise is not alone in his frustration: Many other Redditors have complained about the chain's takeout fee.
"Hoping someone from corporate sees this and understands that they've completely lost my business until they get rid of the disrespectful, insulting attempt at a quick cash grab in the form of the new 'takeout fee,'" wrote Reddit user u/SublimeDolphin.
"I'm legitimately offended at how dumb your company must think I am," the customer added. "Raise your menu prices if you have to, but don't pretend charging extra for to-go orders isn't a totally laughable concept."
"Let's charge people extra since they're taking their food home instead of needing to be waited on and cleaned up after," wrote another Reddit user.
"Not gonna be long before you have to pay just to step out your front door," commented another Redditor.
But there are some who have defended the fee.
"Y'all don't realize the work cashiers do lol, y'all complaining about tipping a dollar? Y'all 100% don't work here," wrote one Redditor.
"Y'all are so heated over a dollar fee, no one is making you eat there. That's what they charge, take it or leave it lol," wrote another, to which someone else replied, "It's the (principle). If you let this slide, it will become much worse."
Back in March, another class action complaint was filed against Buffalo Wild Wings, alleging that it is conducting "deceptive" business practices over claims its "boneless wings" are actually just chicken nuggets. A federal judge dismissed the complaint on "procedural grounds," but lawyers for the plaintiff say they intend to refile the complaint.
When reached for comment at the time, a representative for the chicken chain directed us to the following tweet:
"It's true. Our boneless wings are all white meat chicken. Our hamburgers contain no ham. Our buffalo wings are 0% buffalo," tweeted Buffalo Wild Wings.