The hotel chain Holiday Inn claims it pioneered the "kids eat free" concept back in 1952. These days, you don't have to book a room somewhere to score free grub for the younger set. There are plenty of kid-friendly restaurants nationwide offering free kids' meals almost every night of the week.
Of course, there's usually some fine print. Though many of us may feel young at heart, kids are usually defined as 12 and under, at least one adult entree needs to be purchased and the offers are often for dine-in customers only.
Still, the savings can really add up. So, if you don't feel like paying full price for everyone in the family — or you just need a night off from cooking kid-friendly meals at home — head to one of these restaurants for some gratis grub.
Applebee's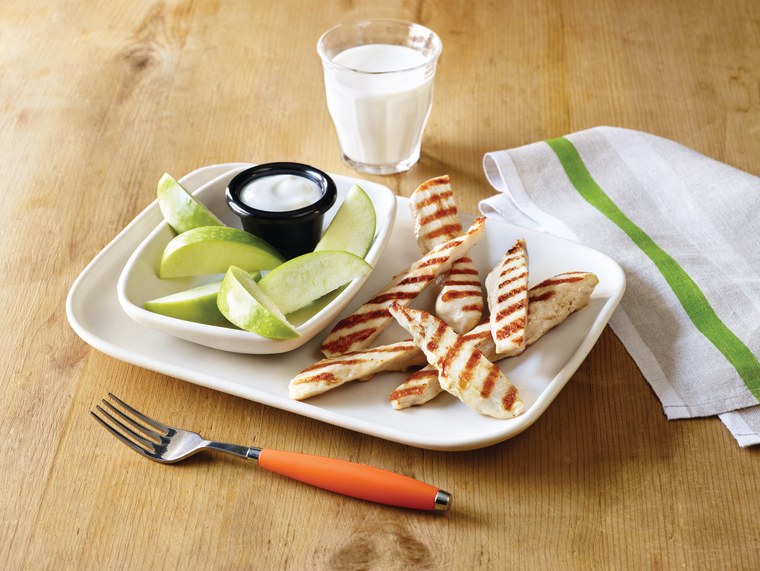 Kids eat for free (or at a very steep discount) on one day of the week at most Applebee's. It's usually Monday or Tuesday, and requirements vary by location. Kids' meals include cheeseburgers, chicken corn dogs and pasta. Call your local Applebee's for details on their kid-friendly nights.
Bertucci's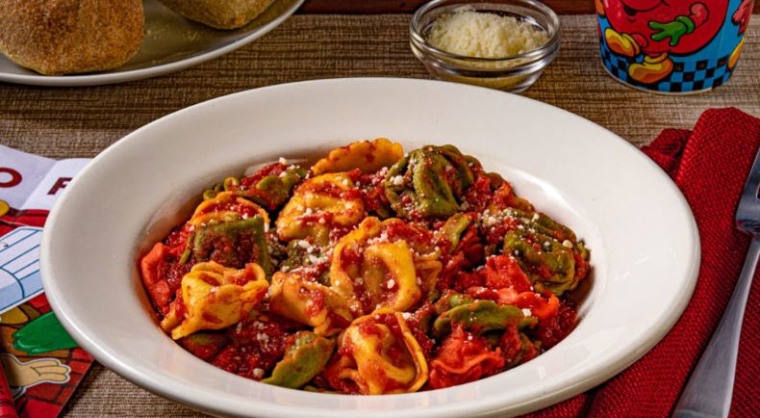 Every Wednesday and Sunday, kids eat for free with the purchase of an adult entree ($10.99 or more) at this Italian chain. Bertucci's, which has 56 locations, offers more than 10 children's meals to choose from. Every meal comes with a drink and an ice cream dessert.
Buffalo Wings & Rings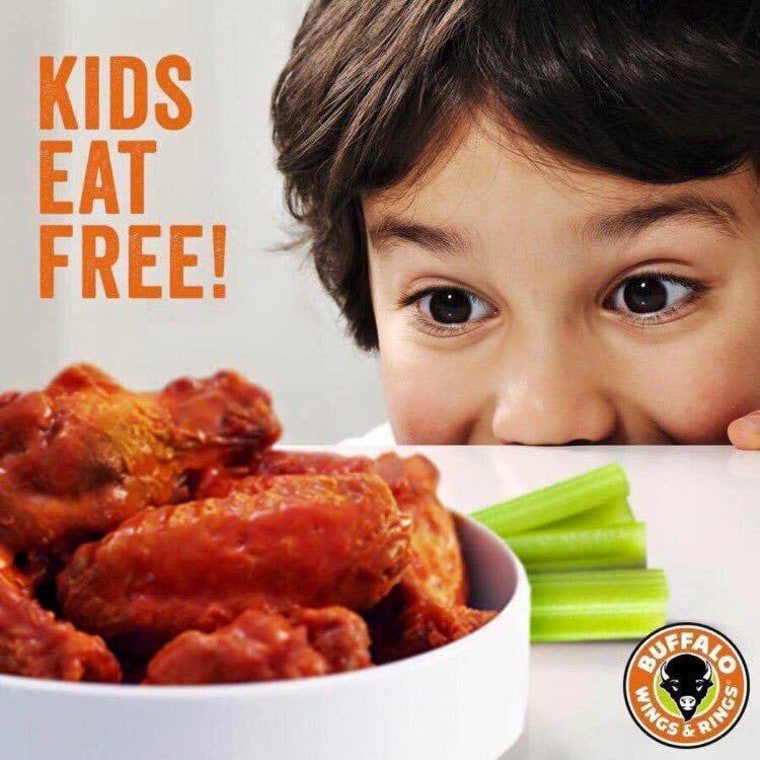 Want to watch the big game on a big screen and still keep the kids entertained? Take the family to this sports bar-meets-restaurant where, every Monday, kids 10 and under can order anything off the kids' menu for free. Of course, it's only complimentary as long as adults order entrees, too. The promotion is valid at all 56 restaurant locations in the U.S.
Denny's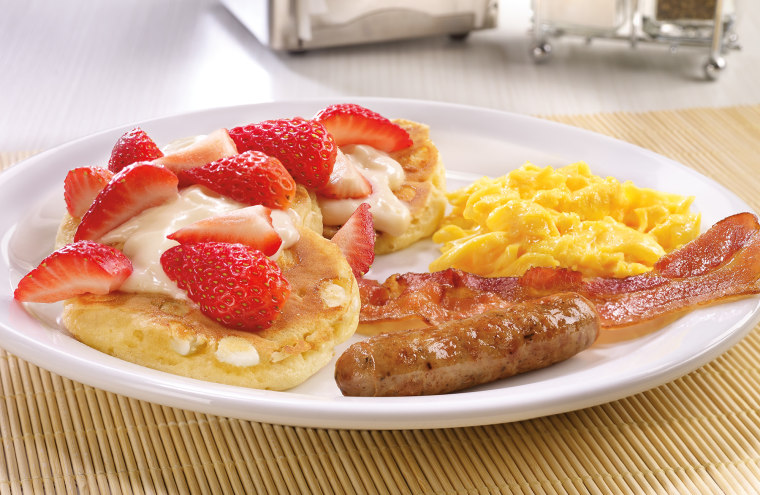 It's breakfast for dinner at Denny's where kids 10 and under eat free on select days of the week, depending on the location. The deal is dine-in only, but customers will actually receive up to two free kids' meals per one adult entree worth $6 or more.
Dickey's Barbecue Pit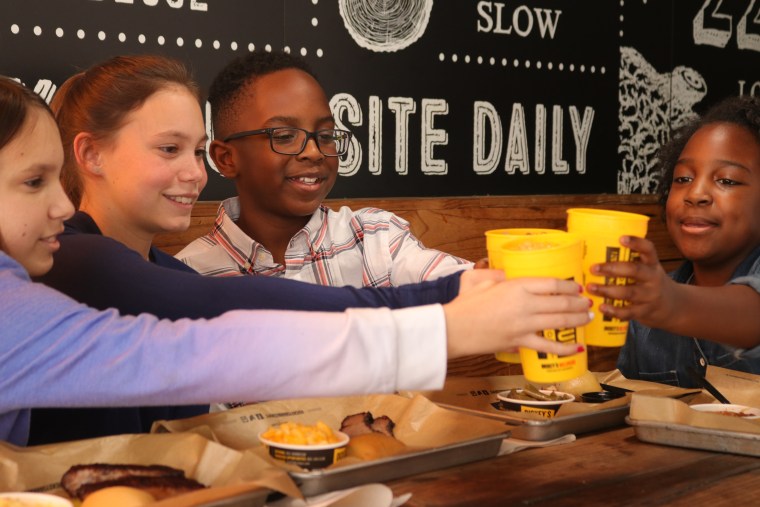 Host your next Sunday family dinner at Dickey's Barbecue Pit where family members 12 and under will be able to enjoy a meal for free. The deal is honored at more than 500 locations in 43 states. Disclaimer: Adults have to order at least $10 worth of food and/or drinks per kid to take advantage of the deal.
East Coast Wings + Grill
"Hump Day" is a hit at all 30-plus East Coast Wings + Grill locations nationwide. That's because all day on Wednesdays, kids 12 and under are able to choose from a menu complimentary sliders, wings, pita pizzas, mini corn dogs and more when an accompanying adult purchases an entree.
Freebirds World Burrito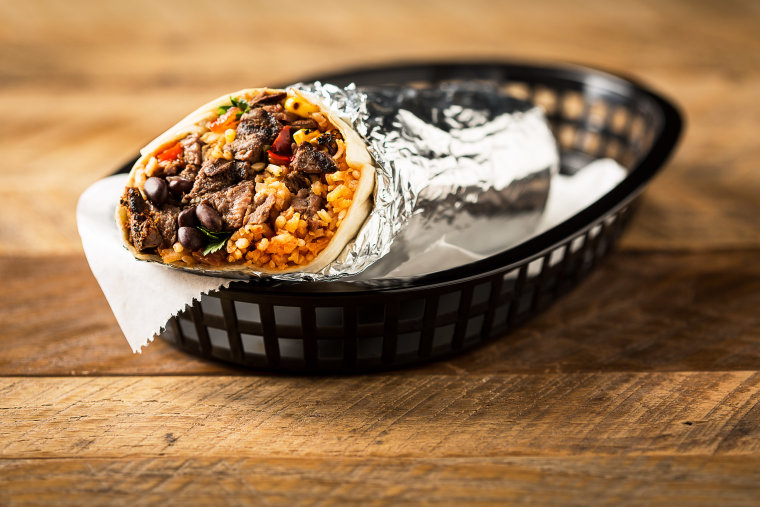 The only thing better than Taco Tuesday is Taco Sunday at Freebirds World Burrito. At all Freebirds locations, every kid is able to receive a free entree with the purchase of one adult entree. Take advantage of this special during lunch or dinner, because unlike many other offerings, this dining deal runs all day.
Holiday Inn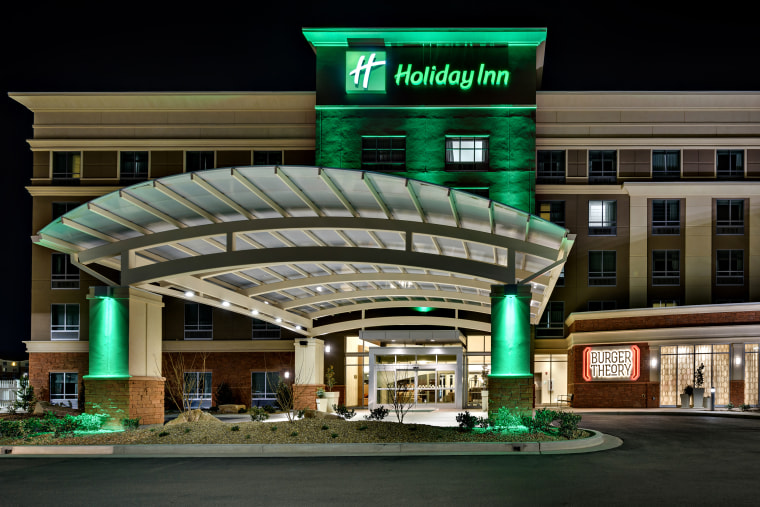 Large families take note: For nearly 70 years, Holiday Inn has allowed up to four kids per table to eat free at any time, on any day of the week. The offer is good at all on-site restaurants. At least one adult per table needs to order a full priced entree, and kids are defined as 12 and under. (The adult present also has to be a registered hotel guest.)
Margaritas Mexican Restaurant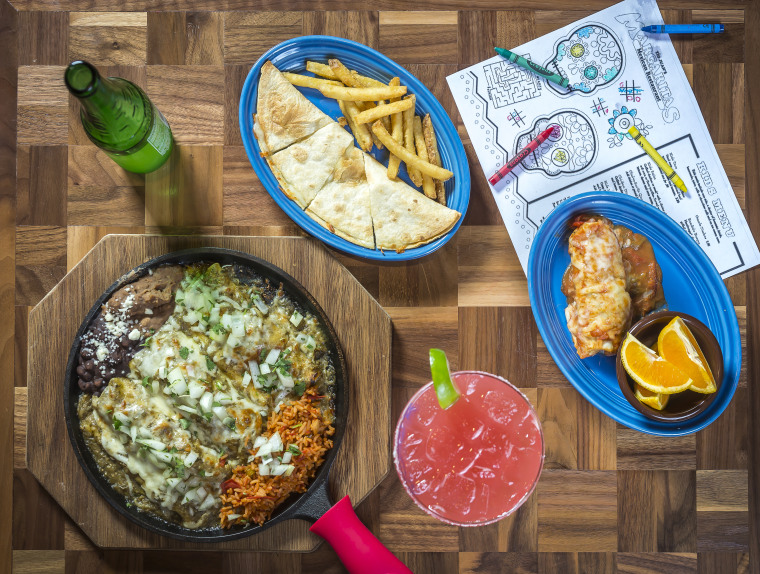 Margaritas Mexican Restaurant offers two complimentary kids' meals per every adult entree purchased. The offer is good on Saturdays and Sundays at participating locations throughout the Northeast, New England and Pennsylvania. The free meal even includes an ice cream for dessert.
Slim Chickens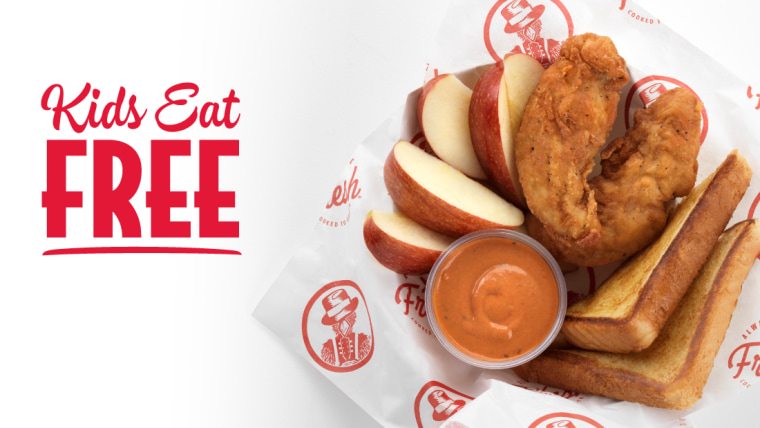 Southern hospitality meets budget-friendly dining at select Slim Chickens locations where kids 10 and under eat for free on Sundays. There are more than 50 locations in 11 states, so check online to see if your nearest Slim Chickens honors the deal. Note, diners must purchase one adult entree per child.
Uno Pizzeria & Grill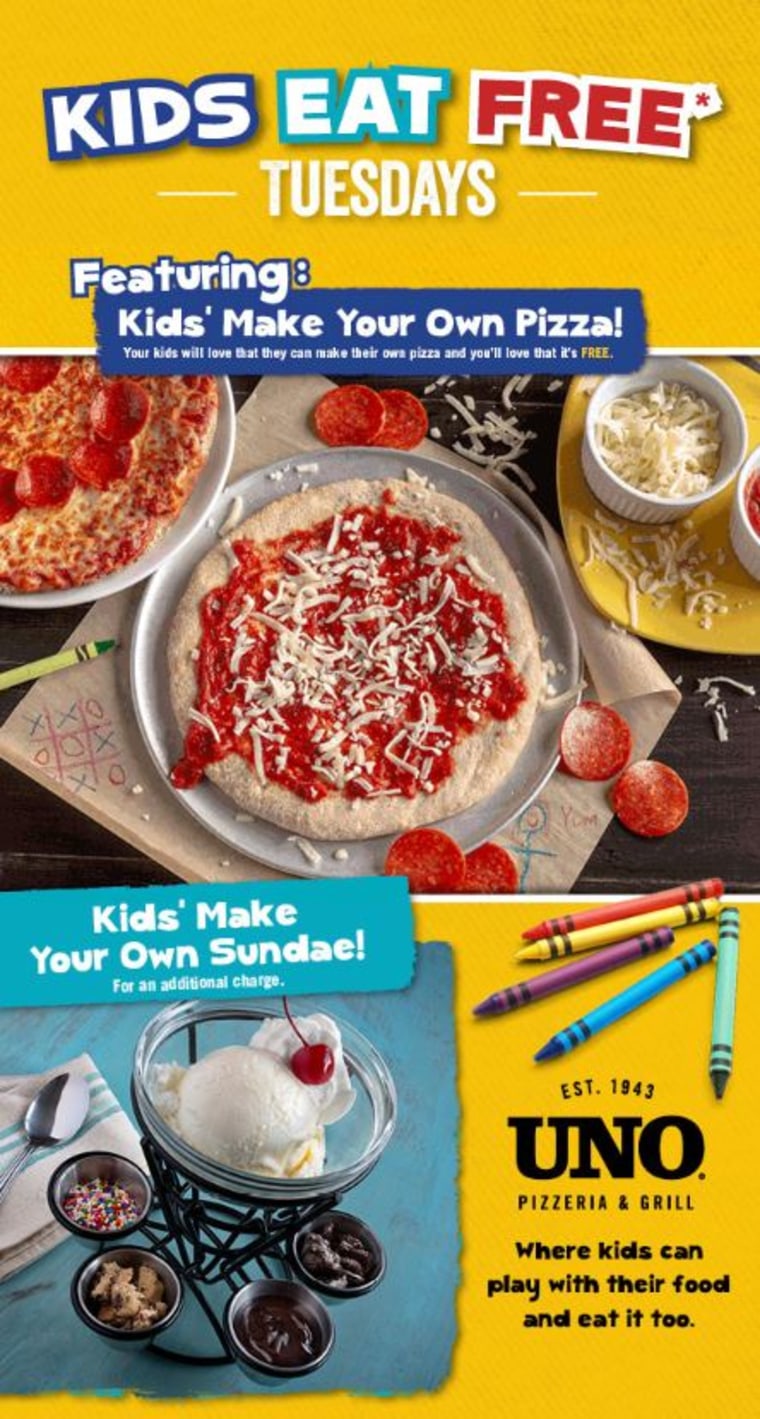 Uno Pizzeria and Grill offers "Kids Eat Free Tuesdays" at all of its 76 locations. Those dining in may take advantage of the deal all day. With the purchase of one adult entree, a table will receive a kids' menu item for free.
4 Rivers Smokehouse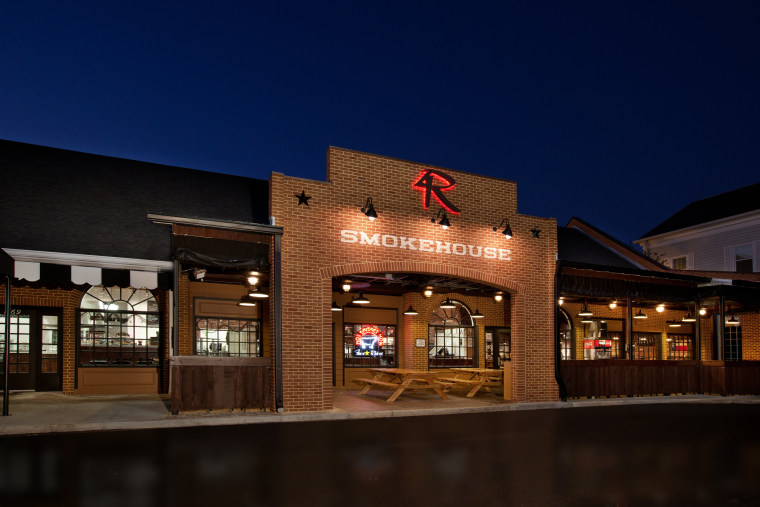 Kids eat for free all day on Mondays at this chain of family-owned smokehouses based in Florida and Georgia. All diners have to do is purchase an adult meal off of the main menu to qualify for a free item from the kids' menu.