A lot of people love Reese's Peanut Butter Cups, but one Tennessee man has taken his love of the classic candy to new heights — and his unwavering devotion inspired The Hershey Company to spare no expense to track him down.
On Monday, Hershey's (which makes the beloved peanut butter cups) tweeted about five billboards it installed around Tennessee looking for the owner of a very special car.
This car wasn't just orange and brown, and it didn't just simply say "I love Reese's." It was fully wrapped, from rooftop to tire, in Reese's logos — it was a real candy wrapper car wrap, as one might say.
Each of the billboards had a photo of the vehicle and read, "Is this your car? Last seen in Nashville," as well as included a Reese's hotline to call.
By Tuesday, The Hershey Company received a call from a local news station, which identified the car's owner as Lavoy Sales, a professional car detailer — and incredibly dedicated Reese's fan — from Springfield, Tennessee.
"When I found out who it was, I was so excited I couldn't wait until Wednesday morning," Kaylee Dugan, Hershey's associate manager of earned media, told TODAY Food. "I called him that night, and we had an hour-long conversation."
According to Dugan, Sales got the car wrapped in Reese's logos two months ago and loves seeing people smile when he drives by. For Sales, his wife and their two daughters, the pursuit of making people happy with his favorite candy doesn't stop there.
Every weekend, the Sales family buys several large bags of various Reese's candies and hands them out to strangers on a main street in downtown Nashville.
Sales is so devoted to the candy that he also decorated his Christmas tree with Reese's cups.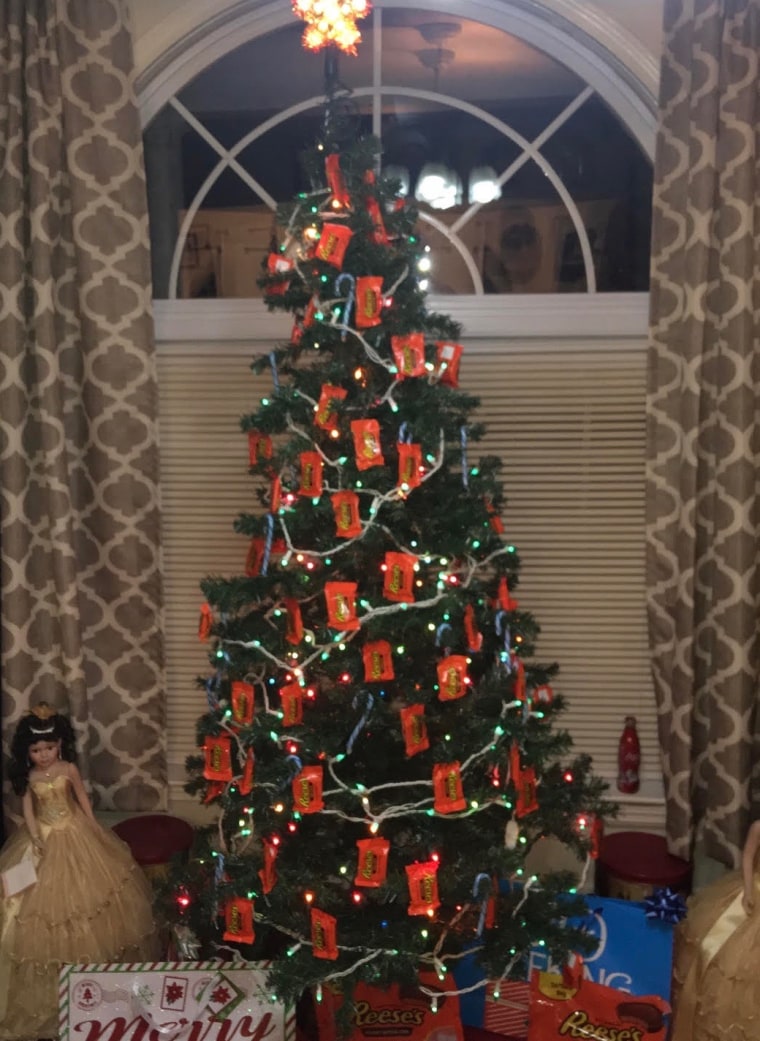 Butpeople who love Reese's really love Reese's and freak out if anyone — including Hershey's — tries to change up the classic candy. So it's not entirely surprising that Sales devoted his wheels to the sweet treat. One family, the Cupps, even named their child "Reese," making her full name Reese Cupp.
Now that's commitment.
In response to the larger-than-life ads, other tweeters showed their undying love of Reese's, too.
Some wished they could have a candy-coated car just like Sales' sweet ride.
Other tweeters even said they'd spotted different vehicles covered in candy wraps.
In the past, The Hershey Company has been generous in rewarding its fans. The Cupp family got $10,000 for winning the Reese's Outrageous Fan contest, and when a man allegedly found a Reese's cup without peanut butter, he received a well-stocked care package to make up for it.
Dugan told TODAY Food that the company is still finalizing plans for how it will pay tribute to Sales for his Reese's love. She said that she hopes to travel to Tennessee soon to hand-deliver some merchandise, peanut butter cups, videos and a Reese's T-shirt (which Sales specifically requested), and meet this super fan family. The company rep also added that she thinks some Reese's Christmas stockings would be great to accompany the family tree for the holidays.
It's probably safe to say that Santa will be getting peanut butter cups instead of cookies this year when he visits the Sales' home.