To most people, making it through a pub crawl means surviving five bars in one night – without passing out. While this may be a noble feat, others take the bar marathon to a whole new level. Enter Chris Solarz, who, along with wife Bea Reig, Ivan Wanat, Wes Erdelack, Steve McLaughlin and eight others recently hit more than 200 New York City bars in a 24-hour period to set the Guinness World Record for longest bar crawl. We spoke to Chris, the leader of the pack, and got his top five tips for amateur bar crawlers and wannabe record-breakers:
1. Being in shape is key! We walked 32 miles between our 250 bars. Wear comfortable walking shoes, and make sure you are in good shape before undertaking an ultra-marathon pub crawl. Our team consisted of marathon runners and Ironman triathletes who knew a thing or two about being on their feet for 16 hours straight.
2. Have a well-researched route. Our team spent all summer researching, planning and practicing the optimal route. We visited
50 bars before we broke for lunch at 11:30 a.m. We faxed in lunch and dinner orders in advance so that restaurants would have our food ready for us when we got there … along with a beer.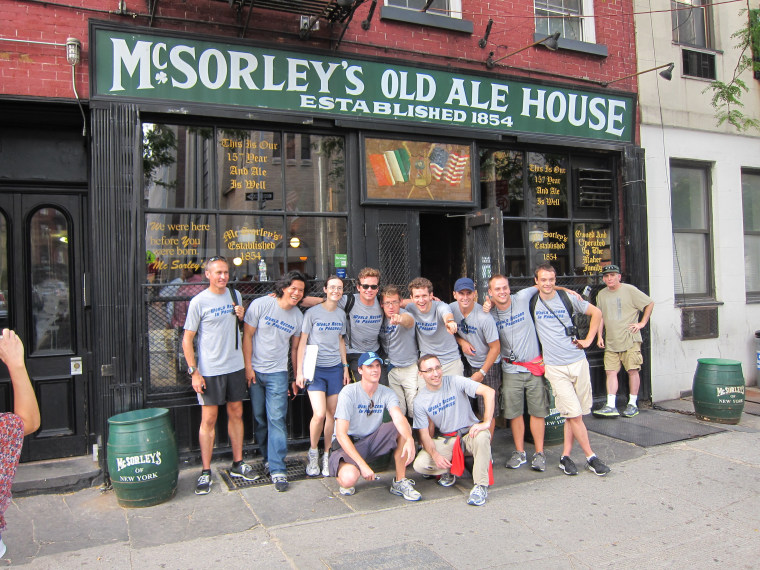 3. In a full-day undertaking such as this, avoid high-alcohol beers and stick to light beers when available. Remember to stay safe -- our team drank copious amounts of water throughout the day and ate meals and snacks every few hours.
4. Bring tons of small bills -- $1s and $5s. We didn't have time to wait for change when we were averaging just 3.5 minutes per bar for the entire day!
5. Don't forget to enjoy yourself! We sang karaoke at two different bars, talked to thousands of people along the way, made friends with restaurant managers and bartenders, met Anthony Bourdain, visited one of the oldest bars in NYC [McSorley's], took hundreds of photographs and hours of video footage. We even posed for pictures and signed a few autographs!
So there you have it. Marathon bar crawling is not for the faint of heart, but following these tips and tricks should have you marching, and eventually stumbling, around your neighborhood and setting your own records in no time.