While pasta is surely one of Oprah's Favorite Things, the amount of butter — or cream — that's in classic recipes for it is not.
On March 5, Oprah Winfrey gave the internet a look into how she keeps on enjoying the dishes she loves by taking out an ingredient she doesn't want to consume so much of these days. The dish, a Butter-Free Lemon Pasta, forgoes the butter and cream in favor of an unexpected pantry staple: oatmeal.
"I'm going to show you how to make my favorite pasta with the least amount of points or calories possible," Winfrey says while standing in her obviously well-appointed kitchen.
The partner and stakeholder of WW International (formerly known as Weight Watchers) added in the video's caption that she's been putting her health at the top of her to-do list by hiking regularly, watching what she eats and cutting butter out of her diet.
"I have this wonderful French chef, meet chef Philippe Chevalier," Winfrey says of the seven-time Michelin award-winning chef. "When we first met, I loved his food, but there was one problem — too much cream, too much butter — because that's what the French love, right?"
"North of France, correct," Chevalier replies.
"Also, figuring out ways to make things that work fewer points, fewer calories for me was really important," says Winfrey, adding that she initially expected that having a French chef would lead to her gaining weight. "It's actually been the opposite."
"I'm gonna show you how to make a fantastic pasta," Winfrey continues. "I was saying to him I can't believe there's no cream in it. So this is the secret."
Although her Instagram video immediately cuts to the completed pasta dish, the full video on Oprah Daily gives you the skinny on the creamless-yet-creamy recipe, which Winfrey challenged her chef to create. "He ended up liking the challenge," Winfrey said in the article.
Inventively, as Winfrey keeps a watchful eye, the chef cooks up a big batch of steel-cut oats with a cube of chicken (or vegetable) bouillon, according to the recipe. Chevalier then strains out some of the liquid that results after those oats finish boiling.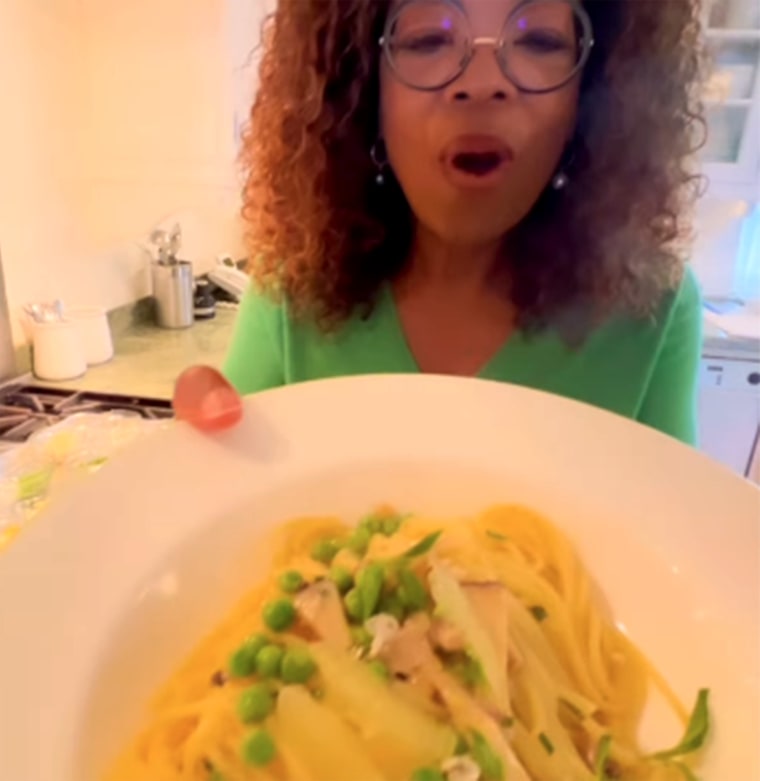 That starchy liquid, which is basically oat milk, according to Chevalier, is added to a pan that has been going with shallots, mushrooms, garlic and thyme sautéed in olive oil. "Turn that down, it's a little hot," Winfrey tells her chef, to which he dutifully obliges.
The finished product, complete with mushrooms and peas, is then topped with fresh herbs and plated for the mega-mogul's enjoyment.
"I love it so much," Winfrey says, taking a big bite and giving  Chevalier a high-five. "There's your meal!"