No one can say no to pizza, so that's why you should say yes to these party-ready pies. Jeff Mahin, chef at Stella Barra Pizzeria in Hollywood, shared with TODAY the best recipes for your Friday night, including a pulled pork and breakfast-style pizza — and even a summery salad to balance it all out. 
Pulled pork pizza

For the pizza: 
2 oz. Cajun pulled pork
2 oz. caramelized onion
1 tbsp. green onion
2 oz. smoked mozzarella 
2 oz. tomato sauce
1/2 tbsp. chili flakes
1 tbsp. fresh oregano
1 tbsp. bell pepper purée 
For the pulled pork:

10 lbs. pork butt
2 onions
2 celery stalks
1 carrot 
4 tbsp. garlic
2 bay leaves
4 tbsp. Cajun spice mix
2 Fresno peppers 
4 qts. chicken stock
6 tbsp. salt 
For the tomato oil:

2 lbs. grape tomatoes
4 tsp. garlic
4 1/5 cup olive oil
1 lb. roasted red pepper 
For the roasted bell peppers:
6 red bell peppers

6 yellow bell peppers
To cook the pork:
Season the pork butt with salt. Sear the pork on all sides in a large pan. 
Remove the pork and set aside. Sauté onions, celery, carrots, garlic and Fresno chilis in the same sauté pan on medium heat for 5 minutes.
Place all of the ingredients into a pressure cooker and cook for 90 minutes. Cool the pork in the broth. Remove the pork and shred using two forks. Label and date.
To make the tomato oil:
Arrange the tomatoes, red pepper and garlic on a sheet tray. Place into the broiler until charred. 
Put into a blender and cover with oil. Blend until smooth. Place the tomato oil in a sauce pan and bring to a simmer. Strain immediately through a china cap. Cool, label and date.
To roast the bell peppers:
Cut the bell peppers in half and remove the seeds. Place peppers skin-side up on a sheet tray lined with parchment paper.
Place the peppers into a 500-degree oven for 10 minutes. Remove from the oven and place into a bowl, then cover tightly with plastic wrap.
Let the peppers steam for 10 minutes. Once done, peel the peppers and dice small. Store, label and date.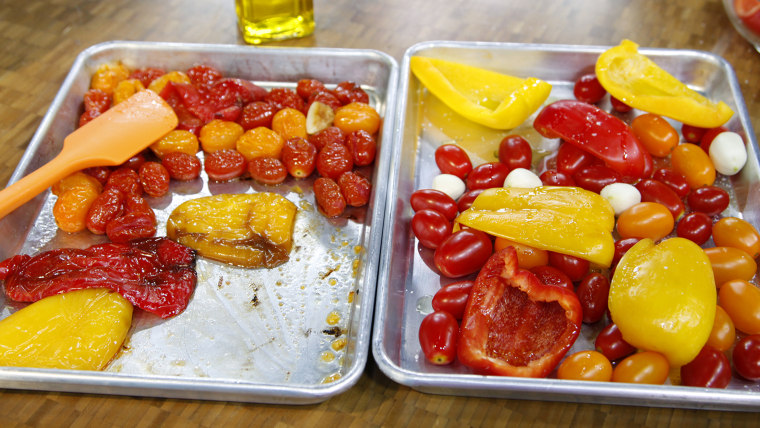 To assemble: 

Stretch dough to 12 inches. Spread tomato sauce and chili on the bottom, and top evenly with pulled pork. Sprinkle cheese, onions and peppers on top. 
Bake the pizza until golden brown. Dress the pizza with fresh oregano, bell pepper purée, tomato oil and roasted bell peppers, and finish with salt.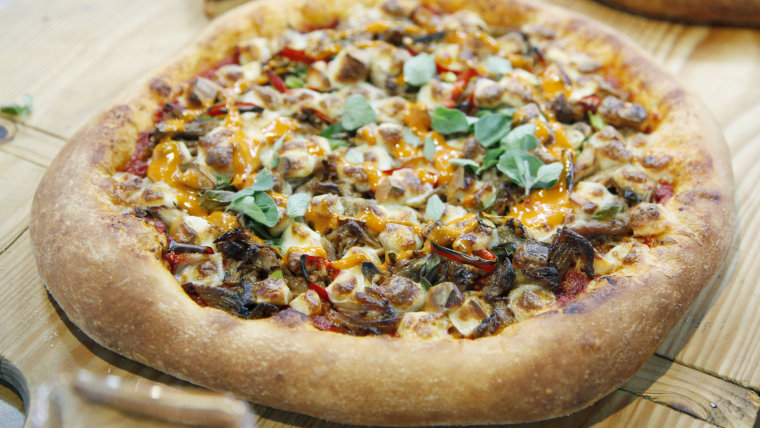 Breakfast pizza

1 basic pizza dough ball, stretched and placed on pizza peal with semolina
4 tbsp. Alfredo sauce, store-bought 
1/4 cup bacon (preferably applewood-smoked and thick cut), chopped 
1 cup (about 6 large) eggs, whisked together
1/4 cup grated Gruyère cheese
2 tbsp. parlsey, chopped
1 tsp. red chili flakes
2 tbsp. grated pecorino cheese (can substitute Parmesan if needed) 
1 tsp. rosemary, chopped 
For topping: 
2 cups fresh arugula
1 tsp. salt
1/2 tsp. black pepper
2 tbsp. olive oil
Dust pizza paddle with semolina. Stretch out the pizza and place the dough on the pizza paddle. 
Spread the Alfredo sauce on the pizza dough evenly, then pour whisked eggs over the dough. Garnish with the cheeses, and sprinkle with rosemary, chili flakes and parsley. 
Place into a 500-degree oven on a pizza stone, and bake until golden brown. Remove and slice the pizza.
Garnish with salt, pepper, olive oil and arugula.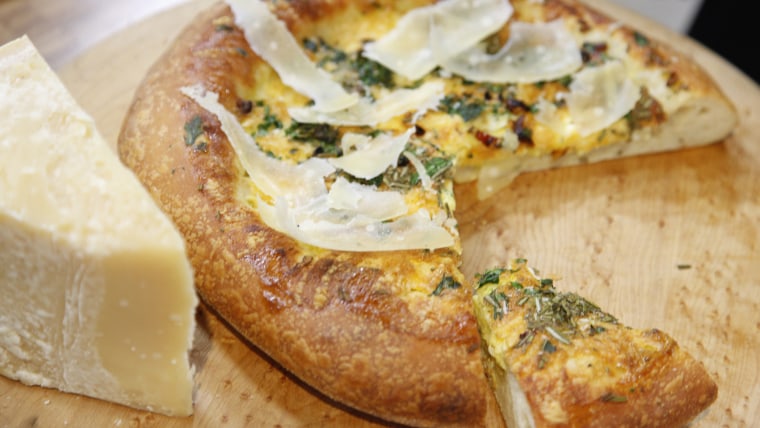 Summer salad

6 cups of your favorite green mix
4 tbsp. extra-virgin olive oil
1/2 of a lemon
1/2 of an orange
10 strawberries, sliced
1/2 cup goat cheese, crumbled
1/4 cup sunflower seeds
2 tsp. salt
1 tsp. black pepper
Mix the greens, strawberries and sunflower seeds together in a bowl. Drizzle 4 tbsp. of olive oil over the greens.
Mix lightly, then squeeze 1/2 of the lemon and 1/2 of the orange over the salad.
Lightly mix again, then season with salt and pepper. Crumble with goat cheese, mix and serve.