I was recently presented with a challenge — one of the toughest I've faced to date: Get Natalie Morales' two gorgeous sons (ages 11 and 6), both very averse to veggies, to eat their veggies.
Most kids fall into one of two groups when it comes to vegetables: avoiders and haters. If this sounds familiar, then you (like Natalie and loads of other parents) know how frustrating it is to get them to eat healthfully. And let's face it, they don't really care about the nutritional value of foods. It doesn't matter to them that veggies help protect their bones and prevent weight gain and reduce their risk for a laundry list of diseases. They're not thinking long-term — they're all about right now.
So what's a parent to do?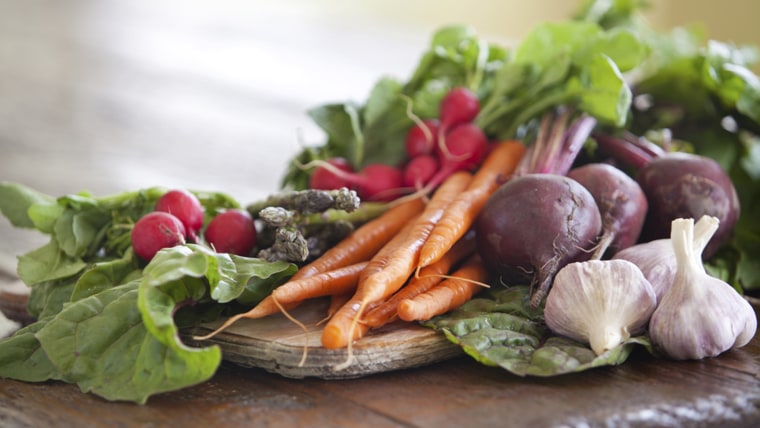 Sure, you can find ways to "sneak" veggies into their diet. I've done that myself on occasion. But that shouldn't be the only way you attack the issue. You also have to educate your kids on the importance of nutrition in a way that appeals to them.
You are the expert on your kids; you know what their interests and passions are, so use that information to your advantage. If your child is into school — maybe he's a spelling bee finalist or on the debate team—connect veggies to brain power. If you notice that your daughter has recently started fussing over her appearance, make a pitch about how these foods help promote a radiant complexion and give her thicker and shinier hair. You get the idea.
Of course, it doesn't hurt if you prepare veggies in a way that makes them nearly irresistible, like any of these delicious dishes, which got a two-thumbs-up from Natalie Morales' boys:
2 bunches broccoli with long stalks
1½ cups low-fat milk
2 eggs
1½ cups white whole-wheat flour (or any preferred flour)
2 teaspoons baking powder
¼ teaspoon Kosher salt
Cut off broccoli stalks and save florets for later use (you'll be using only the lighter green stems because the florets turn the flapjacks green).
Wash stalks, chop and measure out 1 cup. Steam 1 cup stalks until soft, about 7 minutes. Let cool and transfer stalks to a food processor. Add in the milk and eggs, and blend until smooth and evenly mixed.
In a separate bowl, mix flour, baking powder and salt together. Add dry ingredients to broccoli mixture and stir until everything is well combined.
Mist a non-stick skillet with oil spray and heat to medium. Pour about ¼ cup of the batter into pan and cook 1 to 2 minutes on each side (watching carefully to ensure they don't burn). Repeat until all the batter is cooked.
Serve with your favorite pancake topping: a drizzle of maple syrup, fresh fruit and/or a dollop of yogurt.
*When using frozen broccoli spears, simply steam and measure out 1 cup of sliced bottom stems.
Makes approximately 18 pancakes; 2 pancakes per serving
Need a sneaky way to get more nutrient-packed spinach into your child's diet? Try these sweet and chilly treats.
If your kids love ketchup—with their hamburgers, chicken nuggets or whatever dish they normally devour—then serve this version with a bit of broccoli to amp up the nutrition.
These are just as addictive as potato chips…but so much more nutritious. Go ahead, crunch to your heart's content.
Your kids, spouse and friends won't have a clue what healthy veggie is hiding in this delicious smoothie. If you don't tell, I won't, either!
For more healthy and delicious recipes, follow Joy on Twitter, Facebook, Instagram and Pinterest.