Ray Liotta is taking on his most iconic role yet.
Forget "Goodfellas." Liotta is now using his talents to shill fried chicken as everyone's favorite boisterous Southerner, Colonel Sanders. He follows a distinguished list of actors including Rob Lowe, Rob Riggle, Billy Zane, George Hamilton, Jim Gaffigan, Norm Macdonald, and Darryl Hammond to fill the shoes of the KFC frontman.
Liotta plays the famed Colonel as a man with two personalities at battle — one that's sweet and one that's spicy — to promote KFC's Georgia Gold honey mustard and barbecue-flavored chicken and its Nashville Hot Chicken.
"Based on the tangy mustard-based BBQ found in South Carolina and Northern Georgia, KFC's Georgia Gold is like a grown-up honey mustard BBQ —sweet with attitude," KFC says in a press release announcing Liotta's role. "Nashville Hot Chicken is spicy and smoky, full of flavor and heat."
We're sure Liotta, who currently also plays a corrupt New York City cop on NBC's "Shades of Blue," had to dig deep for this dramatic depiction of Colonel Sanders' inner turmoil.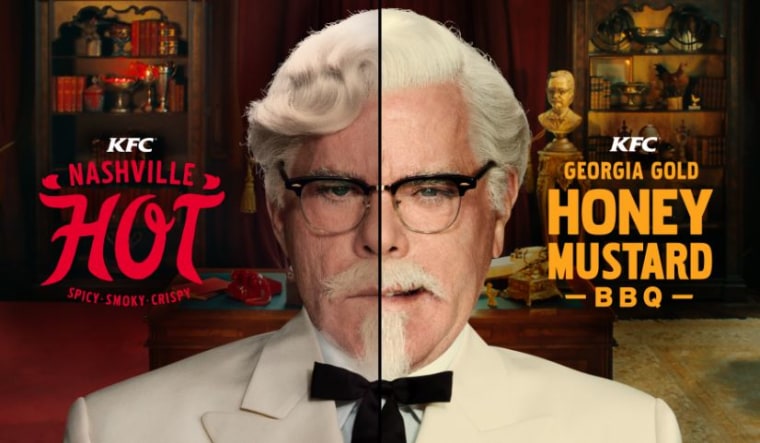 "When they asked me to take on twice the role of any Colonel before me, I thought 'man, this is really going to be interesting and will be a role I haven't been able to take on before,'" Liotta said, according to the statement released by KFC. "But as I got into character and put on that infamous Colonel mustache, I really was able to have fun with it and enjoy playing the person that is seen in commercials and billboards across the nation."
KFC has had a rotating cast of stars play the Colonel, beginning with Darryl Hammond in 2015. Thinking this was a longterm gig, Hammond threw himself into the role, reading books about the KFC founder and even meeting with his family so he could get the impression just right.
He wasn't too happy when he was soon replaced.
"I'm really upset someone didn't tell me that [I would be replaced]," Hammond said on Sirius XM's Opie Radio. "To build me up like, you're going to bring back the Colonel, he's an American icon … and then there's five others."
Well, we're currently at nine ... but who's counting?
You can see Liotta's performance for yourself in KFC's new ads which will start airing Sept. 10.